South Florida's Top 100 Events of 2011
These annual gatherings make a big impact on their respective industries and communities (and on the city) while innovating to stay on top.
December 28, 2011
With South Florida's large population of artists, culinary experts, musicians, and socialites, it's no wonder why Miami and its surrounding cities are home to some of the country's biggest, most well-received fairs, festivals, and fund-raisers. Take the Ultra Music Fest, for example. The now three-day event drew 150,000 music-goers in 2011, more than 100,000 than the year before. Sporting events also broke attendance records like the Sony Ericsson Open and World Sailfish Championship, bringing in more spectators than in years past over multiple days. Here, we look at the area's top noteworthy happenings.
Sports Events
1. Discover Orange Bowl is the ultimate college football fan event where the top two college teams in the Bowl Championship Series face-off with over 73,000 spectators. January 4
2. Up From 5: Sony Ericsson Open tournament features the world's top-ranked men's and women's tennis players. A top-tier event on the Women's Tennis Association  tour, the tourney broke records this year with over 316,000 visitors to the Tennis Center at Crandon Park, including a men's final record of 14,625 visitors on April 3. The tournament is covered by more than 600 credentialed media outlets from 36 countries.  March 19-April 1
3. AMG Miami Beach Polo World Cup, presented by Nespresso, saw a 12,000 people over four days with an expanded V.I.P. area and beer garden. April 26-29
4. U.S. Open Polo Championships, in its 107th year, hosted 15 matches and over 40,000 people over a four-week period at the International Polo Club Palm Beach. This year's final drew its largest crowd of 10,000 to see the Lechuza Caracas team beat Audi, while sponsors like Piaget and Nestle Nespresso supported the event. Spring
5. Ford Championship Weekend organizers estimate that 67,000 fans watched the racecar action at Homestead-Miami Speedway. In 2010, Kyle Busch won the Ford 200 and 300, and Carl Edwards took the prize for the Ford 400. November 18-20
6. World Golf Championship-Cadillac Championship lures 110,000 spectators to the Doral Golf Resort & Spa for the three-day tournament. March 7-11
7. ING Miami Marathon garners some 22,000 runners each January to trek through the downtown area and Miami Beach. This year an estimated 75,000 spectators looked on. January 29
8. Columbus Day Regatta brings more than 1,000 boaters and sailors to the two-day event each October. October 8-9
9. Miami International Dragon Boat Festival changed its name to reflect the growing number of international competitors that participate in the race at Miami Marine Stadium, which draws 25,000 spectators. November 12
10. New to the List: World Sailfish Championship exceeded $2 million in charitable donations at its ninth installment, raising $700,000 for Camp Boggy Creek and drawing 700 to 1,000 attendees. April 17-21
11. Sailfish Cup is held at the Miami Beach Marina and raises money for the NASCAR Foundation (more than $400,000 in 2010) while welcoming more than 40 participating boats and more than 500 spectators. November 14-16
12. Dig The Beach Volleyball National Championships is a draw for 10,000 volleyball fans. The two-day sand tournament is coordinated by Executive Sports and held on Miami Beach. September
13. Run Miami's Turkey Trot brings together around 4,000 runners, walkers, and wheelchair racers every Thanksgiving to take part in 5K and 10K races. November 24
One to Watch: Nautica South Beach Triathlon hosts almost 3,000 athletes each year, while raising money for charity; April's event raised $250,000 for St. Jude Children's Research Hospital. April 1 
Film & Media Events
1. Miami International Film Festival drew over 65,000 people and introduced them to fi lms from around the world during this year's 10-day, event, sponsored by Miami-Dade College. March 2-11
2. Miami Gay & Lesbian Film Festival features about 85 films, including both full-length and shorts, throughout theaters in South Beach, and this year drew almost 10,000 attendees. April 26-May 6
3. Sunshine State Award Ceremony recognizes journalists from across Florida at a ceremony at the Seminole Hard Rock Hotel. The competition received over 600 entries from various media outlets this year. Summer
4. American Black Film Festival celebrated its 15th anniversary this year with 5,000 festival-goers and a closing night ceremony hosted by actors Anthony Anderson and Regina King. Summer
5. Brazilian Film Festival of Miami brings together around 18,000 attendees each year to watch comedies, dramas, and documentaries at the Colony Theater as well as attend panels and a closing night party. August
6. Miami Short Film Festival, which draws 5,000 visitors, is celebrating its 10th anniversary this year by launching a new Web site, membership program, and partnership with the Mobilfest Awards. November 12-20
7. New to the List: Fort Lauderdale Gay & Lesbian Film Festival is held six months apart from its sister Miami show, and screens 30 to 35 films for 3,000 attendees. October 13-16
 
Benefits
1. InterContinental Make-a-Wish Ball drew more than 850 attendees last year with celebrity auctioneer Paula Abdul helping to raise $900,000. November 5
2. International Red Cross Ball, the highlight of the Palm Beach social season, brought together more than 400 supporters to its white-tie and tiara affair at the Mar-a-Lago Club, raising $1 million. January 28
3. Best Buddies Gala, an event supporting the nonprofi t for the mentally disabled Best Buddies International, offers a dinner, entertainment, and dancing for more than 800. November 18
4. Destination Fashion at the Bal Harbour Shops took a hiatus in 2011, but the fund-raiser that benefits the Buoniconti Fund to Cure Paralysis will return in 2012 with an anticipated 1,500 guests and event production by Barton G. March 3
5. Vizcayans Ball raises funds to preserve and advance the house and gardens as a National Historic Landmark and accredited museum. The event attracts some 450 people each year. November 19
6. Miami Children's Hospital Foundation's Diamond Ball raised some $2 million last year; the fundraiser will induct Gloria and Emilio Estefan into Ambassador David M. Walters International Pediatric Hall of Fame at this year's gala at the JW Marriott Marquis Miami. October 29
7. Black's Gala is a star-studded event, which raised $750,000 for the Consequences Foundation Partnership with the Juvenile Services Department of Miami Dade County in April with performances by Pitbull and Pharrell Williams. April
8. Déjà vu Ball is presented by Big Brothers Big Sisters of Broward County. The event, produced by Sixth Star Entertainment & Marketing, was held at the Bahia Mar Beach Resort and drew 400 to the celebration filled with costumes and dancing. October 15
9. Diabetes Research Institute Foundation's Love and Hope Ball attracted more than 500 guests, down almost 300 from the year before; the event raised more than $800,000 in combination with the organization's November preview party. February 18
10. Up From 11: Zo's Summer Groove celebrated its 15th anniversary, attracting 11,500 people and raising more than $600,000 throughout five days. For the first time, the fund-raiser benefiting Alonzo Mourning Charities' Overtown Youth Center and Honey Shine Mentoring Program, opened the concert portion to the public. Headliners included Alicia Keys, Cee Lo Green, and Carlos Mencia. Comedian Dave Chappelle also made a special appearance on stage at the gala. Tickets, priced at $45 and $65, sold out, with some 4,000 attendees at the Seminole Hard Rock Hotel & Casino Hollywood. July
11. Baptist Hospital Ball was a sold-out event in 2010 as it celebrated its 50th anniversary with 850 guests. November
12. An Affair of the Arts Gala is hosted by the National Foundation for Advancement to raise funds for young artists, art education, and arts in America, and annually marks the end of YoungArts Week. January 14
13. Miami Art Museum Ball, known as the M.A.M. Ball, is held the first Saturday in December during Art Basel. It raised over $500,000 for educational and public programming in 2010. December 7
14. MOCA's Bohemian Bash went with a "Surf's Up" theme in 2011, decorating the museum with beach settings using surfboards and sunsets. The museum is planning its biggest event to date to celebrate its 15th anniversary in 2012. February 25
15. Deliver the Dream Denim & Diamonds Gala gathered corporate and medical sponsors, community leaders, and guests to raise over $120,000 last year for families facing medical issues. October 29
16. Florida Marlins' Fish 'N Chips Fund-Raiser continued to engage guests with a casino atmosphere in 2010, raising around $40,000 for the Florida Marlins Foundation. Fall
17. Pawpurrazzi raised more than $500,000 for Humane Society of Great Miami in 2011, and attracted more than 500 guests with their furry companions. January 20
18. March of Dimes Signature Chefs Auction this fall was presented by Goya Foods and featured chefs from popular Miami restaurants like Café Boulud and Michelle Bernstein's at the Omphoy. September 9
19. New to the List: A Night at the Museum, presented by Miami Beach cultural landmark Bass Museum of Art, garnered almost $40,000 in April and attracted 500 arts patrons and philanthropists. April 26
20. Wild About Kids Gala raised more than $100,000 for the Boys & Girls Clubs of Miami-Dade at the Ritz-Carlton Coconut Grove. In 2010, guests had the chance to sponsor a child through donations. November 12
One to Watch: Rally For Kids Miami is a star-studded event with big-name supporters like Eva Longoria and Christina Milian, who come out to support the Rally for Kids with Cancer Foundation by participating in various events like a scavenger hunt and gala. April
One to Watch: FedEx/St. Jude Angels & Stars Gala and celebrity chair Daisy Fuentes welcomed more than 650 guests to honors those who give back to the community, including this year's honoree, singer Luis Fonsi. May
Trade Events, Expos & Conventions
1. Fort Lauderdale International Boat Show is the largest boat show in the world, attracting hundreds of thousands of marine industry professionals and boating enthusiasts. October 27-31
2. Miami International Boat Show and Stricktly Sail brought in slightly lower exhibitor numbers in February, but still drew over 91,000 people to see the newest boats at the Miami Beach Convention Center. February 16-20
3. South Florida International Auto Show, organized by the South Florida Automobile Dealers Association, saw a 7 percent increase in attendance in 2010. October 28-November 6
4. Home Design And Remodeling Show comes to Miami and Fort Lauderdale twice a year, highlighting fine home furniture, accessories, and home remodeling to a combined audience of over 80,000 people. March 23-26, August 31-September 4 (Miami); November 11-13, May 25-28 (Fort Lauderdale)
5. NBC Miami/Telemundo51 Health & Fitness Expo draws around 50,000 health-conscious consumers to the Miami Beach Convention Center to take part in free health screenings and testing, food and drink tastings, and dance performances. April
6. The Original Miami Beach Antique Show is the largest indoor showing of antiques in the world, attracting 20,000 attendees over five days each winter. February 2-6
7. Exxxotica Miami Beach is a staple show in the pornography industry, where 20,000 attendees get to see the latest sex toys, and at its most recent show, learn about more mainstream products and services like plastic surgery. May
8. Seatrade Cruise Shipping Convention hosted more exhibitors this year, attracting 1,800 cruise line owners and operators from 66 companies and more than 10,000 attendees. March 12-15
9. Graphics of the Americas saw a slight decrease in attendance—200—but garnered a larger global audience, with attendees from more than 90 countries. March 1-3
10. HD Boutique this year drew just over 3,000 attendees, who came to scope out the latest trends in interior design products such as flooring and fabric. September
11. America's Food And Beverage Show's 15th installment expects attendance to rise from 6,200 to 7,000 attendees. November 14-15
One to Watch: Miami International Agriculture & Cattle Show at Tropical Park drew 50,000 people from 22 nations to this year's fourth installment; agriculture is the state's second largest industry. March
Fashion Industry Events
1. Mercedes-Benz Fashion Week Swim attracted 12,000 fashion industry professionals and fans to watch more than 20 designers show off 2012 collections on two runways during the IMG-produced event at the Raleigh Hotel. July 14-18
2. Funkshion Fashion Week Miami Beach drew 400 people each of the four days the event was held. This year, tents took over land between the W South Beach and the Setai for runway shows and sample sales. July 11-14
3. Miami Beach International Fashion Week had its largest showing to date in March with 60 designers from 22 countries displaying collections for the Sobol-Perry Fashion Productions-produced four-day show. March 21-24
4. SwimShow showcased more than 80 first-time exhibitors, with more than 350 exhibitors in total representing 2,000 brands. For the first time, a lingerie component was added to the show. July 21-24
5. Shecky's Girls Night Out drew 3,686 shoppers to the Moore Building in 2010. This year, the event will feature a Cointreau mixology class and Maybelline New York ColorStudio. November 17-18
6. New to the List: Fashion's Night Out this year featured a series of runway shows, after-hours shopping, musical performances, and cocktail receptions from more than 65 retail participants in the Miami area that opened their doors to promote the fashion industry. Luxury retailers across South Florida took part in the shopping event, including luxury retailers from the Bal Harbour Shops, Aventura Mall, Town Center at Boca Raton, Miami Design District, and Village of Merrick Park. September
One to Watch: Miami Beach International Bridal Week debuts at the Eden Roc Renaissance Miami Beach this fall. The show, started by Sobol-Perry Fashion Productions, the team behind Miami Beach International Fashion Week, will feature fashion shows, a bridal lingerie show, and more than 100 booths. November 26-27
 
Parades & Festivals
1. Carnaval Miami is the largest Hispanic festival to hit Calle Ocho in Little Havana, spanning 23 blocks and drawing around one million people with contests, tournaments, and performances. March
2. White Party Week is a culmination of fund-raising parties that at- tracts more than 15,000 party-goers support the fi ght against HIV/AIDS. November 23-28
3. Delray Affair is the city's largest street fair with 600 vendors and 250,000 attendees; next year, the event marks its 50th anniversary. April 13-15
4. Winterfest Boat Parade celebrates its 40th anniversary this year with a "Rockin' Boats and Holiday Floats" theme. Vintage boats are encouraged to enter the parade to honor the new theme.  December 10
5. Up From 7: Miami Book Fair International attracted 250,000 visitors to downtown streets to enjoy readings from invited authors and book signings. November 13-20
6. Florida Renaissance Festival is hosted in both Miami and Deerfield, drawing a combined total of 100,000 people to watch over 10 stages of performances. January 14-22 (Miami); February 11-March 11 (Deerfield)
7. Up From 8: South Beach Comedy Festival attracted 24,000 to the four-day event in March with performances by Doug Benson, Adam Carolla, and Wanda Sykes. February 29-March 3
8. Miami-Dade County Fair & Exposition is a top draw for locals, attracting more than half a million visitors to the 18-day event filled with student exhibits, competitions, and food. March 15-April 1
9. King Mango Strut brought out more than 500 costume-wearing participants to the streets of Coconut Grove at last year's parade. December 31
10. Junior Orange Bowl Parade is the signature event of the Junior Orange Bowl International Youth Festival where hundreds of children take to the streets of downtown Coral Gables. January 2
11. Miami/Broward One Carnival drew 35,000 people last year, and an estimated 55,000 are expected to partake in the parade and Caribbean festival this October. October 9
12. The Great Grove Bed Race is a fun-filled competition, which brings out local businesses that compete with beds on wheels down a street in Coconut Grove, with approximately 20,000 spectators watching the action. Fall
Food & Restaurant Industry Events
1. Food Network South Beach Wine & Food Festival raised approximately $2.2 million for the Florida International University School of Hospitality and Tourism
Management, and for next year, attendees should expect some new events, programming changes, and a redesigned logo. February 23-26
2. Miami International Wine Fair has grown steadily each year in attendance, exhibitors, and square footage—in 2010, around 6,700 attendees sampled 1,800 wines from 18 countries spread over 70,000 square feet of exhibitor space. September 23-24
3. Delray Beach Garlic Festival saw 300,000 attendees this year and over 750 exhibitors. Next year, the festival celebrates its 50th anniversary. April 13-15
4. The Great Taste of the Grove offers food, live music, and activities for 10,000 attendees of all ages over two days and is produced by the Coconut Grove Chamber of Commerce in Peacock Park. Spring
5. Taste of the Nation fund-raiser for Share Our Strength in Miami and Fort Lauderdale raised $147,000, about $40,000 less than in 2010. Summer
6. Pompano Beach Seafood Festival satisfies seafood lovers with offerings of crab, fish, shrimp, and shellfish dishes from local restaurants. This year, bands like Sister Hazel and the Guess Who performed for over 25,000 attendees. April 20-22
7. Deering Seafood Festival transforms the Deering Estate at Cutler into an island fest with calypso rhythms, costumed dancers, and fish and seafood from Florida waters. March 25
8. New Times Iron Fork Competition relocated to contemporary venue Grand Central, welcoming some 2,000 attendees to watch tasting and cooking contests. October 20
9. Coral Gables Oktoberfest is a 10-day fall festival that draws about 10,000 attendees and showcases Austrian and German food, beer, and music. September 30-October 9
10. Coral Gables Wine And Food Festival celebrates new restaurants and wines. The event, held this year on Ponce De Leon Boulevard, raised $150,000—$24,000 more than in 2010—and brought out 200 more spectators. Spring
11. Museum of Discover and Science's Wine and Culinary Celebration represented more than 30 local restaurants and chefs, saw more guests than ever before— 1,400—and raised $50,000 more than in the previous year. March 30
12. New to the List: Las Olas Wine and Food Festival continues to take over the boulevard in downtown Fort Lauderdale with a combination of a V.I.P. reception and street festival featuring more than 60 restaurants. April 20
One to Watch: Slow Food Miami's Annual Pie Contest is sponsored by Whole Foods and annually draws some 100 people and over 20 participants to the Barnacle Historic State Park. September
Theater, Music & Dance Events
1. Winter Music Conference is a dance and electronic music festival that attracts more than 100,000 people to watch artists from some 70 countries perform over five days. March
2. Up From 5: Ultra Music Fest continues to grow. In 2011, the three-day event, held March 25 to 27, sold out months in advance and drew a record 150,000 attendees from 70 countries as well as 200 international performers, DJs, and bands. The festival has grown from its inception as a one-day event (1999 to 2006), to a two-day festival (2007 to 2010) to this year's three-day incarnation. Due to scheduling conflicts and logistical issues, this year was the first time that Ultra Music did not conclude the Winter Music Conference. March 23-25
3. International Ballet Festival of Miami is presented by the Miami Hispanic Ballet and American Airlines, and features performances from dance companies from around the world. This year marked the festival's 16th season, with more than 15 participating companies. September
4. Summer Shorts Festival is a summertime theater event produced by City Theatre and held at the Adrienne Arsht Center, offering premieres of short comedies, dramas, and musicals divided into three theater series: Signature Shorts, Shorts for Kids!, and Undershorts. June
5. Sunfest draws over 275,000 music fans to downtown West Palm Beach along the Intracoastal Waterway for the five-day festival, with recent headliners including Cee Lo Green and Earth, Wind, & Fire. May 2-6
6. New to the List: Jazz in the Gardens, a two-day festival held at Sun Life Stadium, saw attendance rise to 45,000 in 2011. March 17-18
7. Miami Salsa Congress moved its Latin dance festival back to the newly renovated Fontainebleau Resort in August. The five-day line up included more than 300 dancers, 30 performances, and three shows to celebrate its 10th anniversary. Summer
8. South Florida Theatre Festival is an annual celebration of live theater with events and performances taking place throughout Palm Beach, Broward, Miami-Dade, and Monroe counties. October 3-24
9. Heineken Transatlantic Festival draws in 800 to 1,000 attendees per night to watch emerging artists from global spots like Brazil, Argentina, and the Caribbean perform at the Rhythm Foundation-presented showcase. April 27-28
10. Coral Gables Bluesfest mixes the sounds of blues with American, Creole, and German foods at Fritz & Franz Bierhaus. March
11. Florida Dance Festival Winterfest presented its third installment December 27 to January 29 with a large grouping of dance classes and performances, workshops, and lectures. December-January
Art & Design Events
1. Art Basel Miami Beach draws more than 45,000 attendees to see an international selection of top galleries with special exhibitions and parties, and music, film, and architecture events. December 1-4
2. Design Miami will be held in a new venue adjacent to the Miami Beach Convention Center this fall, with panel discussions, interviews, and curated exhibitions from over 20 galleries. November 30-December 4
3. Art Miami, a five-day contemporary art fair coinciding with Art Basel Miami, attracted 46,000 attendees in 2010, up 11,000 from 2009. November 30-December 4
4. Art Deco Weekend Festival saw a 3 percent increase in attendance in January after adding events like a fashion show featuring local students and an Art Deco furniture exhibit. January 13-15
5. Coconut Grove Arts Festival, presented by Blue Cross Blue Shield of Florida, celebrated its 48th anniversary and attracted more than 150,000 art-goers. February 18-20
6. Beaux Arts Festival attracted more than 100,000 patrons in 2010 to view and purchase art from 250 exhibitors in a showcase set outdoors. January 7-8
7. Arteamericas brought in 50 galleries highlighting more than 300 Latin American artists while also paying tribute to Mexico this year. March 2-5
8. Artopia, presented by Miami New Times and Miami International Film Festival, is a combination of art, music, fashion, and film. This year's event relocated to the Moore Building. February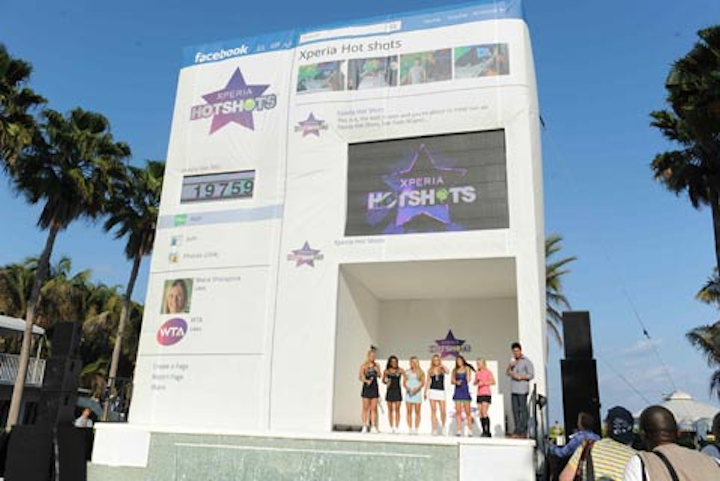 Photo: Gustavo Caballero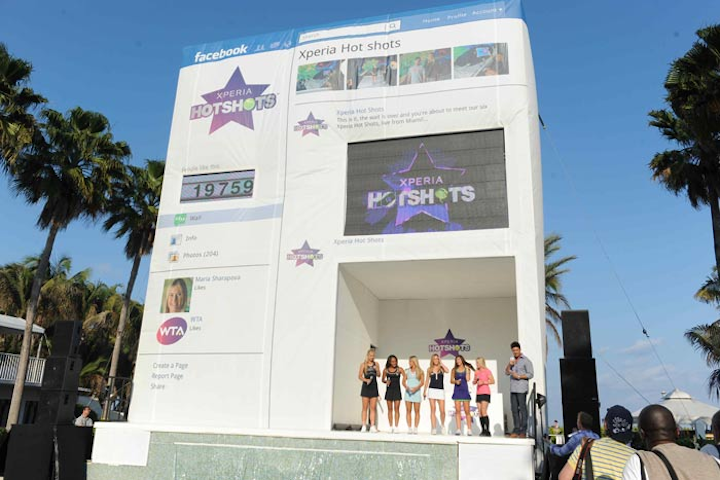 Photo: Gustavo Caballero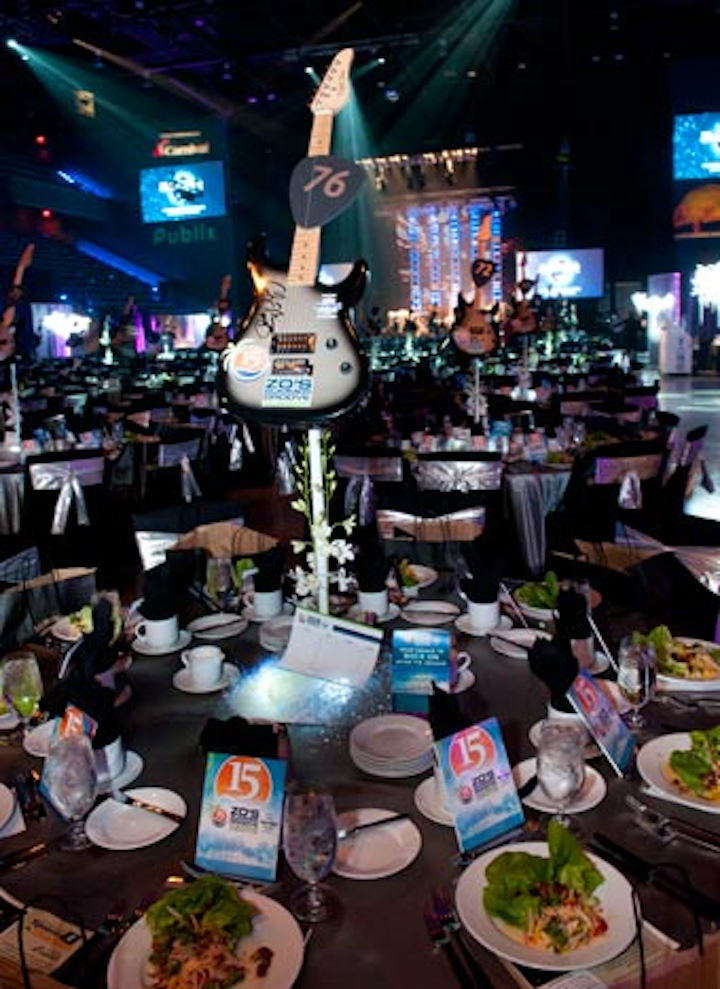 Photo: Mitchell Zachs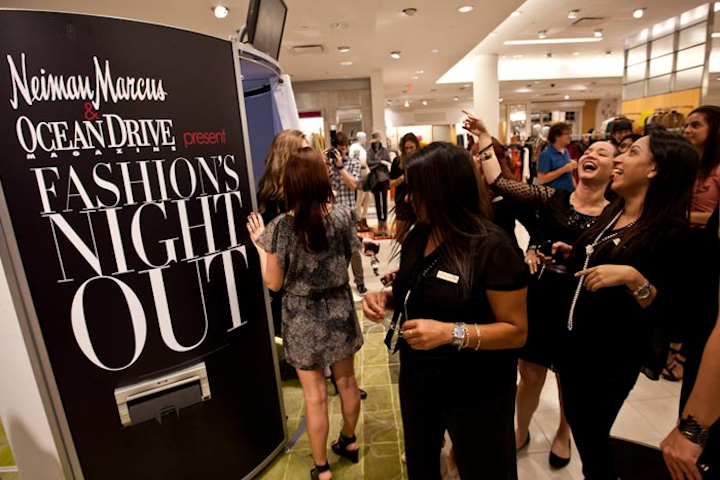 Photo: Elizabeth Renfrow for BizBash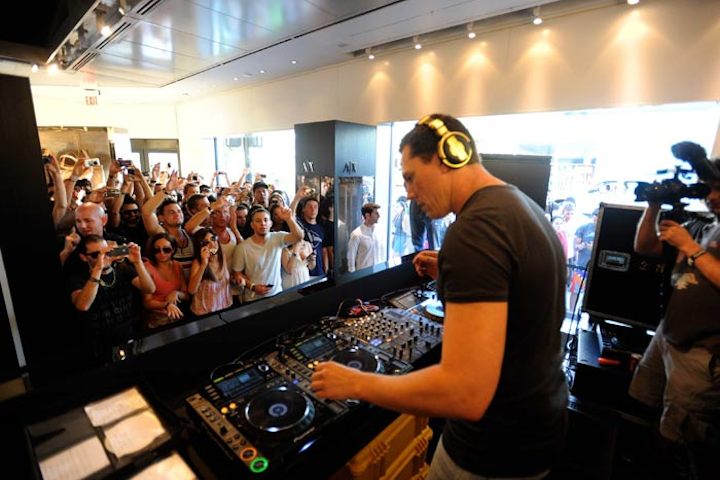 Photo: Courtesy of Armani Exchange