Most Innovative Meetings 2018: #9 No Barriers Summit
Bringing the event to an urban environment brought new challenges to overcome.
January 15, 2019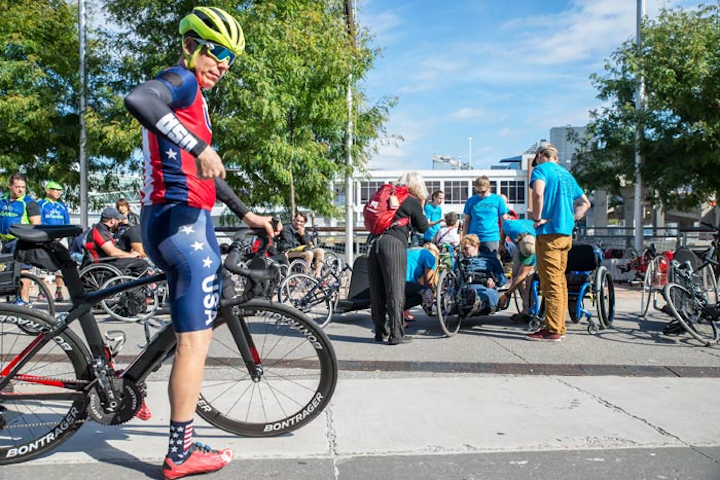 Photo: Sam Davis
Holding the No Barriers Summit in New York City made for an exciting challenge for leaders of the Colorado-based organization, which seeks to empower people of all abilities to succeed in life.
Over the past 10 years, No Barriers has held its summits in mountain or seaside settings, but the organization opted this year to take on the challenge of an urban environment. While the name "No Barriers" evokes a barrier-free world envisioned by the Americans with Disabilities Act, only about a quarter of attendees to the Summit have a physical disability; others seek situations that will change the way they approach the world.
"They're not just people with physical disabilities," said co-founder Erik Weihenmayer, who was the first blind person to summit Mount Everest and kayak solo along the Colorado River. "They are all striving to break through barriers and find the equation to living a purposeful life."
Designers of this event created an array of opportunities for the 1,300 attendees who were chosen to attend the event at no cost October 5 and 6 at the Intrepid, Sea Air & Space Museum. Speakers included actor-musician Ice T, Paralympian cyclist Billy Lister, and Whitney Way Thore, star of TLC's My Big Fat Fabulous Life.
Physical activities during the event included indoor rock climbing, running, cycling, boxing and yoga but there were also more artistic pursuits: improv comedy, blind sewing, photography, musical performance, and textile design.
"We challenged every individual to try something new—and they did," said executive director Dave Shurna. "We had attendees who had never climbed before scaling rock walls above the Hudson. Individuals were able to try fencing, boxing, painting and much more. It was an event for people of all abilities and walks of life to come together and create a safe community for failing, succeeding, and celebrating every accomplishment—big or small."
Then there was a 5,000-person, five-borough scavenger hunt produced in collaboration with outdoor apparel maker Cotopaxi. Teams of between two and six people were given backpacks equipped with maps, clues, and snacks, and dispatched to the far corners of the city to complete their assignments and rack up points.
Participants could use the New York City Accessible travel planning tool, launched by NYC & Company during No Barriers. Search functionality includes amenities that accommodate physical, visual, and auditory accessibility.
"Our new Accessible NYC guide will help visitors confidently choose NYC as their next travel destination, and helps to further reinforce that all are welcome," said Fred Dixon, president & C.E.O. of NYC & Co.
Previous: #8 Collision Conference
Next: #10 Hilton Worldwide GMLS
A version of this story appeared in the Winter 2018 issue of BizBash.
Featured Venues/Suppliers: