Most Innovative Meetings 2019: #2 Code Conference
A full day of live podcasts offered a fresh spin on Recode's 16-year-old conference.
November 5, 2019
Photo: Asa Mathat for Vox Media
Now in its 16th year (and sixth as Code), Recode's invite-only Code Conference brings together 800 of the tech world's game-changers—those making the most impact on the way we live and work—and pairs them with award-winning journalists for three days of temperature taking and trend watching.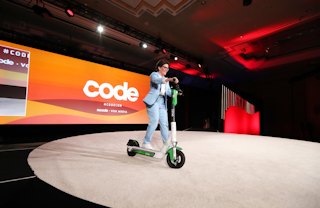 Business journalist Kara Swisher co-hosts the conference.Photo: Asa Mathat for Vox Media
"What Code does is bring in the flavor of what's happening in the zeitgeist," explained Shannon Thompson, executive director of Recode Live. "This year, there was a lot of conversation about responsibility in the tech world, as well as immigration and elections. You can't talk about tech without politics." 
While serious issues are threaded through the three days, Code also adds an element of fun. "This year we had a YouTube ukulele star who taught a class for attendees," said Thompson, who noted that years past have had goat yoga, a DJ who taught a scratching class, and more.
That's also one of the reasons Code changed locations this year. While the conference had been held at Terranea Resort in Southern California for several years, this year it relocated to the Phoenician in Scottsdale, Arizona. "We knew that Terranea was in a labor union battle and it just didn't feel like the right fit for us," explained Thompson.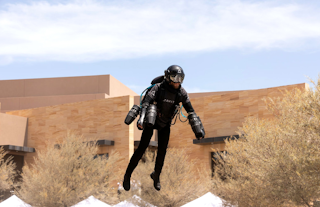 Inspired by Code's new "Future of Mobility" program this year, attendees were encouraged to test out alternate forms of transportation—including a jet pack.Photo: Carrie Evans for Vox MediaThe Phoenician's acreage was also a boon for Code's "Future of Mobility" presentation, new this year. "We look at macrotrends to determine programming, and we're seeing a lot of interest in not owning vehicles," noted Thompson. From electric vehicles and scooters to a live demonstration of a jet pack, the latest transportation trends were showcased, and attendees were encouraged to give them a test run. "It was really fun—everyone, even the staff, was out there on the scooters," she said.
As tech constantly changes, so too does the annual conference—and this year's entire third day of programming was designed to take advantage of the insatiable appetite for podcasts. Vox created a CodeCast stage that resembled a studio, then invited guests such as GirlBoss's Sophia Amoruso, DJ Burt Blackarach, and the hosts of WNYC's Nancy for 30-minute segments. CodeCast kicked off with Recode co-founder Kara Swisher and NYU professor Scott Galloway doing a live segment of their podcast series, Pivot.
"Podcasting is a huge growth trend," explained Thompson. "There is a strong sense of community among listeners who have that shared interest, and we're finding that people want to be in the room with journalists and podcast talent as they record."
While Code's topics, programming, and speaker lineups are constantly evolving due to current events, one takeaway from 2019 is certain: "We'll likely do more live pods going forward," said Thompson. "Open registration [this year] sold out in two days because there [was] such an interest."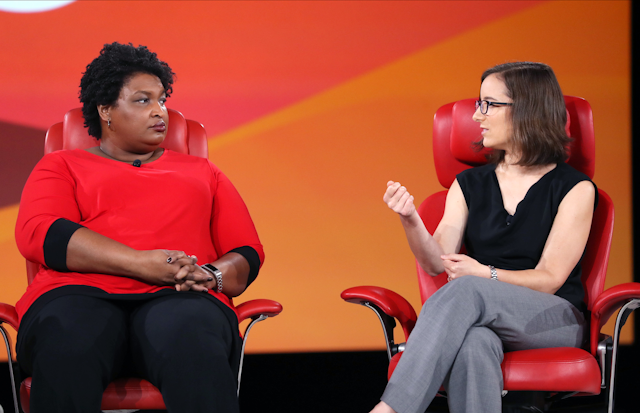 This year's Code Conference drew speakers from Facebook, Amazon, Twitter, and Netflix, plus public figures such as politician Stacey Abrams and actress Natasha Lyonne.Photo: Asa Mathat for Vox Media
Next: #3 C2 Montréal
Back: #1 IBM Think