Most Innovative Meetings 2019: #14 Microsoft Inspire
Format and housing shifts gave attendees more opportunities to network.
November 5, 2019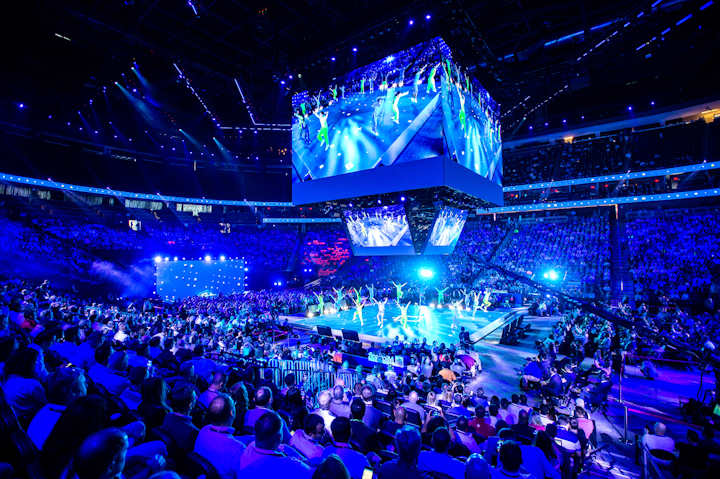 Photo: Joe Malinao
The primary goal of the Microsoft Inspire partner conference is networking—a fact that organizers were keenly aware of for this year's event, which took place in Las Vegas in July.
"Time for networking and connecting is the number-one ask of our partners attending the event, so we took a hard look at the agenda and prioritized making this happen," explained Sarah Howell, a senior director with Microsoft's events, studios, and community group that manages the conference. "With over 16,000 Microsoft partners and employees in attendance at the event this year, the more time we could allow for them to network and connect the better."
To accomplish this, the team decided to eliminate a day of "Corenotes" (similar to keynotes), which gave attendees an entire day to choose their own adventures—meeting with sponsors and exhibitors, connecting with each other and Microsoft employees, and viewing more specialized sessions in the theaters.
Another big change was housing blocks by region, an idea that came from feedback showing attendees want to connect with others who live and work nearby. "To expand the opportunity for connection, we allowed for partners to choose hotel rooms, outside of the primary event hotel, that were assigned to certain regions," said Howell. "This allowed for greater networking and connection opportunities as folks were sharing transportation together, eating breakfast together, et cetera."
She continued: "It did mean we needed to expand our investments in certain areas, [such as] transportation. But we felt the value of the connection opportunity offset the increased investment to make it work."
This was also the second year that Microsoft Inspire was co-located with Microsoft Ready, the tech company's annual internal marketing and sales conference. In addition to overlapping content, themes, and speakers, the goal was to provide more chances for partners and employees to connect, noted Howell.
Next: #15 Code2040 Summit
Back: #13 Western Veterinary Conference