Most Innovative Meetings 2019: #13 Western Veterinary Conference
The annual event for veterinarians boosted sponsor engagement through a trivia game and floor redesign.
November 5, 2019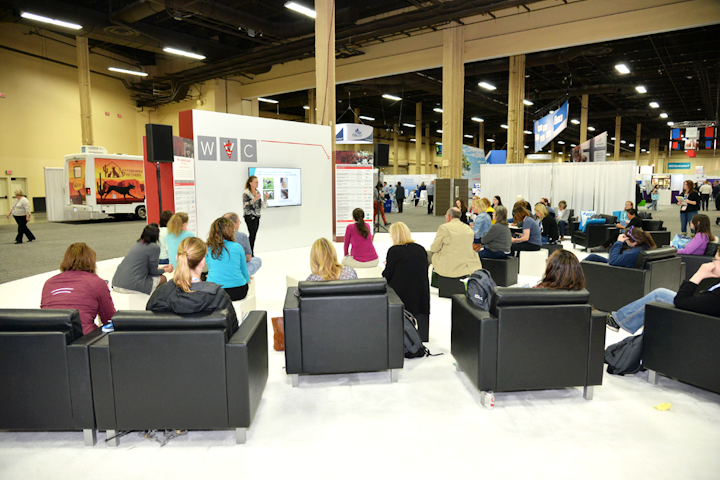 Photo: Courtesy of GES
The Western Veterinary Conference, a veterinarian and veterinary tech education association event, marked its 92nd annual meeting this year, a longevity that speaks to its ability to innovate.
"This is a progressive group and they're always looking for ways to improve," explained Shannon Rosenberg, senior director of ethnometrics for GES, which produced the conference. "They leverage the data to deliver the most beneficial impact for their exhibitors."
The 2019 conference, held in February in Las Vegas, tackled two important issues: getting foot traffic to exhibitors and avoiding dead zones. One way organizers encouraged engagement with exhibitors was through the use of "Vet Detective," an app-based trivia game.
"Education is the prime focus of our conference," said Alex Sandler, director of events and services for the conference. Exhibitors bought sponsorship and then posted signs in their booths for participants to visit, scan a QR code, and answer a trivia question. Points were accrued, ultimately resulting in a series of prizes—but the big win was for the exhibitors.
"Exhibitors interacted with people that they didn't expect to see because of the game. It delivered qualified leads—the average number of leads was over 400," said Sandler.
Traffic flow and the avoidance of dead zones was also redesigned this year. "Based on previous years, we saw that the right side of the hall was more popular, and we wanted to bring traffic to the whole space," said Rosenberg.
The addition of a Learning Lounge with TED-style talks was strategically placed in the back to draw attendees through the floor. Other changes included shifting the popular anchor sponsors from the entrance and reducing the number of food and beverage spaces down from three to two. "Consolidating the F&B spaces into two made them more of a pull," Rosenberg explained.
From the Vet Detective game boosting engagement with exhibitors to a redesign facilitating greater movement, the conference delivered a win-win for sponsors and the 14,000 participants. 
Next: #14 Microsoft Inspire
Back: #12 How Design Live