Chicago\'s Top Benefits 2009
July 7, 2009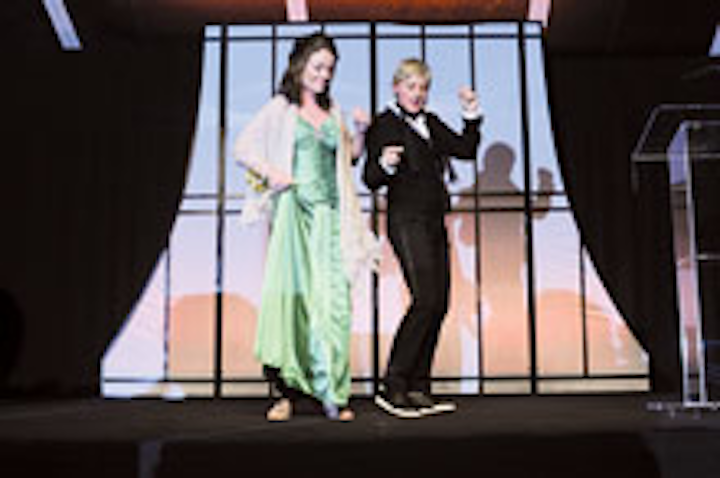 Photo: Make-A-Wish Foundation of Illinois
1. Green Tie Ball
Held in support of Chicago Gateway Green's mission of beautifying area roadways, this ball draws the largest crowd of the season. Around 3,000 guests take part in charitable gaming, live entertainment, and tastings from dozens of area restaurants. Last year's event raked in $500,000.
2. After School Matters Gala
The 2008 gala made a splash with its unconventional venue: an under-construction runway at O'Hare airport. Some 2,400 guests browsed a youth art auction and raised $3.5 million for after-school programs. The 2009 fund-raiser for Maggie Daley's pet charity will take place in September.
3. Juvenile Diabetes Research Foundation's Chance of a Lifetime Gala
The most extensive silent auction in Chicago (500 lots, with everything from restaurant packages to trips) is the focus of this 2,000-guest event, which in 2008 raised $2.6 million and featured singer Steve Winwood. The 2009 incarnation is set for December 12.
4. Chicago Urban League Golden Fellowship Dinner
Major players in the city's political, corporate, and social circles attend this annual event, where past guests have included Barack Obama and Johnson Publishing Company's Linda Johnson Rice. In 2008, the evening drew 2,000 guests and raised $1.9 million for the civil-rights organization. This year's dinner is set for November 7.
5. American Cancer Society Discovery Ball
Charlie Trotter designed the cocktails for the 2008 ball, which raised $2.1 million and featured acrobats and a performance by jazz icon Herbie Hancock. This year's event took place at the Civic Opera House on April 25; some 1,000 guests attended.
6. Children's Memorial Hospital Children's Ball
In 2008, the 50th anniversary ball for 1,200 was held at the Hilton Chicago. The Medical Research Institute Council's 2009 event on December 12 will build on the momentum of excitement generated by a new hospital building currently under construction in Streeterville.
7. Lincoln Park Zoo Ball
A midsummer bash that inspires attendees to dress in their animal-print best, the 2008 ball drew 1,040 guests and raised $1 million for one of the nation's few remaining free zoos. The 2009 ball will take place on zoo grounds on July 10 with a "Spots and Stripes Forever" theme.
8. Make-a-Wish Foundation's Wish Ball
Ellen DeGeneres kept the crowd in stitches at the 2008 Wish Ball, which raked in $900,000 for the Make-a-Wish Foundation. The 2009 benefit for seriously ill children was held May 2 at Union Station and drew 1,000 guests.
9. Breast Cancer Network of Strength Gala
With the theme "Strength in Numbers," the 2008 gala raised $900,000 for breast cancer research. Some 1,000 guests attended the event, which took place at the Fairmont Chicago and featured Dreamworks C.E.O. Jeffrey Katzenberg as honorary chairman.
10. Shedd Aquarium's Close Encounters Gala
A crowd of 1,000 at the 2008 benefit enjoyed dinner among Shedd's exotic-fish tanks and cocktails on a terrace overlooking the skyline. The black-tie event raised $1 million. The 2009 gala took place June 27.
11. Ronald McDonald House's Big Mac Under Glass Gala
In 2008, the gala raked in $300,000 for the Ronald McDonald House Charities of Chicagoland and Northwest Indiana. This year's May 2 event at the Palmer House Hilton had a "Sweet Home Chicago" theme and some 1,000 guests.
12. M.S.I. Columbian Ball
The 2008 ball, a fund-raiser for the Museum of Science and Industry, raised roughly $1.6 million. TV personality Bill Kurtis led a live auction, and magician Bob Higa performed dinnertime tricks. The 2009 event will take place in October.
13. The Field Museum Gala
The Field Museum's largest annual event, this gala drew 650 guests in 2008 and raised $900,000 with an Aztec theme. This year's event will take place October 17 and feature a diamond theme.
14. Chicago Botanic Garden's Harvest Ball
The Chicago Botanic Garden is at the height of its end-of-summer splendor for the annual Harvest Ball. Some 600 guests will gather on September 26 for this year's event, expected to raise $400,000.
15. Boys & Girls Clubs Summer Ball
"Oh, What a Night" was the theme of the 2009 Boys & Girls Clubs Summer Ball, a society-set staple that took place June 5 at the Museum of Science and Industry. Event organizers saw 600 guests and raised more than $1 million.
16. Peggy Notebaert Nature Museum's Butterfly Ball
Pastel and floral-print ball gowns make their first appearance of spring at this ball. In 2008 the soiree featured a "Living Green in Chicago" theme and drew 700 guests to raise $1.5 million. The 2009 event on May 1 celebrated the museum's 10th anniversary.
17. American Heart Association's Heart Ball
Some 700 guests attended the 2008 ball, which helped raise $1.3 million for the American Heart Association. The 2009 event took over the Palmer House Hilton on April 18, and featured a "Hope Is Where the Heart Is" theme.
18. Brookfield Zoo Whirl
More than 700 guests attended the 2008 event, which decked the zoo in peacock-inspired decor and pulled in $1.4 million for the Chicago Zoological Society. This year's event, scheduled for April 25, will feature a "Diamonds of the Wild" theme.

19. Alzheimer's Association's Rita Hayworth Gala
Chaired by Hayworth's daughter Princess Yasmin Aga Khan, the 2009 gala took place at the Hilton Chicago on May 9. With the theme "An Evening in Monte Carlo," the event drew more than 600 guests and raised almost $1 million.
20. Cystic Fibrosis Foundation's Grand Chef's Gala 
This year's gala, a fund-raiser for the Cystic Fibrosis Foundation, took place January 30 at the Fairmont Chicago. The evening featured hors d'oeuvres and desserts from 40 local chefs, drew 720 guests, and raised about $500,000.
21. Children's Place Association Once Upon a Time Benefit Gala
On April 4, close to 600 guests are expected to attend the Children's Place Association benefit at Union Station. This year's "Passport to the World" event is expected to raise $450,000.
22. Hedge Funds Care Open Your Heart to the Children Benefit
Some 500 hedge-fund industry professionals attended last year's benefit, which took place in Millennium Park and raised $850,000 for Hedge Funds Care. This year's event took place at the Chicago Cultural Center on May 20.
23. Heartland Alliance's Art Against AIDS
The Junior Board of the Heartland Alliance hosted the 2009 Art Against AIDS on February 26 at the River East Art Center. The event featured 75 pieces of donated artwork, drew some 500 guests, and raised about $120,000.
24. Rehabilitation Institute of Chicago Bearcat Ball
The 2008 Bearcat Ball drew 500 guests and raised $100,000. The event took place at the Merchandise Mart and featured casino gaming, tasting stations, and a Neil Diamond cover band. The 2009 ball will take place on October 24.
25. The Mayor's Halloween Ball
Halloween is famously the favorite holiday of Mayor Richard Daley, and each year he and his wife, Maggie, host this costumed ball that benefits the Chicago Cultural Center. In 2008, the event drew 500 guests and raised $450,000. The 2009 ball is scheduled to take place October 30.
26. Galapalooza
In its first two years, Galapalooza—a benefit for the Parkways Foundation—drew a hip crowd to Grant Park the night before Lollapalooza weekend. Sharon Jones and the Dap-Kings headlined the 2008 event, which raised $211,000. Some 600 guests are expected at this year's August 6 incarnation.
27. Common Threads World Festival
Singer John Legend, the Food Network's Paula Deen, and Top Chef's Padma Lakshmi were among the famous faces at this 2008 fund-raiser for chef Art Smith's children's charity. The 2009 event for 650 took place March 23 and raised $380,000.
28. Rehabilitation Institute Medicine Ball
The Women's Board of the Rehabilitation Institute of Chicago hosts the annual Medicine Ball, which last year raised $550,000 and drew 400 guests to the Chicago History Museum for a Great Gatsby-themed evening. The 2009 event is set for September 12.
29. Adler Planetarium's Celestial Ball
The Women's Board of the Adler Planetarium hosts this annual gala, which last year featured a "Night and Day" theme and Old-Hollywood-inspired decor. The event drew around 420 guests and raised $570,000. The 2009 ball will take place in late fall.
30. Midwest Eye-Banks Gift of Sight Gala
The 2009 Gift of Sight Gala took place at the Peninsula Hotel on May 15 and honored two Chicago entrepreneurs as the 2009 Man and Woman of Vision. Last year's gala raised more than $118,000 and drew 250 guests.
Featured Venues/Suppliers: