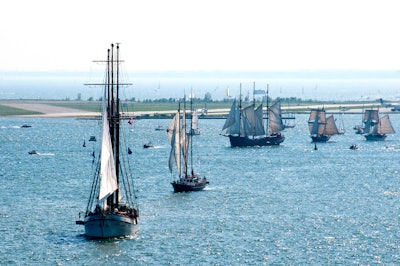 Photo: Courtesy of Waterfront Festival Toronto
TORONTO—With several iconic Toronto events ending in the past year—TIFF Kids film festival and indie music festival Field Trip among them—we have room to add new, strong events in almost every category. Highlights of the new entries are the Reel Asian celebration of Asian film, which saw attendance increase by 47 percent in 2018, and the waterfront Toronto Cider Festival.
Other events scaled back after adding days the year before. For example, the Toronto Festival of Beer is back to three days from last year's four, and the Queen's Plate equestrian event reverted to two days from three.
Two categories have new top-place events: In Art & Design, DesignTO Festival, which is growing in duration and attendance, surged past Luminato, which experienced a shrinking budget and festival duration. In the Benefits category, a new brand, new title sponsor, new technology for its silent auction, and new fund-raising goal of $3 million propelled the Heroes Gala to first place, ahead of the still-mighty Grand Cru Culinary Wine Festival.
To choose and rank the annual events on this list, we look at several factors, including economic impact, buzz, innovation, and an event's prominence within the communities it intends to serve.