The venue vacated earlier this year by downtown hotspot David Greggory Restau-Lounge didn't stay empty for long.
Hudson
, a new restaurant and lounge from Alan Popovsky (owner of Adams Morgan spots
Felix
and
Spy Lounge
), has moved into the power-alley space on 21st and M Streets and will open tomorrow.
The chic 4,800-square-foot interior is outfitted with contemporary lighting, hardwood floors, and modernist striped carpeting. An airy dining room designed by Washington-based architect Belinda Ramos completes the brasserie-style restaurant, which will serve both classic and fun takes on comfort food from morning to night (2:45 a.m. on weekends, to be exact). Menu highlights include diver scallops with wild mushroom ragout and applewood bacon, and a wood-oven-baked pizza with shiitake and white mushrooms, fresh herbs, garlic, and brie. Fancy sandwiches are on offer, too, ranging from a swordfish club to truffle ham and Idiazabal cheese on brioche.After dark, the venue will turn into a comfortable late-night lounge. Two plasma TVs hang above a granite-topped bar, and plush banquettes decorate the stylized, dimly-lit lounge space. The house cocktail is dubbed Hudson Punch: a blend of Malibu rum, Licor 43, and pineapple and coconut juices on the rocks.
Three on-site private dining or party spaces—including a curtained-off V.I.P. area with raspberry walls, a private dining room, and an outdoor patio—can accommodate groups of 24 to 100. The 250-person restaurant is also available for full buyouts.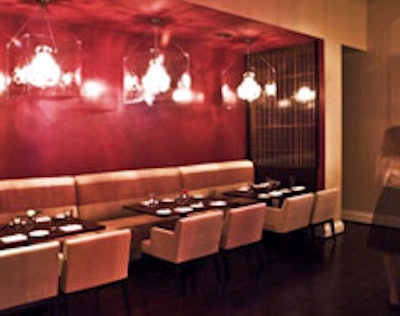 Photo: Betsy Spruill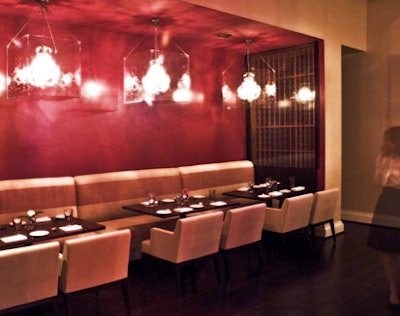 Photo: Betsy Spruill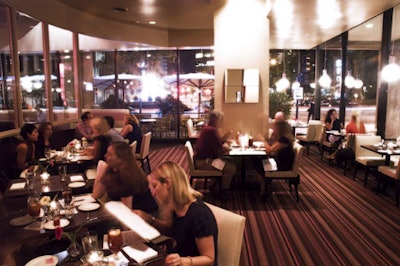 Photo: Betsy Spruill