10 Cost-Saving Tips for Event Catering
January 2, 2013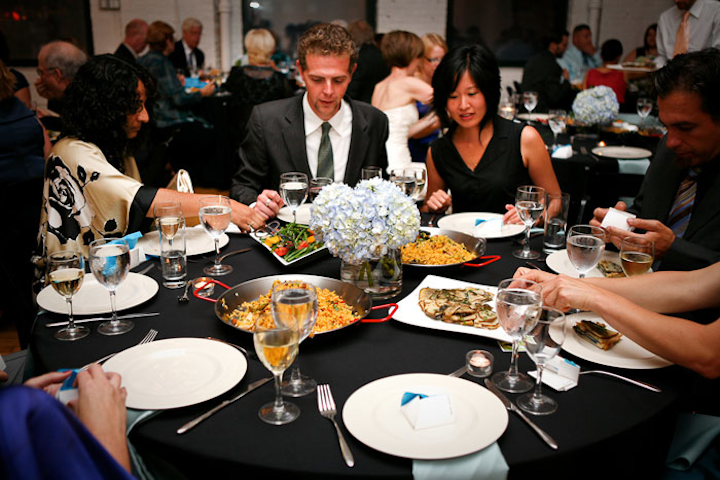 Photo: Jamie Davis
We asked caterers to share the best ways to save on an event's food and beverage bill—without doling out drink tickets or leaving guests searching for the nearest Taco Bell come midnight.
1. Keep it short and sweet. Stephanie Edens, vice president of national sales at Wolfgang Puck Catering, says that hosts should pay attention to timeline. "By controlling the duration of your event, you can reduce costs significantly," she says. Edens suggests planning a cocktail reception with action stations over three hours, rather than a cocktail hour followed by a seated dinner and dessert, which typically lasts around five hours. Instead of perceiving the format as skimping, she says, guests will likely "enjoy the ability to mingle and the high-energy ambiance."
2. Leverage promotional opportunities. To cut down on staffing fees, Tracey Cammack, executive director of catering at Savor…Chicago, suggests considering a "Taste of…" theme, incorporating local restaurants or food products into the event, with signage. "Provide a station for each, and have all participants serve a specialty item," she says. "The companies participate for free, charging just the cost of their products and time since it's a free promotion for them."
3. Eliminate labor costs. Smaller events such as boardroom meetings or small executive dinners may not need servers at all. "For our cost-conscious customers, we recommend an un-staffed event," says Maura Devaney, catering director at Boston's Au Soleil Catering. "We prepare all of the food, set up the room, and make recommendations on how to monitor and refresh, but it allows people to cut down on labor, which can be one of our biggest expenses."
4. Make limited bar offerings more appealing. When it comes to controlling costs at the bar, Edens suggests limiting offerings to wine, beer, and one specialty drink—but make it interesting. Instead of the standard Bud Lite, the beer selection could be pours of local microbrews; wines can be lesser-known varietals, paired with complementary small plates. "Save even more by creating a specialty 'cocktail' without spirits—maybe a sparkling wine cocktail featuring seasonal flavors," she says.
5. Skip the special glassware. Show some restraint when it comes to bar rentals by sticking with an all-purpose glass. "Pick one glass that works for all the beverages you are offering," says Alison Awerbuch, partner and chef of Abigail Kirsch Catering Relationships in New York. "When you rent a variety of shapes and sizes, you end up ordering a lot more glasses per person than if you'd only used one type of glass. Plus, having just one style of glass can make for a sleek and contemporary bar setup."
6. Control portions. While a sit-down meal is often more pricey because it requires more staff to prepare and serve it, buffets and food stations aren't exactly a bargain, since they require linens, serving pieces, and larger quantities of food. "Whenever you allow guests to help themselves, you lose portion control of the food," says Ro Howe, chef and owner of Barraud Caterers Ltd. in New York. Also, buffets require more upkeep. "Stations can certainly look splendid—until 30 people have dug and poked their way through the cheeses," she says. "Stations require unremitting attendance by the front-of-house staff as well as the back." The lesson: Passed appetizers are often less expensive than buffets at cocktail hour.
7. Say yes to paella, no to filet mignon. Current dining trends leave room to take the focus off traditional (and expensive) cuts of meat for the main course, says Molly Schemper of Chicago's Fig Catering, For Intimate Gatherings. "Rather than a standard dish of steak, choose a unique ethnic, farm-to-table, or charcuterie-focused menu that involves vegetables, stews, curries, or braised meats."
8. Cut the corners that no one will notice. Another easy way to shave costs, Schemper says, is to forgo the coffee service. "Many guests don't drink coffee," she says. "Consider serving it at the bar where you can save on costs for items like sugar and creamers on each table, as well as on renting cups and silver display urns for buffet service."
9. Be smart about venue selection. "Choosing a venue with a preexisting kitchen and flexible load-in and load-out times will help save on the rental bill," says Nathaniel Neubauer, owner of Contemporary Catering in Los Angeles. The less a site has in the way of kitchen equipment, the more it will cost to bring in items like tents, generators, and a water supply. "And venues with flexible times allow the rental companies to work the pickup into their schedules, rather than having to charge extra for late-night or early morning pickup," he says.
10. Keep relaxed events really relaxed. "In the summer it's easy to keep it simple," says Rita Gutekanst, principal of Limelight—Food Illuminated in Chicago. For corporate picnics, she suggests informal, D.I.Y.-style bar service to save on staffing. "Set out a ladle and a big, wide-mouth bowl of homemade cherry limeade and place vodka and beer on the side, or have a sangria station," she says. She also recommends leaving out a bucket of ice to hold wine and beer bottles and dressing up bar stations with inexpensive accents such as picked wildflowers and flea-market finds.  "An old weathered door could act as buffet table," she says.
Featured Venues/Suppliers: