Would You Try This New Catering Trend for Meetings?
Hotels are offering shared-dining, all-day break services for multiple groups at the same time in efforts to create cost-effective conference packages.
August 13, 2018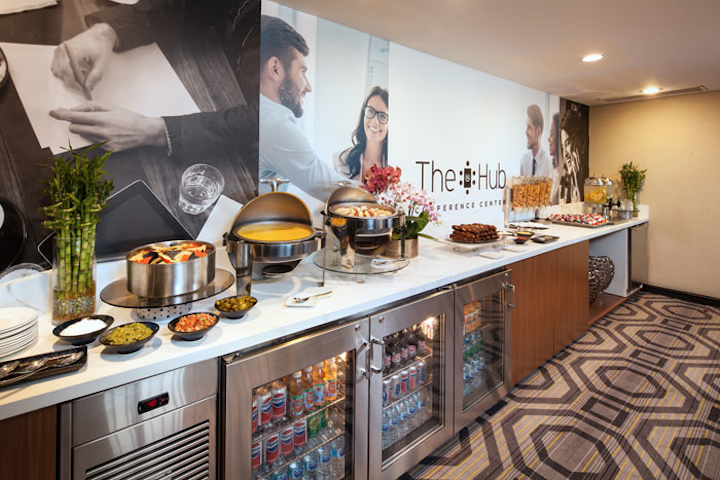 Photo: Courtesy of Sheraton Gateway
In the spirit of shared work spaces like WeWork and Mindspace, some hotels are adopting shared catering services for meeting groups. This option provides groups a shared dining experience with preset rotational menus at a package price.
The Sheraton Gateway Los Angeles Hotel began offering its new all-day meeting package in July. The option consists of morning, afternoon, and evening refreshment breaks in addition to breakfast, lunch, and dinner buffet meals. The package is priced per person as part of the overall meeting room booking.
The hotel—not the event planner—chooses the menu, although staff will accommodate dietary restrictions. Menus include items such as applewood-smoked bacon, egg, and cheddar on an English muffin for breakfast; three-cheese ravioli with salsa rosa for lunch; and pan-roasted chicken breast with tomato-leek ragout for dinner.
"We're starting to see meeting planners looking more for collaboration opportunities with other groups rather than a la carte options," said Matthew Baker, vice president of sales and marketing of Pyramid Hotel Group. "We also found that the way people are doing business these days shows their need for ease of access and scheduling, so when we decided to do all-day breaks it was not so much about shared services but rather ease of access."
The Hotel Roanoke & Conference Center in Virginia adopted its "continuous refreshment break" in 1995. The service is available through all-day meeting packages for as many as seven groups to share its main dining room. It provides daily themed breaks that are on a set two-week rotation, with the all-day refreshment service beginning 30 minutes before the start time of the meeting.
"When the hotel first opened, it was an educational process for our guests to understand the continuous refreshment break," said Linwood Campbell, the hotel's director of catering and event planning and a past president of the National Association for Catering and Events. "But now that people know the shared break service, they like it because it takes away the guesswork."
The strategy behind shared catering can help target millennials and startup groups that may have seen hotels as unaffordable. At the Sheraton, groups save about 15 percent off the regular menu pricing by choosing shared catering. But the ease of the service can also be limiting when a conference has a speaker and wants to organize a private and curated lunch or dinner.
Baker said the groups who have chosen the service usually stay for two to three days, and they have most commonly been for trainings, seminars, and tech groups. The hotel also positions the service as an opportunity to network with attendees from other conferences throughout the day.
"The feedback has been very positive," Baker said. "People love the breakout spaces, the all-day food and beverage service, and the fact that attendants are always on hand if they need anything."
The option has been popular for groups at Hotel Roanoke as well, with groups from a range of business sectors, including corporations, associations, and governments organizations.
"For the future, I see the one thing that we will focus on most is the sustainability factor," Campbell said. "With breaks comes a lot of plastic bottles, aluminum cans, and other packaging. We're seeing one of the trends in the industry itself is globally conscious planners, so we are aiming toward recycling and composting as a part of the program."
Featured Venues/Suppliers: