Chefs and Bartenders Predict the Hottest Food and Beverage Trends for 2020
Kimpton Hotels & Restaurants' annual trends forecast predicts a rise in alternative diets, unexpected ingredients, local cuisine, and low-alcohol cocktails.
November 14, 2019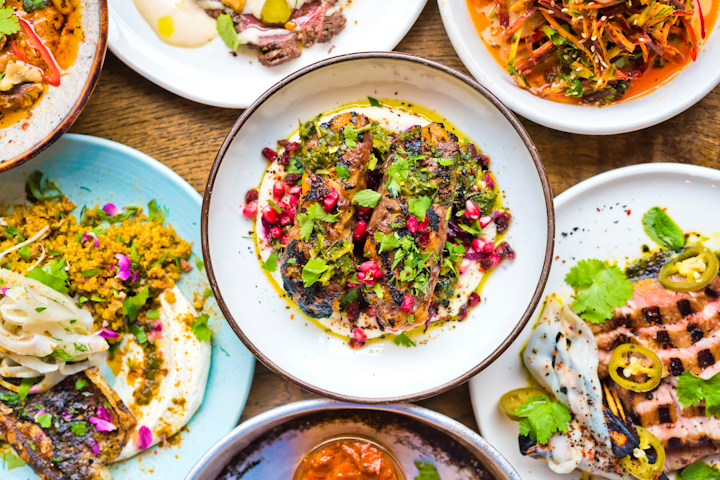 Photo: Courtesy of Kimpton Hotels & Restaurants
This week, Kimpton Hotels & Restaurants released details from its sixth annual Culinary & Cocktail Trends Forecast, a survey of more than 130 chefs, sommeliers, general managers, and bartenders from 75 Kimpton restaurants and bars around the world. 
"Today's diners expect more out of a restaurant than just the food, so we strive to create a holistic experience for guests and locals alike," Scott Gingerich, Kimpton's senior vice president of restaurants and bars, told BizBash. "We want our bars and restaurants to be destination-worthy in and of themselves. ... Our annual [forecast] is an opportunity for our entire team to share what they are most excited for in the coming year."
Here are some key takeaways from the report.
1. Gluten-free, dairy-free, vegetarian, vegan, and keto diets will become more mainstream.
"Diets once considered alternative are now the norm," reports the study. In fact, 31 percent of surveyed chefs say it's no longer enough to only offer one or two options for specialty diets. Even carb-centric dishes such as pasta and bread will use more almond flour, rice flour, guargum, or tapioca. 
This also means that "health ingredients are moving into the spotlight," says the forecast. "Alternative milks, plant-based ingredients, and superfoods are now commonplace compared to still up-and-coming items like nutritional yeast, ashwagandha, collagen peptides, and seaweed."
And get ready for plant-based everything. Fifty-one percent of Kimpton's respondents say that plant-based meat alternatives will continue to gain popularity; chefs will also be including more vegetables in dishes such as pasta, pizza, bread, and sauces. And 47 percent of respondents predict that vegan desserts will be the strongest dessert trend of 2020.
2. Menus will cross cultural lines.
Nearly 40 percent of surveyed chefs think Levantine cuisine—including Israeli, Turkish, and Lebanese influences—will be the most influential style of 2020. In fact, S'chug, a Mediterranean hot sauce, and muhammara, a Turkish red pepper and walnut spread, come out on top on the forecast's list of anticipated spreads and sauces.
But one of the biggest trends, says Kimpton, is ingredients that blur lines between different cultures. More than half of chefs surveyed said they like to incorporate cross-cultural fusion onto menus, such as Mexican and Southeast Asian cuisine, or French with Scandinavian flavors. 
As for cocktails, influences from Mediterranean regions are expected to shape menus, according to 46 percent of respondents. Spirits that originated in China, Japan, and Korea are also predicted to get more popular.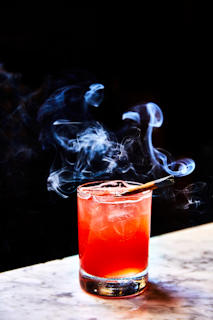 Surveyed bartenders cited aromatic, inedible garnishes as one of the most exciting 2020 trends.Photo: Aubrie Pick
3. Unexpected ingredients are in.
Kimpton chefs predict that "funky flavors" will grow in popularity in 2020. Nearly 23 percent of respondents cited "sour" as their favorite experimental flavor of the moment, using ingredients like rhubarb, tamarinds, and vinegar. Expect to see more exotic peppers such as Gochujang, piri piri, espelette, and Hatch chile peppers, too. Other anticipated ingredients cited include unusual seeds such as lotus, plus Makrut lime leaves and black garlic. 
Ceviche using unexpected ingredients such as spicy tomato granita, pickled carrot, or whipped avocado is also expected to rise in popularity.
The same idea applies to desserts; one in five surveyed chefs say that "grown-up sundaes" using unconventional ingredients will be a top dessert trend. For cocktails, alternative-grain spirits such Baiju, Shōchū, and Soju are expected to rise in popularity.
4. Sustainability and local cuisine continue to take the spotlight.
It's not a new trend, but one that is becoming crucial. Survey results showed that chefs and managers are increasingly interested in "restaurants with a purpose"—a.k.a., collaborations with local farmers, distillers, purveyors, and more. Diners increasingly want transparency across ingredients, sourcing, and production.
"Sustainability will continue to take center stage," adds the forecast. "Restaurant and bar managers, chefs, and bartenders are crazy about composting, incorporating zero-waste techniques, and eliminating single-use plastic items."
5. For cocktails, look for new twists on old favorites.
The survey shows that bartenders are increasingly leveraging culinary techniques in their cocktail prep, with chefs and bartenders working in collaboration. And more than a third of respondents named mezcal as the spirit of choice in 2020. "Bartenders are having fun with the smoky spirit and using it to reimagine traditional cocktails in an unexpected way," says the study. "For example, one Kimpton bartender pairs mezcal with rum, macadamia orgeat, La Colombe espresso, and caramelized pineapple for a smoky, sweet, rich cocktail."
Grilled, roasted, and fire-blasted fruit is also expected to be a top ingredient, and many bartenders said they were excited to work with aromatic garnishes such as burning sticks of wood or scented squares of paper clipped to glassware.
For beer, more than a quarter of surveyed bartenders are excited about sour beers. For wine, expect to see "more natural wines, or wines farmed organically without adding or removing anything in the cellar."
6. Cocktails with little or no alcohol will increase in quality.
The majority of respondents predict that low-alcohol spritzes will shape bar menus in 2020, along with coffee spritzes plus cold brew alternatives and CBD coffee. In addition, the majority of bartenders are excited to focus on non-alcoholic cocktails as part of the overall bar experience. Botanical-infused sparkling drinks and teas featuring exotic fruit such as guanabana, lulo, and passionfruit are expected to become more popular.
"While wellness and health-conscious dining only continues to rise, I'm excited to see that this trend is now crossing over to the beverage world as well," Gingerich told BizBash. "Bars are catching up with this movement and offering lower ABV cocktails, hard kombucha, and non-alcoholic beverages ... that are just as innovative as what's happening in the kitchen."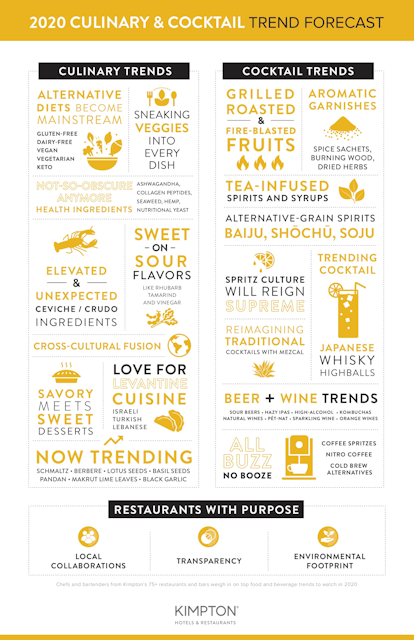 Graphic: Courtesy of Kimpton Hotels & Restaurants