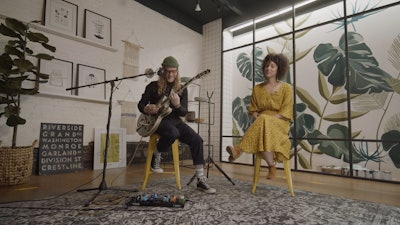 Photo: Courtesy of Superfly
Oftentimes, it's difficult for philanthropic events, especially the virtual kind, to illustrate the cause in an impactful way, leaving the audience feeling a bit disconnected. But for its recent fundraising event, Superfly decided to make the cause—small business—the star of the show by pairing up its roster of musical talent with local businesses.
"I didn't feel like there was a voice and a face to the small businesses. We felt that we could do something that could bring a lot of focus but also tell the stories of the small businesses themselves," explained Superfly co-founder Rich Goodstone. Adding that the team wanted "to bring some energy and some awareness to the 7.5 million small businesses that are at risk of permanent closure over the next few months due to COVID."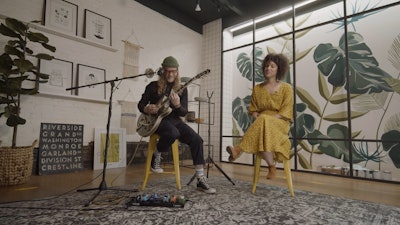 On June 20, the live entertainment and experiential agency, which typically organizes major in-person events like Bonnaroo, hosted Small Business Live, a virtual music festival to benefit minority-owned small businesses across the U.S. Hosted by DJ Jazzy Jeff, the six-hour livestreamed event featured performances by artists including 2 Chainz, Brandi Carlile, Brittany Howard, Leon Bridges, T-Pain, Lauryn Hill, and others, each supporting a different neighborhood business—from coffee shops to music stores to a barbershop.
And while some of the talent performed from their homes, others took the stage at their chosen local joint in locations across the country. For example, Howard was on-site at Fanny's House of Music in Nashville, and Allen Stone played at Terrain in Spokane, Wash. "We wanted to create a more interesting program because so many performances have been on the couch, and we wanted to try and do something a little bit different with showcasing the venues," Goodstone explained.
The festival also included taped vignettes highlighting the small businesses, all of which are facing challenges due to COVID-19.
All of the money raised ($1 million so far) will go toward support for small businesses via the Accion Opportunity Fund, which supports underserved entrepreneurs, particularly those of color, low-income, and women.
Superfly also partnered with small business-minded companies including TikTok, AT&T Business, Square, GoDaddy, and Vistaprint to fund the virtual event. In addition to TikTok, the festival streamed on YouTube, Instagram, Facebook, Twitter, Twitch, LiveXLive, and Bustle Media Group properties, and was seen by 9.9 million viewers.