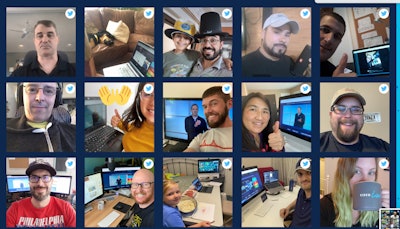 Photo: Courtesy of Cisco
While some planners might panic at the thought of organizing a virtual event, Cisco had a clear advantage when it needed to reconfigure its annual conference, Cisco Live, into a digital experience.
For several years now, Cisco has been integrating digital elements into the in-person version of the conference, such as using its messaging platform to create virtual "rooms," broadcasting the event's keynotes on Facebook Live, and soliciting questions via LinkedIn, Twitter, and Facebook.
So pivoting to an all-digital format was "territory we are familiar with," said Kathy Doyle, Cisco's director of global customer conferences. "However, doing it at scale to completely reimagine the Cisco Live in-person experience took it to a whole other level for our team." She added that scaling down a "five-day event with 1,000-plus sessions and activities into a two-day digital experience was a huge challenge."
(The annual education and training event, which was originally slated to take place June 2-3, was postponed to honor the Black Lives Matter movement on Blackout Tuesday, June 2, and was rescheduled for June 16-17.)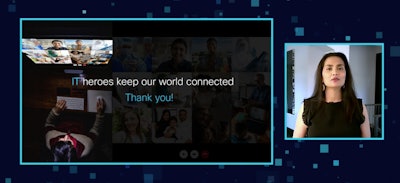 Doyle and her team decided to create a broadcast experience with live hosts to help keep the pacing and flow on track and allow for real-time, relevant updates. "This approach enabled us to serve the needs of our existing audience while capitalizing on the opportunity to bring those new to Cisco into the experience," she said, adding that 53% of the 125,000 registered participants were new attendees.
The virtual event featured four channels—Possibilities, Innovation, IT Heroes, and IT Leadership—broadcasting simultaneously with a total of 60 sessions. "Each channel targeted a specific audience type and need. Some were highly technical [such as the IT Heroes Channel], while others were focused on leadership and broader subjects [such as the Possibilities Channel]," Doyle explained.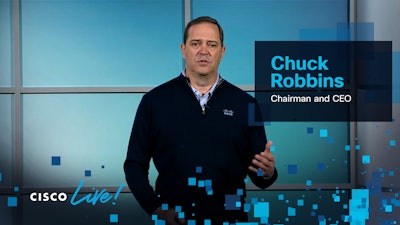 The programming lineup included a mix of thought-leadership keynotes, conversations with authors such as presidential biographer Jon Meacham, and discussions around topics such as inclusive leadership and tech security, as well as product overviews and demos.
WebEx Teams rooms were also set up for each channel, allowing attendees to engage in two-way dialogue with each other. In addition, the event was sprinkled with live Q&A polls, trivia, contests, brain breaks, and movement exercises led by Cisco team members, and included performances by The Chainsmokers, Fall Out Boy, Sting, Dave Matthews, Joan Jett, and Lady A's frontman Charles Kelley.
Leveraging its own technology, Cisco used its internal web platform to host the digital event, which was broadcast on ciscolive.com. Following the event, all of the content, as well as more than 250 new sessions and demos, was made available via an on-demand library on the Cisco site.