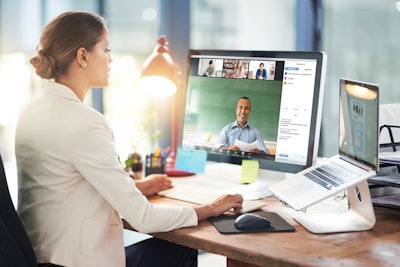 Photo: Courtesy of Zoom
When it comes to planning a virtual event, you're probably feeling a bit like Goldilocks at the moment, researching and testing out a seemingly endless buffet of tech components, software, and platforms in search of something that's just right. To help with the decision-making process, we asked some event industry pros to offer up their insight and advice on putting together the pieces of the digital puzzle:
Consider the needs of your particular event.
Whether you're organizing a virtual conference, gala, or webinar, Erica Spoor, chief event strategist and founder of Denver-based boutique event consultancy firm Impact Point Group, says that the key step to figuring out the best platform to use is "knowing what you need the platform to do and why. It's a bit of the chicken and the egg at the start."
First, begin with a clear understanding of the event strategy, including objectives, target audiences, and expected results or business impact, Spoor says. "You also need to think about your audience and what they want and expect in this revised climate of digital-only events," she adds. From there, Spoor suggests outlining a rough framework with experiential "features" or requirements such as live chat and polling to help inform your decision. "If you're replicating a multi-day user conference online, the approach and needs are different than if you are producing a two-hour awards program or gala," she says.
Scott Varland, senior vice president and head of Genuine X North America, Jack Morton, echoes that thought, saying that "brands need to be driven by the creative solution to the business challenge, not fads or marketing gimmicks or flashy technology. So look at what you are trying to achieve, and build or buy for that."
Planners also have to decide whether their event, such as a multi-day conference, for example, makes sense digitally. Erica Boeke, founder and CEO of Liberty & Company, says that you need to "consider your audience's willingness to sit in front of a laptop for several days straight" and that planners need to "take a step back and reconsider how to deliver a digital-native conference experience that will be successfully engaged with."
This also applies to traditional black-tie galas, which tend to draw older patrons who may not be as tech-savvy, which would inform both your content plan and your platform selection, Boeke says. "But you should also consider that a virtual gala gives you the opportunity to reach out to a much wider audience and experiment with new types of fundraising not typically associated with an IRL gala," she adds.
Another key consideration is whether it will be a totally live-streamed event or an event with pre-recorded content that is then streamed as simulated live at a specific date and time. "Most of our clients are going with the latter due to the COVID-19 shelter-in-place restrictions, but I suspect that will start to shift back to a blend of live and recorded as restrictions are lifted," Spoor says.
Plus, do you have the in-house capabilities to manage a digital event? "Some of our clients have robust online presences associated with their annual conferences, for instance," Spoor says. "Others are very nascent in their exploration of digital as part of the in-person experience. What your company or organization can support may drive how you approach the platform decision. Do you need a turn-key solution with everything outsourced, or can you leverage your company's web or IT team to produce and execute a digital event?"
Determine the right platform.
Weeding through the maze of virtual event technology and software offerings on the market can be a daunting task, and it isn't necessarily a one-size-fits-all situation. "Instead of thinking about a single, monolithic platform, try to simplify around a few best-in-class offerings that get you to 80 percent of the functionality goal," Varland suggests.
"For example, if your primary medium is video, look at the top-tier video platforms. Most can provide both live and on-demand streams, as well as the ability to stand-up customized content hub templates. Then augment that content with additive experiences (such as interactive webinars, chat, media amplification, and extensions) that may or may not be directly integrated."
Spoor says that for multi-day conferences most of her clients are choosing an established turnkey digital event provider such as On24 or Intrado. "Or they have sufficient internal digital and broadcast capabilities that they are building their own digital experience with a web front-end and different providers based on their specialty for things like video streaming, chat, social integration, and gamification."
Similar to an event planner hiring different vendors to provide florals, entertainment, and hors d'oeuvres, this a la carte method allows virtual event organizers to pick and choose various software based on specific needs, combining it all into a cohesive experience.
Spoor says that several of her clients are using Brightcove for video and FanKave for social gamification, while others are using corporate collaboration tools such as Microsoft Teams, Cisco Webex Teams, or Slack for the chat functionality. These types of platforms may already be in use at your company and are supported by your IT, Varland notes, so consider them first. "They may not do everything you want, but it is often better to adjust what you want in exchange for confidence in tech support," he adds.
Get creative when interacting with attendees.
"Interaction is one piece of the digital event experience that is still evolving," Spoor notes. "It's also a really broad term: Is interaction posting something on social media or commenting on a session with an emoji, or is it a meaningful two-way exchange?"
Spoor says that IPG has been auditing the progress of 50-plus events over the past two months, and "interaction has been the challenge for most of them. Some of the platforms like On24 and Intrado do have chat built into the solution, but we've seen them get overwhelmed at times by high volumes of interaction. ... I suspect what we'll see going forward is more moderated and facilitated interaction, which most platforms, web conferencing, or chat software can deliver. One of our clients had success scheduling breakout session chats at pre-scheduled times with a live expert. I think this is the type of direction we're going to need to see more of for the interaction to be meaningful."
Because there aren't truly viable off-the-shelf solutions, Varland suggests that those with an adequate budget should think about building a custom or microsite solution and integrating the best of chat, Q&A, and polling providers. But if you're working with a smaller budget, Boeke recommends using platforms that have built-in networking opportunities such as Eventmobi, Hopin, Run The World, and Shindig.
Beware of "Zoombombing."
As telecommuting becomes the new norm for many companies, popular video-conferencing software Zoom has seen a surge in use, as well as an increase in privacy and security issues. "Zoombombing," when uninvited attendees hack into and disrupt a meeting, is now a growing concern, forcing some companies to block the use of the platform and seek out reliable alternatives.
"The security and privacy of any webcast are reliant on the streaming platform you choose, so do your homework," says Kim Owens, vice president of strategy and operations at FestiFi, a Los Angeles-based event internet solutions provider.
Owens added that she's currently researching StreamYard and BlueJeans, both of which can multi-stream to YouTube and Facebook. "Because neither platform enables attendees control over the webcast, I haven't seen any 'bombing' of events I've attended using these platforms in the past few weeks," she says. "BlueJeans has a more involved, enterprise-level of security and encryption, while StreamYard avoids password leaks by emailing you the link to your login code."
Some of Spoor's clients are using platforms like On24 or Intrado for webinars, but she says that "because our clients are mostly enterprise-size companies, they often are running webinars on their web conferencing platforms with stringent security capabilities designed by their IT departments. The most common, in addition to Zoom, are Microsoft Skype and Cisco Webex, all of which have consumer or small business versions."
Ensure your connection is secure.
In terms of an overall secure internet connection, Owens recommends upgrading from the router provided to you by your internet service provider and investing in a networking one. "If you're renting one, it will save you money over time, can help improve your network performance, and enable you to activate the router's built-in firewall for added protection against hackers," she says, adding that a good router usually costs less than $100.
Make sure you have the tech strength.
Avoid broadcasting a pixelated image of your face, especially during a live stream, by juicing up your internet capabilities. Owens suggests hardwiring your computer to a home modem or router with an ethernet cable. "Live streaming is a bandwidth hog and this will enable you to get the most out of the internet speed you have," she explains. "And try not to have numerous applications, like Spotify, Netflix, and Twitch, running on the network during your webcast, which could slow down your speed."
Boeke also recommends that meeting leaders share "best practices" with their participants beforehand, such as setting any devices that share the same Wi-Fi connection to airplane mode or turning them off. She also suggested sending tips—along with a list of recommended audiovisual products such as a ring light, a high-quality webcam, and microphone—to attendees ahead of time.
And when it comes to showtime, Boeke says that "your host and all talent should be exactly that: talent. They should not be worrying about any tech or sifting through questions. They should be solely focused on their 'performance,'" adding that all tech, graphics, and transitions should be handled by a designated technical producer.
"The best events we are experiencing and producing strive to make it seamless for the guests, seamless for the speakers," Boeke says. "That is one thing that hasn't changed from the old world to the new."