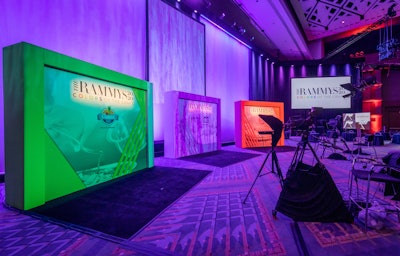 Photo: Courtesy of RJ Whyte Event Production
As virtual and hybrid events become widespread, many event and meeting hosts are opting for more advanced production values, gathering small camera crews and presenters in dedicated studios or other venues. We spoke to some experts to learn how to enforce social distancing in a way that looks natural, build backdrops that work on camera, and much more. Here are six tricks to steal for your next livestreamed event.
1. Space presenters at least 6 feet apart—and use camera tricks to make it appear natural.
If you've opted to stream from a studio environment rather than a home office, keeping your on-site crew safe is paramount. And having visible safety measures is just good business, too. "In the age of social distancing, it is important to be mindful of creating a crowded set," says Durecia Moorer, managing partner and chief marketing officer of ABCD & Company. "You don't want to make people uncomfortable, and if a viewer sees several people sitting with no masks, scrutiny awaits."
One way to space people apart without it looking awkward? Tricks of the camera, says Roger Whyte, principal at RJ Whyte Event Production, who produced the RAMMY Awards Gala in Washington, D.C. on Sept. 20. The annual awards, which honor the city's restaurant and food service community, were filmed at the Walter E. Washington Convention Center and broadcast to a virtual audience.
For the event, presenters were asked to stand on one mark while winners stood 6 feet away on their own mark. Two cameras were used to shoot close-up shots that captured reactions and introductions, while one of the cameras could pull back and shoot a wide shot to show their interactions. "By using a few different camera shots, you can keep presenters safely apart but produce segments that do not look awkward," Whyte explains. "We also have utilized split-screen technology to show head-on shots of two presenters. This way you can see the conversation between the two and keep them at a safe distance—they could even be in separate locations."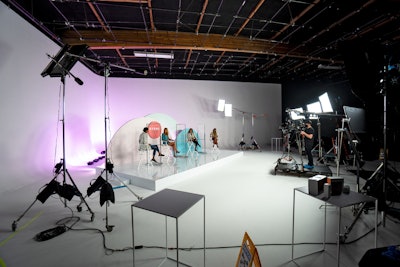 2. Props and barriers can also be a natural way to keep presenters apart.
Matt Stoelt, CEO and creative director of Stoelt Productions, produced a virtual event for beauty platform Byrdie on Sept. 24. The daylong Byrdie Beauty Lab featured yoga sessions, panel discussions, masterclasses, and more, delivered virtually and filmed on a set at Goya Studios in Los Angeles.
Stoelt notes that under current Los Angeles regulations, talent without masks must be spaced 8 feet apart—which presents a challenge if you're trying to have everyone in the same camera frame. "For Byrdie Beauty Lab, we had eight different segments that spanned 7.5 hours, ranging from a single person yoga class up to a four-person panel discussion," he says. Instead of making the stage larger, "We utilized plexiglass dividers between the talent, spacing them 6 feet apart. This approach ensured everyone's safety without compromising the look on stage."
Jack Bedwani, global business director and co-founder of creative agency The Projects, looks to how television presenters have been approaching the situation, such as Turner Sports' Inside the NBA—and notes that there can be some benefits to the distance. "The desk from which they sit behind has doubled in size since the NBA returned in the bubble. [The hosts] all sit 6 feet apart, and it looks completely sleek and polished," he points out. "In fact, the extra distance has really helped the cameramen capture clean individual shots without random co-presenter limbs hijacking a shot."
The reason it works, Bedwani notes, is because the set has depth and scale. "Lots of different levels form the city skyline, to the screen in front of it and the tunnel effect sitting over the panel," he says. "A pro tip is to scale the set out to a larger size than you usually would, so that you have the space to create a compelling visual frame for the group of presenters. That way when the camera pans out and you see them all together, there's a real wow-factor to the image."
Ultimately, "Whether it is florals and plants, or acrylic signs and grand installations, knowing your audience and what will keep them engaged is ultimately what creates the difference and help you stand out," advises Moorer. "Keeping the seating arrangements to two people with a centerpiece or table in between will ensure consumer confidence. It will also remove distractions and help viewers to stay focused on the program."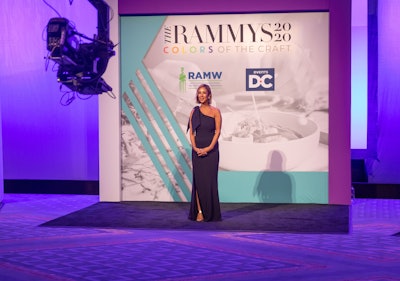 3. Think carefully about your backdrop.
"Choosing the right backdrop or setting for a virtual livestreamed event is unquestionably one of the most significant decisions a producer has to make when designing the event," says Stoelt. "Selecting the most extensive possible footprint provides the most versatility. Creating depth and dimension on screen for the viewer is vitally important to make the production interesting and engaging."
Bedwani agrees that depth is crucial. "Think about your favorite scene in a film, be it Joaquin Phoenix dancing as the Joker on those now-iconic Bronx steps, or even a TV scene of Jamie Oliver in the kitchen serving up a favorite dish. It's the depth of shot that makes the scenes look great," he says. "You want layers to your background, not just a flat wall."
To create that depth and visual interest without breaking the bank, Bedwani recommends using plants or other foliage, a bookcase, or shelves with well-considered pieces that offer the perception of scale. "What you choose is a kind of non-verbal language; you're sharing clues with your audience about who you are and what you're all about," he points out. "If you don't have a great deal of space, move the camera so the corner of the room becomes the center of the frame. You're looking for levels of depth—lines that draw the eye into the center of the screen."
And don't forget the extra possibilities that come with a virtual environment. "Digital backgrounds are a viable option, as are on-screen graphics like lower thirds, logos, and social media details," says Moorer. "Green screens can also be used to create a dynamic and custom background."
4. Test how your color palette and patterns work on camera.
When choosing a color palette for your set, "Consider the lighting, reflections, and the venue's backdrop," advises Stoelt. "Darker colors generally require more light and make imperfections in the scenic work more visible. Lighter colors need less light, and they project luminance across the set. There are pros and cons to both approaches, so the decision should ultimately be driven by the event's content and context." Stoelt also advises using matte materials to avoid studio lighting reflections.
Whyte likes using bold colors on the stage and backdrop—as long as there is adequate lighting to make them pop. "Colors on the talent or performers are a different story," he notes. "We always recommend that talent wear a color that flatters them, and does not clash with the stage set." For the RAMMY Awards, talent was asked to wear colors that popped against the black-and-white backdrops but that didn't compete with the color blocking in other areas of the set.
Also, "patterns tend to not be your friend on camera," adds Whyte. "You want the backdrop design to reflect the event, but you want to stay away from designs that are too busy or distracting."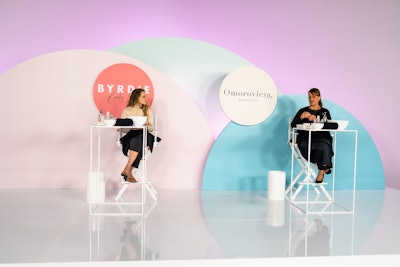 5. Lighting is key.
For an event with a fully in-person crowd, Bedwani notes, it's often appropriate to use "dark, moody, ambient [lighting] to create a warmer, more intimate atmosphere. You basically want the lights as low as possible whilst ensuring you can see everything and everyone you need to."
But for an event that will be viewed on a screen, you'll want as much light as possible. "Brighter lighting not only improves the clarity of the shot, but it enhances the energy on screen. Every part of the shot looks better with more light," says Bedwani. "So for any virtual shows, presentations, or panels, turn all the lights on and ensure there is lots of light pointing directly at you." (For smaller budgets or livestreams filmed in someone's home, he recommends purchasing a ring light.)
6. Consider incorporating a video feed of select at-home audience members.
As seen at recent events such as the Primetime Emmy Awards on Sept. 20, it can also be a good idea to incorporate a video screen into your set, allowing an in-studio host to interact with audience members or other presenters at home. "What people are missing from in-person events is that human interaction, and this provides that in the virtual setting," says Whyte, who notes it works particularly well for award shows. "Of course, you want to ensure that your online nominees have a strong internet connection, so that tech glitches are minimized."
Stoelt agrees. "Incorporating screens into the set design is an excellent way to make the event more engaging and interactive. Creating a connection between the host/speaker/presenter and the audience or guest speakers establishes a bond that knocks down the walls made by virtual events," he says. "[It makes] the audience feel as though they are experiencing something much more dynamic than just viewing prerecorded footage interlaced with live performances."