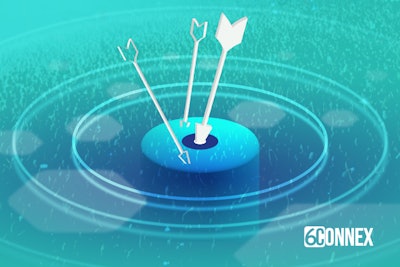 Graphic: Courtesy of 6Connex
Events support sales and marketing goals by identifying new marketable contacts, building and accelerating the sales pipeline, and expanding brand awareness. Before planning an event, it's important to identify these marketing goals and define KPIs you'd like to achieve. Once you've defined your event goals, you can then identify the target audience you'll need to attract to your event to achieve them. Knowing your ideal attendee profile will enable you to select the most effective promotion channels, retain attractive keynote speakers, and more.
How to Define Your Event Target Audience
Hopefully, your organization has defined buyer personas, which will help you hone in on your target audience. If not, you'll want to think through different traits and behaviors that are characteristic of your target audience, including:
Demographic data
Interests and needs
Purchasing habits
Preferred industry groups and news resources
Job responsibilities
Also, use data from sources such as Dun & Bradstreet and analyze the registration data collected from any previous events.
How to Meet the Event Target Audience's Needs
Once you understand your target audience and their event expectations, your event can begin to take shape. For example, if they go to an event to learn, you might want to stack the agenda with educational sessions led by experts. Alternatively, if their goal is to have fun, the agenda might incorporate contests, games, and entertainment. And if the attendees' expectation is to meet new people, you'll want to make sure the agenda includes plenty of networking activities.
One of the best ways to create a personalized experience that meets your attendees' needs is to leverage technology. When planning your event, it's a good idea to map the end-to-end attendee experience for all participants attending in person and virtually. Then, identify "technology touchpoints" in each journey. For example, leverage registration and behavior information data to recommend activities, content, contacts, etc., to each attendee before and throughout the event, sending push notifications to their mobile phones and laptops and customizing the event experience to increase engagement.
How to Market to Your Target Audience
Once you've identified who you want to invite to your event, it's time to build a plan for how you want to invite them. Gathering as much information as possible about your target audience will help you create an effective event promotion plan, informing your selection of marketing lists and targeted ad groups, campaign content, and media. Think through how your target audience accesses various marketing channels, then use them to your advantage.
Choosing the Right Event Management Platform
Whether you're hosting an in-person, hybrid, or virtual event, finding the right technology is key. Fortunately, you don't have to look far. Regardless of whether you're hosting a webinar or a large-scale industry trade show, the 6Connex experts can help you identify your target audience and create a unique event experience, complete with state-of-the-art technology and engagement tools to meet your target audience's needs.
Request a consultation today to see what 6Connex event solutions can do for you.