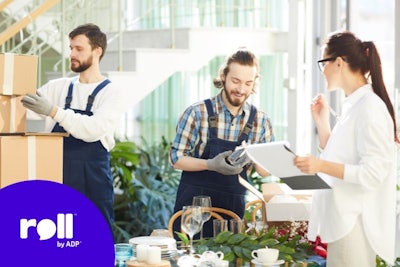 Photo courtesy of Roll by ADP
Fact: It is never easy to run your own business. Even if you're doing something you truly have a passion for, there are still so many tasks you have to do that you don't love—or don't even particularly like. Every small-business owner can agree that, yes, headaches just come with the territory.
And it's no secret that the past two years made owning a small business immensely more difficult. We've had to balance all the usual aspects of running a business along with trying to keep that business afloat during a pandemic. Big pat on the back to everyone who did just that.
But now, things have largely shifted back to normal—and in-person events are coming back at a hot and heavy pace. In fact, a TravelPerk survey shows nearly 90% of companies preparing for in-person get-togethers this year. That kind of volume has left a lot of us in the enviable position of hiring (or rehiring) staff to get the support we need to put on the best events possible. Something that can help anybody in this position is Roll by ADP, the first-of-its-kind chat-based mobile payroll app built with small-business owners in mind. And the best part? Right now, Roll is offering three free months to first-time users.
With virtual events replacing events in real life throughout the pandemic, emphasis is being placed on bringing people back together face-to-face. In fact, 88% of companies we surveyed have stated that they are getting back to event planning for in-person gatherings in 2022.
How exactly can Roll help? Let's take a look at just a few of the ways.
1) All you need is your mobile device
As a small-business owner, you know that every second counts. Convenience is crucial to your lifestyle, so Roll was designed to let you run payroll anytime, anywhere—while you're at an event, in transit, or just chilling at home. Got your mobile device nearby? Then you're ready to run payroll.
2) It's ready for your employees, too
Everybody dreads onboarding. It's time-consuming for business owners and can be a slog for new employees. Roll expedites the onboarding process, allowing your employees and contractors to submit I-9s, enroll in direct deposit, and more—all in a matter of minutes, giving them back valuable time in their day. All they have to do is download the app.
3) You don't have to sweat the small stuff
If you're not a CPA, anything tax-related can be terrifying. Worry no more, because Roll automatically calculates, withholds, and files taxes for you—federal, state, and local. And that goes for employees of every type, all 50 states. No more need to stress out over overwhelming tax forms.
4) Support when you need it
Finally, you can take the guesswork out of payroll and taxes with Roll's step-by-step guidance. And if a question ever does come up, Roll is there for you, with 24/7 live chat support ready to help.
Running your own business is never entirely easy, but Roll helps to make things much more manageable. And as event season gets into full swing, you're going to need all the help and support you can get. Download the Roll by ADP app today, because BizBash followers receive their first three months free!