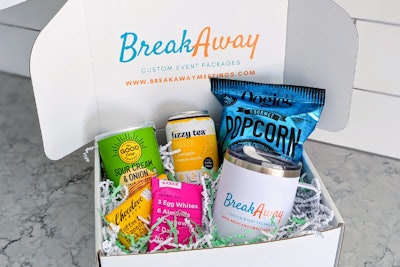 Photo courtesy of BreakAway Meetings.
As the world begins to recover from a tumultuous year, event organizers around the world are finding that connecting in-person and with virtual audiences will be an ongoing challenge. BreakAway has a solution to create a seamless experience for everybody: custom event boxes delivered to all attendees.
Months of conversations with meeting planners and business leaders have put BreakAway Meetings at the forefront of the hybrid event landscape. These boxes foster engagement and a sense of togetherness by creating a shared experience.
The event boxes can include:
Craft snacks and beverages
Custom branded boxes
Company or sponsor event swag
Personalized note
Bridging the Gap Between Virtual & In-Person
BreakAway partners with event organizers from conception to fruition to create a seamless experience for all attendees. They work with you to understand the details of every event and create a customized package centered around clients' goals, themes, and budgets. Throughout the process, clients have direct interactions with the company owners, Kim and Angela, to ensure that in-person and virtual attendees share the same experience.
Thoughtful & Themed
If you are planning a hybrid event in a tropical location, your virtual attendees will already be experiencing FOMO. Rather than just sending a conference T-shirt, let BreakAway deliver the tropical experience to their homes. They will curate a custom-printed box featuring a palm tree background and conference logo, a mojito cocktail mixer, themed drink accessories, islandesque snacks, conference swag, and a personalized note thanking them for their attendance.
When creating custom event boxes, BreakAway takes every conference location into consideration. In-person attendees will have a live-event experience, and BreakAway bridges the gap by bringing a piece of the destination to the virtual participants. They diligently source locally made products from any city in the United States, bringing a sense of that place to your attendees' homes.
Creating a Consistent Experience
While virtual participants receive their boxes at their doorsteps, in-person attendees can receive a similar box as a hotel room drop or at the conference registration desk. All attendees, whether virtual or in-person, enjoy the personalization of a custom package, and event organizers can feel confident that everyone participating in their event shares the same experience. Similar to on-site catering, BreakAway will accommodate dietary restrictions, ensuring that every attendee is able to enjoy the contents of the box they receive.
Learn more at breakawaymeetings.com or reach out to [email protected] to get started on your custom event packages.