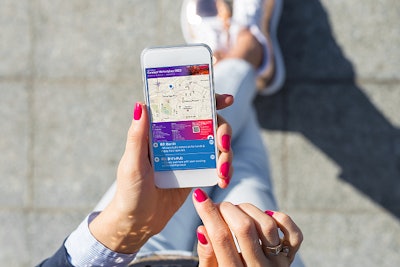 Photo: Courtesy of HipMaps
If an attendee's experience starts the moment they touch down in your event's destination, why not provide them with a curated way to enjoy their entire stay—including the time they spend outside of your event's activities?
Often attendees arrive the day before an event and need a recommendation for dinner, or a lovely and safe walking or running route in the area. With the booming "bleisure" trend—extending business trips to include leisure trave—arriving early or staying a few days longer to explore the destination is increasingly popular. But where to go?
Enter HipMaps, providing a unique solution to take attendees' entire experience up a notch.
HipMaps designs custom maps where the event hosts share their event activities—as well as recommendations for restaurants and local highlights—all on a map branded in the event's color and style. Attendees use HipMaps' innovative and interactive app, which allows them to see their real-time location on the host's HipMap so they can better plan their time, read the host's curated comments about each place for the inside scoop, link to each location's website, and get directions directly from the app.
Event planners know their attendees best, so they choose what to include and highlight: restaurants, from fine dining to the locals' favorite taco truck; brewery crawls; local shops; public art; parks; wellness options; off-the-beaten-path hidden gems—and of course, the event activities so everyone gets to the right place at the right time.
The host's curated comments about each location further enhance the attendees' connection to both the event and the destination. From experiences ("Don't miss this unique building designed by Frank Lloyd Wright") to restaurants ("The best locally raised steaks") to events ("Cocktails and networking on Tuesday from 5 to 6:30 in the Orchid Room, sponsored by The Wooster Company), a curated HipMap will eliminate attendees' frustration of wondering where to go and what to do in their free time, and cut through the overwhelming number of choices provided by a Yelp or Google search.
"HipMaps' goal is to make your time spent in a destination more enjoyable," says Rachel LeRoy, founder and CEO of HipMaps. "The app is free and easy to navigate; the host's map lays right on top of Google Maps so you see your same location little blue dot that you are familiar with. And with the host's comments on each place, it's like having a local alongside you, giving you the inside scoop and saving you time. No more endless scrolling through review sites trying to figure out where to go."
HipMaps is the winner of the 10th Annual BizBash Event Experience Award for Best New Event Product/Service, and founder Rachel LeRoy was named a 2023 BizBash Top 10 Industry Innovator. HipMaps specializes in branded custom maps for meetings and events, festivals, weddings, and special occasions, as well as for destination management organizations, hotels, vacation rentals, destination management companies, incentive travel, and more.
For a short app demo and details on how it all works, visit HipMaps.com.