5 Trends Driving Incentive Meetings Now
March 1, 2013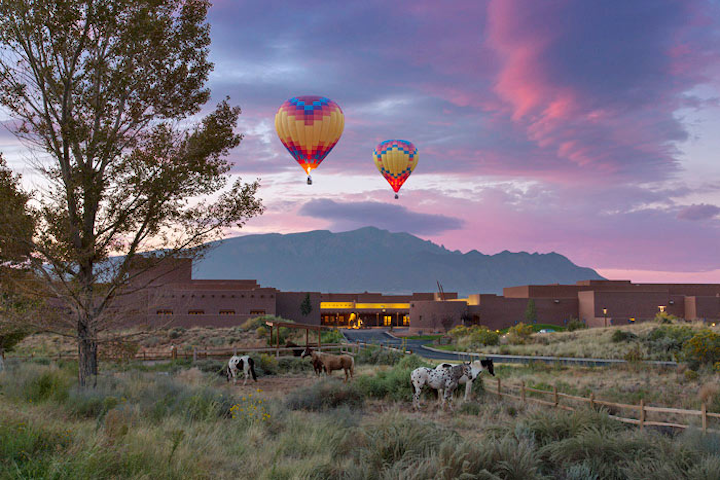 Photo: Courtesy of Hyatt Regency Tamaya Resort and Spa
Rewarding top performers is no longer a one-size-fits-all job. The four generations in today's workforce live in an information-saturated, on-demand world, and expectations are higher and more specific than ever. Here are the trends incentive planners say motivate winners today.

1. Adventure is in
"In terms of activities, there are more active sports and a lot less touring. Young people do not want to sit on a bus and be told what to look at," says Bill Boyd, president and C.E.O. of Dallas-based incentive travel provider Sunbelt Motivation & Travel. One of Boyd's clients recently returned to Hawaii for the first time in a decade. "Before, it was tours of Hilo and volcanoes, and golf. This group used to have 100 golfers. This time they had 38." Instead, he says, "Now it's nothing but sports and activities—A.T.V. excursions, biking, and surfing—and no tours."
Tony Wagner, vice president, Americas, for Carlson Wagonlit Travel Meetings & Events, also says he's fielding more requests for hiking trips in lieu of coach tours, even for exotic locations and challenging terrains like Vietnam and the ruins of Machu Picchu. "You're playing to your audience," he says.
Adjusting more adventurous activities for a potentially wide age range does pose a challenge (after all, baby boomers might not be wild about windsurfing or rock climbing). For multigenerational groups, Boyd suggests offering two choices. For instance, add a trivia challenge to a beach Olympics event for those who don't want to compete physically.

2. Groups are breaking up
Speaking of offering choices: More guest lists are subdividing, since Generation Y is demanding more athletic activities as baby boomers are aging. Planners say this has an advantage because smaller groups can go places and do things that would be impossible with bigger groups.
"We're building lots of experiences within a program instead of a one-size-fits-all approach," says Kurt Paben, senior vice president of business loyalty at Aimia. "We try to come up with as many experiences as we can, so we really steep people in the culture. When you create smaller groups and smaller experiences, you have the ability to make them more authentic."
For instance, attendees on a recent trip planned by Carlson got to choose from a wide range of activities, including teambuilding exercises, spa treatments, and what Wagner calls "experiential-type learning," like mixology classes.

3. Everybody's a foodie
Where different age groups come together, however, is around the table. "The whole topic of cooking has become so prevalent in pop culture. There's obviously a much greater interest," Paben says. "The love of food and the love of cooking and cuisine crosses generations."
In keeping with the demand for more intimate, authentic experiences, Wagner says dine-arounds are being replaced by interactive cooking classes or a chef's table located right in the restaurant kitchen.
Paben says more groups are getting involved with the preparation now. For instance, instead of just visiting a high-end restaurant in Vietnam, Paben says a group might get to tag along with a chef and experience the sights, sounds, and smells of the local market, then watch or even help turn those exotic ingredients into a sumptuous feast. "It's a much more interesting experience than just going to a restaurant," he says.

4. People like to lend a hand
More hosts are requesting that community service activities—also known as corporate social responsibility programs—be included in their incentive itineraries. "You do tend to see a C.S.R. component in incentives that's woven into the company's identity or the values it has," Wagner says.
On a program Aimia planned in Hawaii for tech company Oracle, attendees helped marine biology preservation researchers capture and tag sharks so the animals could be tracked via satellite.
For groups that visit the same destination each year, this lets them incorporate something new and emphasize their tie to the destination at the same time. Maritz Travel created an event for Cisco Systems that took into account the tech company's three-year tradition of taking Chairman's Club winners to Kona, Hawaii. Maritz coordinated with local forest preservation groups and had attendees plant native koa trees on Mauna Kea.

5. America stays strong
The economy still has groups sticking close to home, says Rodger Stotz, chief research officer at the Incentive Research Foundation, noting that many groups are eschewing long-haul flights in favor of discovering—or rediscovering—America. Wagner says that Austin, Texas, is a hot new destination, since its music scene and the annual music and media festival South by Southwest make the city well-known among Generation Y.
Another popular new contender is Lake Tahoe—preferably during the winter months. Wagner says the popularity of active and adventure sports have put the region, with its plentiful skiing, snowboarding, and other outdoor experiences, on the radar.
Boyd adds that the opening of high-end properties in the San Diego area—including Newport Beach and Del Mar—has attracted client interest. "There's also renewed interest in New York City, as expensive as it is," he says. "People still like it, and it's great for unique experiences like taking over Grand Central Station for dinner."
Featured Venues/Suppliers: