13 Destination Venues to Follow on Instagram Right Now
Missing the travel experience? These wanderlust-worthy destination venues boast Instagram accounts filled with major travel eye-candy that will have you commenting "#goals."
August 31, 2020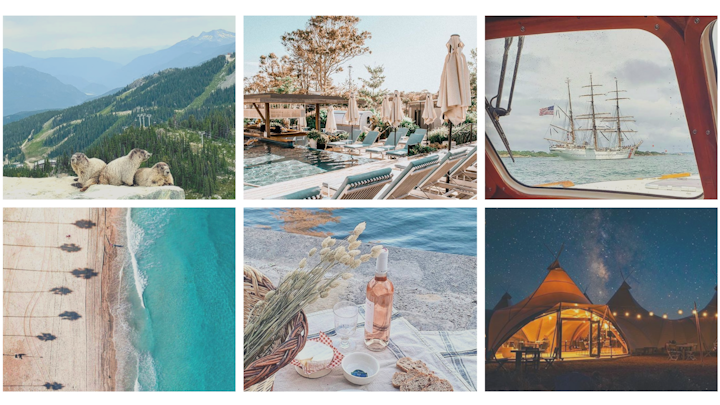 While travel bans and limited capacity mandates have prevented meeting and event professionals from living the jet-set lifestyle over the past six months—and booked flights and hotels have been swapped out for self-isolated social-media scrolling and daydreams about the next event-related getaway—we've compiled a list of destination venues to follow on Instagram to help fill the travel void until we can all meet again.
1. Luxpitality
Luxpitality's Instagram account is nothing short of a globetrotter's must-visit list. The luxury hospitality company's global treasure trove of hotels will have you craving a beach-side breakfast, a swanky lunch at a Manhattan hotspot, or a cozy dinner with snowy mountain top views.
2. Oetker Collection
Europe meets the tropics on Oetker Collection's Instagram feed, where boat rides through the French Riviera are pictured alongside private villa views in St. Barts, and photos of meals from Michelin-starred restaurants are peppered throughout. The #IAmTraveller hashtag transports you worldwide, from France, Germany, and Brazil to Antigua, the West Indies, and beyond.
3. Shangri-La Hotels and Resorts
There's no shortage of travel envy on Shangri-La's Instagram page, where you can toast the Lunar New Year in Singapore, jet off to China for the annual Spring Festival, or head to the Maldives for a long weekend. 
4. NEST Tulum
NEST Tulum's #NaturalSimplicity hashtag does not disappoint. This hotel, a part of the Luxpitality brand, is built into the coast of Mexico's Yucatán Peninsula with bohemian vibes and an intimate hotel buyout option for events.
5. Fairmont Banff Springs
A palace-turned hotel, Fairmont Banff Springs is a multifaceted castle in the Canadian clouds. Whether visiting for the lush summer scenery or the snowy mountain landscape, the destination is primed for both private getaways and events.
6. Under Canvas
You don't have to be a camping aficionado to follow Under Canvas. This hospitality and event company not only boasts a must-try glamping experience at locations across the country (think Grand Canyon, Yellowstone, and Zion national parks), but will also make you consider hosting your next event safari-style under the stars.
7. Le Bristol
Le Bristol is an Oetker Collection property to follow if your wanderlust desires the authentic French art de vivre (art of living). You can live vicariously through photos of fresh home-made baguettes, afternoon tea with views of the Eiffel Tower, and room decor that can only be described as opulent.
8. Whiteface Lodge
If you can't actually escape from reality to Whiteface Lodge in the Adirondack Mountains of Lake Placid, N.Y., at least follow the remote lodge on Instagram. You won't regret double-tapping the holiday-inspired landscapes we're sure you've been craving all year long.
9. Ocean House
A few finger taps on your phone will transport you to Watch Hill, R.I., where the Ocean House makes for a must-visit New England destination. This resort's feed pairs colonial charm and relaxed luxury as perfectly as their Michelin-starred restaurant pairs oysters and lemon juice.
10. Reno-Sparks Convention and Visitors Authority
If you didn't think it was possible to get travel FOMO from Nevada, Reno-Sparks Convention and Visitors Authority (RSCVA) makes you think again. From city shopping and dining to hiking and kayaking in Lake Tahoe and celebrating at the Reno-Sparks Convention Center, which has an event space large enough for aircraft exhibitions, the RSCVA's feed is nothing short of a feast for your eyes and your inner travel enthusiast. 
11. The Lanesborough
The Lanesborough was voted the No. 1 hotel in London and England in 2020 by the U.S. News and World Report, and you can see why for yourself via the property's Instagram page. Not only does The Lanesborough's feed feature Lilibet, the hotel's resident Siberian cat, but it also shows off grand ballrooms, traditional British pastries, and the historic city of London.
12. Elements of Byron
If you fancy a feed with all things R&R, look no further than the Elements of Byron. This beachfront resort is an Australian oasis in New South Wales, and when you click "follow," be ready for some tropical treasures. Photos of the Central Lagoon Pool, one-of-a-kind crafted cocktails, and sunset yoga classes will have you longing to do a poolside Savasana. 
13. Nita Lake Lodge
Nita Lake Lodge is a Whistler Mountain Retreat in Canada, serving breathtaking backdrops, glimpses of adventure, and major #squadgoals. The venue's feed will make you want to host a lakeside business meeting, or simply find an excuse to escape to nature.