Frequent Flyer Event Pros on Their Travel Pet Peeves—and Work-Arounds
Industry professionals have developed smart, strategic solutions for the productivity killers that can cost valuable time and energy on the road.
September 14, 2015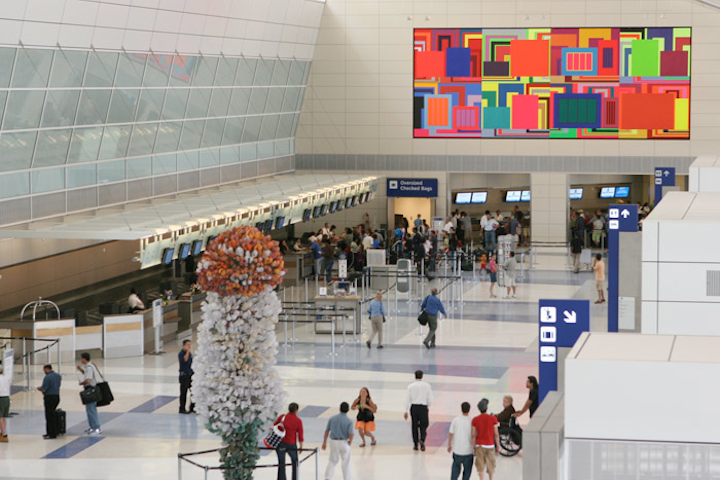 Photo: Courtesy of Dallas/Fort Worth International Airport
Events often require industry pros to travel frequently, and on short notice, and those trips can threaten to derail productivity and cause unnecessary discomfort. But planners who hit the road frequently have developed smart strategies for attacking common issues like connectivity, packing, and airport navigation. For the problems they can't solve themselves, they have some suggestions to offer airport and airline professionals, too.
"My pet peeve is going on a site visit at a new property and they don't know your preferences, so they give you a room farthest from the elevator. I don't like to be next to the elevator, but not the farthest either. After a meeting is scheduled, hotels should ask preferences, but they don't. We've created a rider with all of our preferences, and we send it to properties before our arrival.
Second pet peeve: Why can't the T.S.A. have a business line at all airports? Yes, I'm Global Entry and that has expedited the process, but at a few airports—Las Vegas and Atlanta specifically—the T.S.A. PreCheck lines are just as long as the other lines. And the business line is at the opposite end; T.S.A. PreCheck lines should be next to the business line.
I've also developed a method for getting through security checkpoints fast and efficiently: Place your roller suitcase first, then on the other side of security, that is the first bag you place on the floor. Place your handbag second, then you can put that on top of the roller bag. Place your shoes next. Once they come through the scanner, your other bags are ready to go. Coats and jackets are last, then you grab your coat and you're off to the gates."
Cheryl Gentry, founder and president, Glow Media, New York
"One of the biggest inconveniences of travel is hotels without early check-in availability. Nothing ruins your day more than the feeling of not being settled. To make travel more productive, I often take evening flights the night prior to an event to ensure I am on location way before I need to be. That way I can use the early morning to keep my general workflow constant, getting ongoing priorities accomplished before starting the day's work on the travel project.
I also have a great prioritization system in place with my home team. Generally, we convene before travel to review any temporary changes in command for ongoing projects. Furthermore, we establish a short list of high-priority calls or tasks that will be passed on to me during my travel."
Kimberly Seeherman, president and creative director, Events by Fabulous, Los Angeles
"Productivity killer: spotty Wi-Fi at hotels, convention centers, and remote venues. Solution: traveling with Wi-Fi hot spots. We keep a collection of hot spots for team members to check out from our inventory and bring them along on the road to make sure we always have our own Wi-Fi to rely upon.
Killer: dying laptop batteries when you're not close to a power source. Solution: Purchase a backup laptop battery that gets charged up before you hit the road, so you always have a fully charged battery on hand.
Killer: working on shared documents remotely, sending revisions back and forth between team members back in the home office. Solution: using Google Drive has been a lifesaver on site, allowing us to all work on live documents collaboratively, without needing to access a virtual private network.

Pet peeve: Airport Wi-Fi can be complicated to log in to. Solution: [Airports should] have better instruction cards available in seating and work areas.
Killer: having a loud presence on the plane and forgetting your earbuds when having to get work done in the air. Solution: Airlines need a second option to the cheaper earbuds they have available on board. While trying to be productive, it's much more difficult to concentrate with earbuds that don't cancel out any noise."
Kylie Poppen, marketing coordinator, the Visionary Group, Los Angeles
"While a more cost-effective flight is always nice on the wallet, sometimes in-flight Wi-Fi can be hit or miss. It's helpful to research airlines ahead of time because paying a higher rate might give access to an amenity like Wi-Fi, a necessity for business travel so that you can stay connected. I prefer to fly Virgin America because every flight has Wi-Fi available.
One of the biggest productivity killers, whether traveling by air or on the ground, is running out of battery power. The easiest solution is to make sure that you've fully charged all necessary electronics ahead of your departure. Another solution is to make a small investment in a portable charger.
This is geared more toward post-travel habits and requirements: Early on in my career, I always struggled to keep expense receipts in one place consistently. At expense time, I found myself digging through my purse frantically to compile all of my documentation. Over time, I learned to travel with a ziplock bag and to have enough discipline to add all of my receipts. Just recently, [our company] implemented a new reporting system with Tallie, an expense-tracking app that allows us to automate reports for mileage and import receipts by taking a photo instead of having to scan each individual one. This has been such a productivity boost.
Last, the stress of traveling can be quite the productivity killer. A lack of hydration can make you sluggish and worse for wear. But since airports tend to prohibit any liquids over the allotted amount, it's difficult to bring water bottles through the T.S.A. checkpoint. One easy fix is to place an empty sport water bottle in your carry on or purse, which can be filled at a water fountain. Even better, the same water bottle can be carried and refilled throughout your trip."
Crystal Ramirez, senior account executive, LFB Media Group, New York
"When traveling internationally, one of my productivity killers has been charging my electronics. To solve this problem, I purchased a universal adapter to use in various countries."

Tiffany Cadogan, founder, Sapphire Ink Public Relations, Lithonia, Georgia
"My biggest pet peeve when I travel is people at the airport who don't know that they are supposed to take off their shoes, get rid of the water bottle, and take their laptop of their bag before they go through security. At this point, don't we all know the T.S.A. rules? I think there should be a first-time flyer security line so that the rest of us who are experienced travelers can be on our way.
I also think all airlines should have Wi-Fi. Many have them, but not all of them do, and when you're on a plane it's a great place to catch up on email, do research, and get work done. I know some people enjoy the opportunity to go off the grid when they fly, but I feel like it's a great opportunity to be productive. I typically search for affordable direct flights. Ultimately that matters more to me than Wi-Fi, but in this day and age I just think Wi-Fi should exist everywhere."
Kristin Conte, owner, the Engage Agency, Las Vegas
"Managing multiple teams on both coasts daily is often a daunting task on its own without the introduction of challenges posed by business travel. My biggest pet peeve and productivity killer in the field is, without question, insufficient access to Wi-Fi and data. Today more than ever, our industry relies on real-time communication and information sharing. Recent developments in technology and iOS over the past few years have really helped to close the gap on these challenges, but not having access to the Web on a flight from LAX to J.F.K. means that I literally have lost a day.
To overcome these challenges, we have to take several steps to ensure that we stay connected and have access to data. We made a conscious decision years ago to select Delta Air Lines as our travel partner as they have more Wi-Fi-enabled aircraft than any other airline. Additionally, we use Basecamp, an online project management system and customer relationship management suite, to give all of our stakeholders access to vital project information and assets 24/7. We travel with Wi-Fi hot spots, and our phones double as backup for dead batteries or an extension on the job site. Lastly, we still maintain an in-house server but now maintain a Dropbox, literally giving us full access to everything on our server remotely from our devices."
Matt Stoelt, C.E.O. and creative director, Stoelt Productions, Los Angeles
Featured Venues/Suppliers: