Making Tracks
BMW set up a temporary gallery inside Grand Central to showcase four vehicles from its Art Car collection as well as a project from artist Robin Rhode.
March 26, 2009
The New York International Auto Show is more than two weeks away, but BMW already has a head start on event marketing. Yesterday, the German automaker opened its art installation inside Grand Central Terminal's Vanderbilt Hall, a free exhibition of vehicles from its "Art Car" collection and a project from artist Robin Rhode and filmmaker Jake Scott. To be displayed until Monday, April 6, the New York show is part of a world tour that will make its next stop in Mexico.
Unlike some of the recent, more interactive marketing stunts at the Midtown terminal—including those from Spray 'n Wash, Travel Channel, and Conair—BMW's set up is fairly simple, designed to underscore its commitment to supporting art and culture and show off part of its colorful collection. Started in 1975, the set of 16 vehicles customized by artists now includes pieces by Alexander Calder, Jenny Holzer, and Olafur Eliasson.
Previously, the Art Cars debuted at museums and galleries, but rather than show at the Museum of Modern Art or the Guggenheim, BMW executives opted for Vanderbilt Hall.
"We believe that Grand Central is a hub of transportation, a gateway to America," said Angeli Granchandani, the company's national event marketing manager. Even with the various rules and regulations applied to any event held at the landmark location—including coordination with the MTA police, having trucks swept by canine security teams, acquiring fire certificates, and following safety procedures—the car company felt the station was a natural fit for the installation.
Organized like a gallery exhibit, the cars designed by Frank Stella, Andy Warhol, Roy Lichtenstein, and Robert Rauschenberg are accompanied by stands providing information on the original date of design. A separate wall displays details on the history of the collection as well as a video showing the artists creating their designs. Opposite this, on the other side of the space, is an enormous structure that houses panels from Rhode's 30- by 40-foot canvas, which he created using the wheels of a 2009 Z4 Roadster as his paintbrush, and Scott's footage of the process.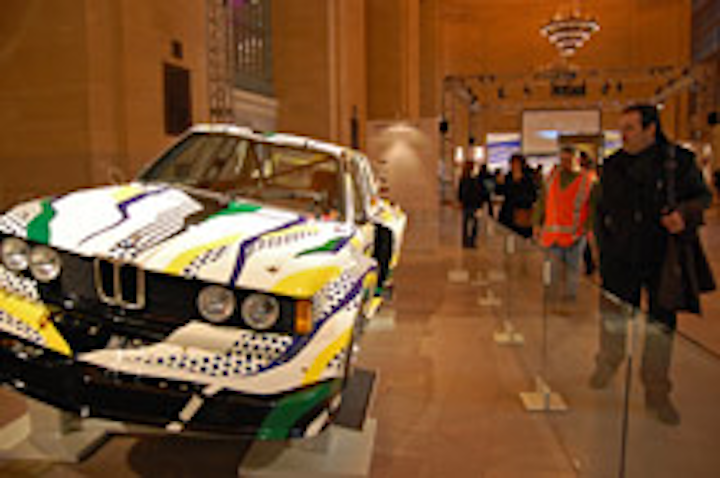 Photo: Jessica Torossian for BizBash
Photo: Jessica Torossian for BizBash
Photo: Jessica Torossian for BizBash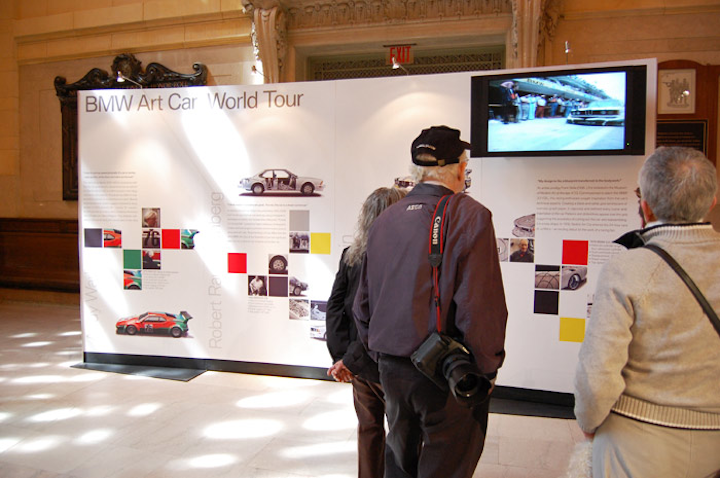 Photo: Jessica Torossian for BizBash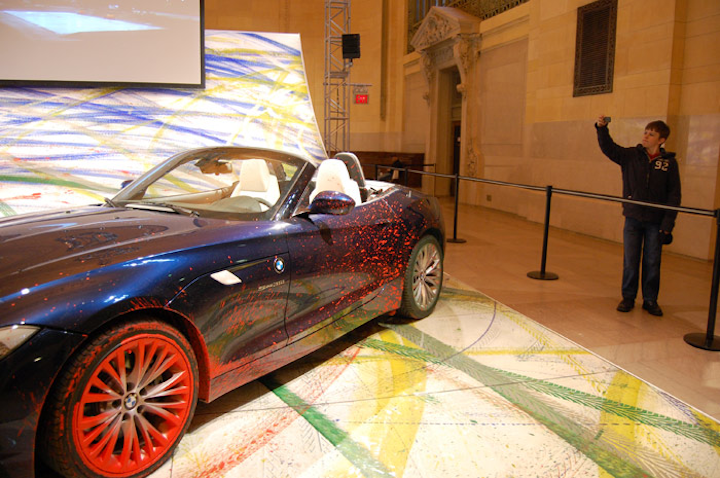 Photo: Jessica Torossian for BizBash
Featured Venues/Suppliers: