This Week in Los Angeles: a Greenery-Filled Movie Premiere, Teambuilding With Classic Cars, Scenes From L.A Times' The Taste
West Coast bureau chief Claire Hoffman covers the week's biggest event news.
September 6, 2019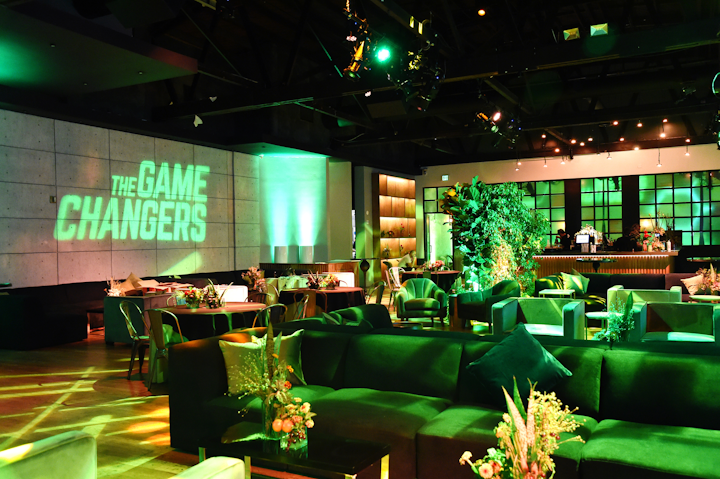 Photo: Michael Kovac/Getty Images for The Game Changers
LOS ANGELES—Welcome to BizBash's Los Angeles-based column, where West Coast bureau chief Claire Hoffman recaps the week's biggest local news. Got a tip? Get in touch!
Moves & Milestones
The Center Theater Group, which manages productions at the Ahmanson Theatre and Mark Taper Forum in Los Angeles and the Kirk Douglas Theatre in Culver City, has hired two new employees. Lindsay Allbaugh has been named associate artistic director, and Neel Keller has been named associate artistic director/literary director.
In Case You Missed It
We chatted with the producer of L.A.'s buzziest new pop-up restaurants—Saved by the Max, Good Burger, and the Peach Pit—about the power of nostalgia, going beyond an Instagrammable moment, and how these '90s-theme spaces appeal to both fans and foodies.
In the News
The Microsoft Theater will host the Emmy Awards at least through 2022. The Television Academy and AEG extended their partnership to keep the award show at the 7,100-seat theater, located at the L.A. Live event venue. Los Angeles Times: "The new agreement is a coup for AEG, the Los Angeles sports and live entertainment giant, as it faces an increasingly crowded field of venues vying for marquee events. Last year, the Banc of California Stadium opened near USC, close to downtown Los Angeles. The Forum in Inglewood, which is owned by rival Madison Square Garden Co., has long been a go-to spot for concerts. Also in Inglewood, the Los Angeles Rams are building a $5-billion stadium, which will serve as the jewel of a sprawling entertainment complex that is scheduled to include a concert hall. And the Dolby Theatre, with a trendy Hollywood address, is home to the Oscars and, increasingly, Broadway shows."
Six former employees of Cafe Stella, a French bistro in Silver Lake, have accused owner Gareth Kantner of sexual harassment. LAist: "Most of the accusers said they witnessed Kantner frequently press himself against other female servers, envelop them in long hugs, and touch them inappropriately. They said he often made crude, sexually explicit remarks and talked about sexual acts he wanted to perform with customers and employees. In an email, Kantner's attorney called the allegations 'false and defamatory' ... With its late nights, heavy drinking, and hot tempers, the restaurant industry has had its share of #MeToo scandals, several of which have involved prominent chefs and restaurateurs: John Besh in New Orleans, Ken Friedman and Johnny Iuzzini in New York, and, most famously, Mario Batali, who was accused by four women of inappropriate touching."
Details are emerging about the victims of Labor Day's Conception boat fire near Santa Cruz Island, which may have been sparked by a phone-charging station. Los Angeles Times: "The fire on the diving boat Conception in the Channel Islands killed 34 people, including several families celebrating birthdays. The victims came from across the country, united by their love of the ocean and their spirit of exploration."
Group Bonding
Exotics Racing will launch its newest Los Angeles-based tour experience on September 15. The L.A. Classic Car Tour allows car-lovers to drive a new 2020 Vanderhall Carmel or a classic 1966 Ford Mustang convertible; each three-hour tour, which includes a tour guide narrating from a cherry red Mustang in front, accommodates as many as eight people in four cars. Guests can swap cars throughout the trip, and tours cost $299 per person.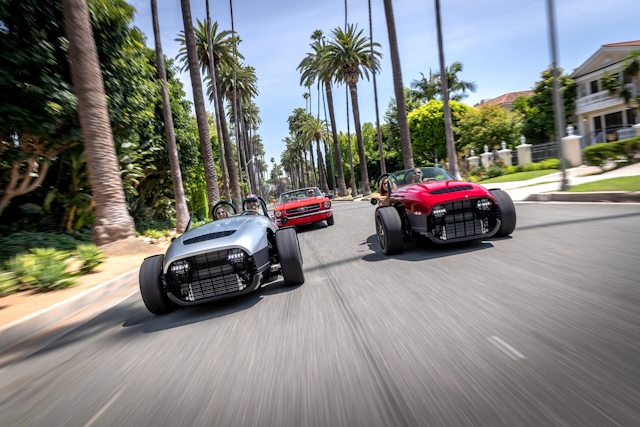 Photo: Courtesy of Exotics Racing Los Angeles
Venue Buzz
Sofitel Los Angeles at Beverly Hills debuted 10,000 square feet of renovated event space this week, featuring interior design by Veserius Studio. The hotel has also redesigned its outdoor pool deck, an event-friendly rooftop space with colorful sunbeds, a fire pit, and views of West Hollywood.
Next week, the Proud Bird is slated to unveil its new Aviation Park, which features 16 remodeled fight airplanes plus a children's turf area and playground. The LAX-adjacent food hall also has six banquet rooms and interactive aviation exhibits.
Overheard
"Please print a list of all attendees please. The public has a right to know."
—Will & Grace star Debra Messing, in a tweet about President Trump's reelection fund-raiser in Beverly Hills, to be held September 17 during Emmys week. The request caused a mix of reactions, including a response from Trump himself. On Tuesday, Whoopi Goldberg compared the idea to Hollywood's infamous blacklist. "You don't have to like it, but we don't go after people because we don't like who they voted for," Goldberg said on The View on Tuesday. "We can talk about issues and stuff, but we don't print out lists."
Surprise Event Metric of the Week
1,000: the number of applicants for AEG's inaugural internship program; only 10 percent were accepted. The 10-week summer program exposed students to the global partnerships, booking, marketing, touring/ticketing, and venue operations departments. 
On the Scene
The Los Angeles Times' annual food festival, The Taste, drew about 8,000 people to the Paramount Pictures Studios backlot last weekend. Best Events handled production.
What's Next
This weekend is the 13th annual AdColor Conference, presented by AdWeek, at the JW Marriott L.A. Live. Dedicated to celebrating and promoting creative professionals of color, the two-day event will feature more than 17 sessions on five stages; speakers include M. Night Shyamalan, Angela Rye, and executives from Facebook, Google, YouTube, and more. Eva Longoria will be honored at Sunday night's AdColor award ceremony.
Looking into next week, the fourth annual Worldz Summit takes place at the Long Beach Performing Arts Center from September 10 to 11. The marketing-focused leadership conference will feature speakers including Shaquille O'Neal and top executives from Buzzfeed, Estée Lauder, GE, Marvel, and more. For the second time, the conference will include a launchpad competition where 12 start-ups can pitch their missions to a panel of judges.