This Week in Los Angeles: Veuve Clicquot's Stylish Polo Classic, a 'Breaking Bad' Pop-Up Restaurant, a Batman-Theme 5K Run
West Coast bureau chief Claire Hoffman covers the week's biggest event news.
October 11, 2019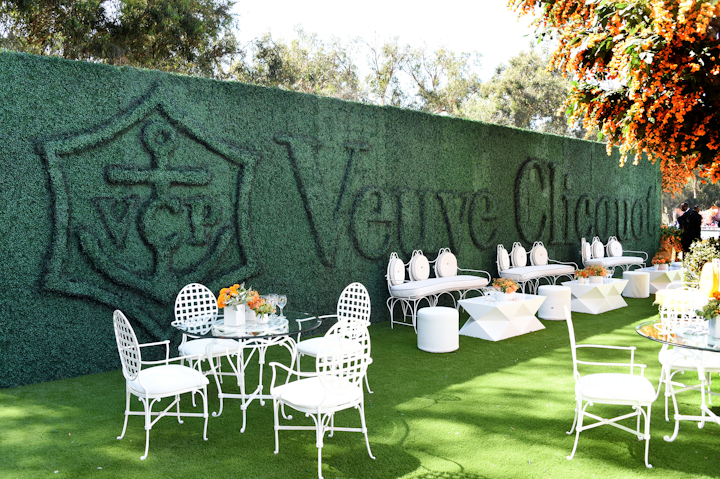 Photo: Gregg DeGuire/Getty Images
LOS ANGELES—Welcome to BizBash's Los Angeles-based column, where West Coast bureau chief Claire Hoffman recaps the week's biggest local news. Got a tip? Get in touch!
Moves & Milestones
HBO's longtime head of entertainment PR and talent relations is leaving the company after 35 years. Variety: "[Nancy] Lesser has become synonymous with HBO, given her wide-ranging role at the company. ... She is the latest senior executive to depart HBO following the management shakeup in March, when Bob Greenblatt was named WarnerMedia Entertainment chairman, prompting the exit of longtime HBO C.E.O. Richard Plepler."
Bill Kramer has been named director of the Academy Museum of Motion Pictures, effective January 1. He previously served as the upcoming museum's managing director of development and external relations.
Jon Dubrick is the new regional executive chef of Centerplate at the Pasadena Convention Center. 
Coming Soon
The team behind the Saved by the Max, Good Burger, and Peach Pit pop-up restaurants will debut the Breaking Bad Experience in West Hollywood on October 16. The interactive restaurant will feature set re-creations and Breaking Bad-inspired eats, including a D.I.Y. menu of chemically reactive cocktails; tickets are now on sale. Last month, we chatted with producer Derek Berry about the company's pop-up experiences.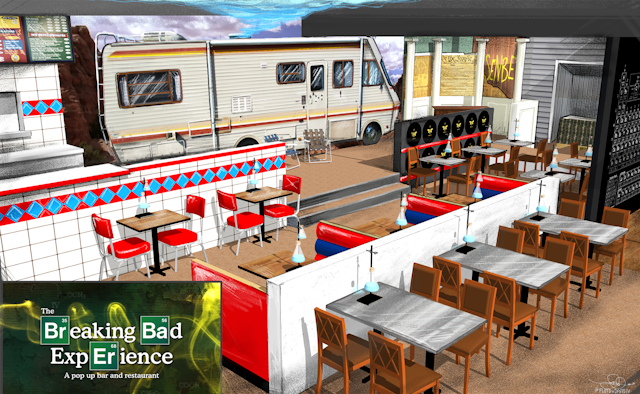 A rendering of the Breaking Bad Experience, which was designed by multi-disciplinary artist Floyd A. Davis IV.Rendering: Floyd A. Davis IV
In the News
From today through October 27, guests can book a room in a Lisa Frank-theme penthouse in the Fashion District's Mayfield Lofts. Curbed: Hotel booking site Hotels.com has partnered with Lisa Frank and hospitality company Barsala to create a technicolor penthouse ... billed as 'a '90s Kids' Dream Room.' ... The cost per night is $199 and the room can only be booked through Hotels.com."
The city's new straw laws went into effect on October 1. Los Angeles Times: "All Los Angeles restaurants [are] required to withhold plastic straws unless a customer requests one. The move marks the second, and more wide-ranging, phase of a city ordinance that went into effect for businesses with more than 26 employees in April aiming to limit the availability of single-use straws. The law now applies to restaurants of all sizes."
With the help of 72andSunny Los Angeles, Tinder is making the leap into original content with a weekly choose-your-own-adventure digital experience. AdWeek: "Users who opt to participate in Swipe Night will join a party that quickly devolves into apocalyptic chaos. Using the app's swipe feature, they'll be asked to make a number of choices that determine what happens next, and are only given seven seconds to make each decision. ... After each release, Tinder members can choose to display three of the choices they made in their profile on the app. They will then be matched with others who also interacted with the experience, the idea being that their choices will serve as conversation starters."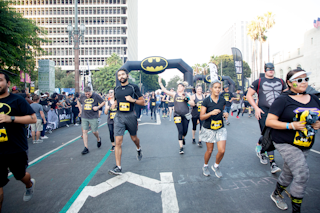 Warner Bros. hosted a 5K run downtown to celebrate Batman's 80th anniversary on September 21.Photo: Courtesy of Movement Strategy
Surprise Event Metric of the Week
5,000: The number of people who attended the inaugural Batman 5K night run in Grand Park on September 21 in honor of the character's 80th anniversary. A partnership between Warner Bros. and creative agency Movement Strategy, the run included an experiential component: A traffic tunnel was turned into a "Bat Cave" with dimmed green lighting, fog machines, and a custom Batman playlist. The event also included a family-friendly experience in the park, which featured Batman-theme carnival games and photo ops with the real Batmobile.  
Venue Buzz
Starting October 29, the Los Angeles International Airport will ban all taxis and ride-share services from the airport's pickup areas in an effort to fight congestion; travelers will need to take a shuttle to a new offsite lot. Eater: "Once passengers arrive on shuttles from the terminals, two trucks selling food will be ready to feed them. LAX will rotate different trucks to mix things up, and will include a single retail truck. The food trucks and dining areas should help travelers while they wait for their rideshare cars to arrive. ... The pick-up lot will remain in service until the Automated People Mover opens in 2023."
The team behind Te'Kila restaurants opened burger bar Smashed today in Hollywood. The fast-casual eatery serves Wagyu beef burgers, Beyond Meat burgers, and fries in a bright, colorful space featuring a neon graffiti wall from local artists. Smashed is hosting a two-day grand opening party this weekend with giveaways, drink specials, and live music. 
Overheard
"It's a creative way to get your legacy out where there is going to be buzz. You're looking at the most advanced, high-tech stadium in the No. 2 market in the world."
—Columbia University sports marketing professor Joe Favorito, speaking to AdWeek about why financial start-up SoFi invested $400 million for naming rights to the upcoming Rams and Chargers stadium. "The partnership guarantees that SoFi will be associated with the 2022 Super Bowl, the 2023 College Football Playoff, and the opening and closing ceremonies of the 2028 Olympics, all of which will take place at SoFi Stadium," notes AdWeek. "It also doesn't hurt that the stadium is only three and a half miles from LAX, guaranteeing SoFi free additional advertising from every flight in and out of the city."
On the Scene
The Petersen Automotive Museum celebrated its 25th anniversary gala on October 5. An eye-catching ceiling display was inspired by the museum's silver anniversary; the gala was planned by RG Live Events with decor from Revelry Event Designers, lighting from Images by Lighting, and rentals from Town & Country Event Rentals.  
What's Next
The coming week includes a few notable events from our annual Top 100 Events in Southern California list. On Saturday night is the Hammer Museum's high-profile Gala in the Garden, which raises money to support and showcase young and emerging L.A. artists. Last year's edition drew more than 500 guests and raised a record-breaking $2.6 million; Jordan Peele and artist Judy Chicago will be honored this year.
Also this weekend is the Long Beach Marathon, sponsored by JetBlue. The route begins in Downtown Long Beach, and runners head toward the historic Queen Mary and through Shoreline Village. In addition to the main event on Sunday, related events throughout the weekend include a half marathon, a run/walk, a bike tour, a kids' fun run, a health and fitness expo, and a finish-line festival.
And looking into next week, the 26th annual Elle Women in Hollywood Celebration takes place on Monday at the Four Seasons Beverly Hills. The Ralph Lauren- and Lexus-sponsored event will honor 10 women—including Scarlett Johansson, Mindy Kaling, Nicole Kidman, and Zendaya—for their creative and cultural contributions.