This Week in Los Angeles: Kanye West's Phone-Free Listening Party, an Eye-Catching Stage Design, VidCon's New Event Exec
West Coast bureau chief Claire Hoffman covers the week's biggest event news.
October 25, 2019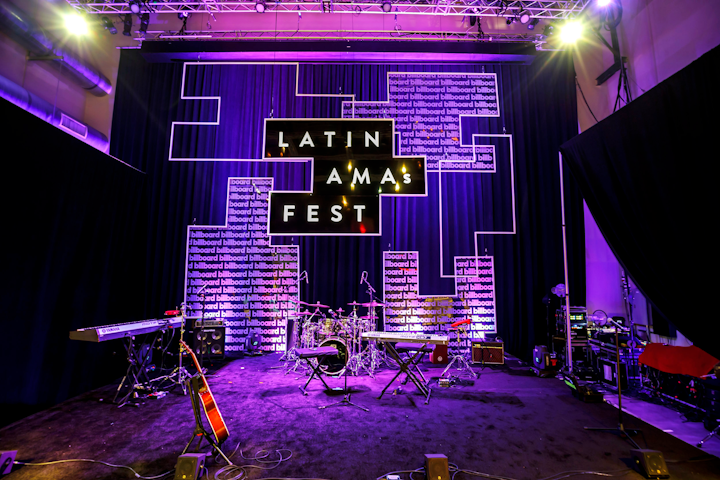 Photo: Courtesy of Stoelt Productions
LOS ANGELES—Welcome to BizBash's Los Angeles-based column, where West Coast bureau chief Claire Hoffman recaps the week's biggest local news. Got a tip? Get in touch!
Moves & Milestones
Online-video convention VidCon has hired Carter Hansen, a founding executive at AwesomenessTV, to oversee conference programming. Hansen previously founded Different Entertainment, a producer of live and experiential events. Both VidCon and AwesomenessTV are owned by Viacom. Variety: "In 2019, VidCon events in the U.S., London, and Australia have drawn nearly 100,000 total attendees. It's now expanding into Asia and Mexico: The first-ever VidCon Asia Summit will run December 3 to 4, 2019, in Singapore, followed by the annual VidCon London (February 20 to 23, 2020) and the inaugural VidCon Mexico (April 30 to May 3, 2020). Next year's flagship VidCon U.S. is slated for June 17 to 20, 2020, at the Anaheim Convention Center."
Hyundai Motor America has named Angela Zepeda its new chief marketing officer. Zepeda has previously been an executive at Los Angeles-based agencies Innocean USA, Quigley-Simpson, and Campbell Ewald—Los Angeles. 
In hotel news, Clayton van Hooijdonk is the new director of food and beverage at the Resort at Pelican Hill in Newport Beach.
In Case You Missed It
We learned what it took to produce Variety's philanthropy-focused Power of Women event, which honored Jennifer Aniston, Mariah Carey, Brie Larson, and more. We also checked out the bold, whimsical launch of RuPaul's Drag Race star KimChi's new beauty line. Come for the oversize lollipop props and Instagrammable moments, stay for the confetti-filled performance from drag queen Meatball!
This week, we also announced the winners of the 2019 BizBash Event Style Awards, which include local event pros BartKresa Studio, Kristin Banta Events, The Sheppard, and more. Click here to see the full list!
Toilet Humor
On Wednesday at the Santa Monica Pier, toilet spray brand Poo-Pourri kicked off its "Giant Poo Experiential Tour"—which is exactly what it sounds like. The brand brought an inflatable "giant poo" to the pier, and a "butt selfie" artist drew live derriere sketches of attendees such as Busy Philipps and Wells Adams. The activation is open to the public through Sunday and will then travel to 20 cities throughout the country.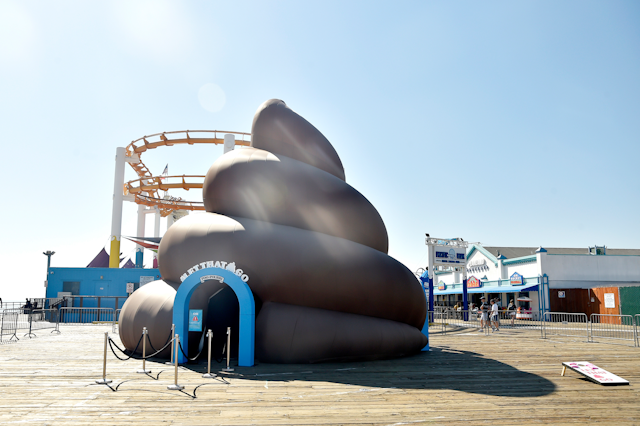 Photo: Stefanie Keenan/Getty Images for Poo-Pourri
In the News
Kanye West hosted a preview event of his new "Jesus Is King" album on Wednesday at the Forum. Variety: "The listening session for 17,000 took place two days before the project's release and also coincided with an accompanying IMAX film of the same name. Friends, family, fans, and media gathered to celebrate with West, who turned the venue into a prairie, reminiscent of one of his outdoor Sunday Services. ... Upon arriving to the entry gate, every single phone got locked in a Yondr pouch to disable its use."
Local marketing executive Jane Buckingham has been sentenced to three weeks in prison for her part in the high-profile college admissions scheme. The Hollywood Reporter: "The Los Angeles resident admitted to paying $50,000 to a sham charity operated by admissions consultant William 'Rick' Singer, who then bribed a test proctor to take the ACT exam on behalf of her son ... Buckingham is C.E.O. of the Los Angeles marketing firm Trendera and has authored several books, including The Modern Girl's Guide to Life."
The Daytime Emmy Awards will extend to three nights in 2020. Deadline: "The National Academy of Television Arts & Sciences said today that next year's celebration of all things daytime TV will be divided into three soirees: Friday, Saturday, and Sunday, June 12 to 14, all at the Pasadena Civic Auditorium. 'We are thrilled to add a third night of celebrating the diversity and talents of our daytime community,' NATAS president and C.E.O. Adam Sharp said in a statement. 'We have seen how the Television Academy's expansion of the Primetime Creative Arts ceremonies has made room for more honorees to have their well-earned moment in the sun, and we hope to replicate their success.'"
Overheard
"People can go to a theme park, people can go to a haunted house and really disengage from the world, but I feel people are just interested in something that's a little bit more dangerous and a little bit darker. I think there's just a morbid curiosity that's being pushed out of people by the trouble that we're facing in reality."
—Matt Dorado, founder of L.A.'s Drunken Devil events company. Time Out has a look inside the company's immersive "To Live and Di(ne) in L.A." dinners, which feature actors portraying serial killers plus on-theme dishes from local chefs and caterers.
Venue Buzz
Ian Schrager's West Hollywood Edition hotel will open November 12. The 190-room hotel will have a '60s- and '70s-theme subterranean club, a 4,516-square-foot spa, and a vegetable-forward restaurant from chef John Fraser.
Chef Curtis Stone plans to open a 4,000-square-foot restaurant downtown late next year. Eater: "The restaurant will follow the same Art Deco template as the 1928-built Trust Building, which has been overhauled with a variety of redone retail and office spaces ... Stone already operates Michelin-starred Maude in Beverly Hills, as well as meat-centric daytime cafe and evening steakhouse Gwen with brother Luke Stone. The pair tell Eater that the downtown restaurant will be distinct from both, but that they have not formalized a menu yet."
Surprise Metric of the Week
75: the percentage of business Los Angeles taxis have lost since 2012 due to competition from Uber and Lyft. New rules that could make taxis operate more like ride-share services were pitched this week. LAist: "The Los Angeles Department of Transportation presented a set of reforms to the L.A. City Council's transportation committee on Wednesday that would place all of the city's taxis under a single, centralized dispatch system. They could be requested by phone or with an app. And passengers would know the cost of their rides before getting into the car."
On the Scene
The Saint John's Health Center hosted its annual gala on October 19 at the Beverly Hilton. The evening, which was produced by JJLA, raised $800,000 and introduced the center's new chief executive, Michael Ricks. 
What's Next
Sneakertopia, a pop-up museum dedicated to, you guessed it, sneakers, opens today at the newly rebranded HHLA (formerly known as the Promenade at Howard Hughes). The 15,000-square-foot space, which draws from the worlds of sports, music, film, art, and more, is open for a limited time and can be booked for private events. 
The Elizabeth Glaser Pediatric AIDS Foundations' 30th annual A Time for Heroes Family Festival takes place on Sunday at Smashbox Studios. The event, which raises funds to end AIDS in children, will feature food from local eateries, kid-friendly games, and live music, and honor co-founders Susan DeLaurentis and Susie Zeegen. 
Looking into next week, Formula 1 will host its inaugural Fan Fest on October 29 and 30. The free, public event will shut down portions of Hollywood Boulevard for several events, including a "Hollywood Ride of Fame" car exhibition and a festival featuring a live show from drivers Daniel Ricciardo, Max Verstappen, and Valtteri Bottas.