This Week in Los Angeles: Star-Studded Christmas Tree Lightings, Netflix's Charitable Holiday Activation, A.F.I. Fest's Last-Minute Shake-Up
West Coast bureau chief Claire Hoffman covers the week's biggest event news.
November 22, 2019
Photo: Owen Kolasinski/BFA.com
LOS ANGELES—Welcome to BizBash's Los Angeles-based column, where West Coast bureau chief Claire Hoffman recaps the week's biggest local news. Got a tip? Get in touch!
Moves & Milestones
Lynette Howell Taylor and Stephanie Allain will produce the 92nd Oscars for the first time on February 9. Howell Taylor recently earned a best picture Oscar nomination for A Star Is Born, while Allain is known for launching the careers of directors John Singleton, Robert Rodriguez, Craig Brewer, Sanaa Hamri, and Justin Simien.
Geffen Events has a new brand identity: The event firm will now be called Ink Events and Design. 
Taylor Swift will receive Billboard's first "woman of the decade" award at the 2019 Women in Music event, taking place December 12 at the Hollywood Palladium.  
In Case You Missed It
This week, BizBash debuted our 2019 list of the year's most innovative brands—a diverse group of companies using live events to engage with consumers, promote their products in creative ways, and, most of all, to stay relevant.
We also took a look inside the futuristic launch party for Motorola's new Razr phone at the Container Yard downtown. The event was full of clever and nostalgic nods to phone's history.

Spotlight On
Coinciding with World Kindness Day and to promote its new animated film Klaus, Netflix worked with CSM to host simultaneous holiday-theme activations in Los Angeles, New York, and Chicago on November 13. At the start of the day, oversize wrapped gift boxes were transported on pickup trucks through each city; once they reached their destination, they were unwrapped to reveal a room-size space filled with gift-wrapping stations, photo ops, and areas to write letters to Klaus; more than 1,000 gifts were also given to passersby in each market. In a surprise reveal at the end of the day, the brand announced it was working with Big Brothers Big Sisters of America to fulfill holiday wish lists for kids in each city.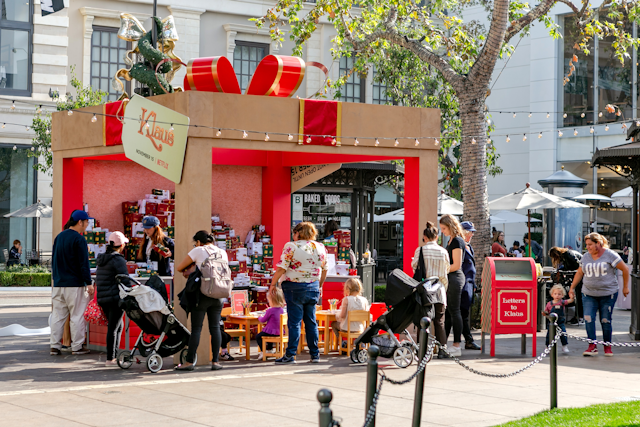 Netflix's Klaus activation at the Grove in Los AngelesPhoto: Patrick Record

In the News
Major League Soccer's annual All-Star Game, presented by Target, will take place in Los Angeles next summer. Los Angeles Times: "For the first time, the league's top players will be matched against a team of all-stars from Mexico's Liga MX. The game is scheduled to be played July 29 at Banc of California Stadium in Exposition Park, the two-year-old home of LAFC. ... Next summer's match will be just the second all-star game based in the Los Angeles area. The 2003 game was hosted by the Galaxy at the then-Home Depot Center in Carson."
Thursday night's Hollywood premiere of Samuel L. Jackson's new film The Banker was abruptly canceled due to assault accusations against a family member of the film's subject. Deadline: "In a virtually unprecedented development, A.F.I. Fest has been forced to make a last-minute switch of their closing night film ... Netflix's Marriage Story, already in theatrical release, has been tapped to take the slot. The Banker, which stars Anthony Mackie, Samuel L. Jackson, Nicholas Hoult, and Nia Long, is Apple's first major film release, scheduled to hit theaters on December 6, and then Apple TV's new streaming service early next year."
Kanye West is staging an opera at the Hollywood Bowl on November 24. Los Angeles Magazine: "The poster indicates West's Sunday Service choir will be performing, joined by Peter Collins, a guitar player and singer-songwriter who has been a featured performer at Sunday Services before ... It's not clear what the opera's storyline may be. The title could indicate it will be a retelling of the story of Babylonian king Nebuchadnezzar—a real person who lived from around 605 B.C. to 562 B.C., who appears in portions of the Bible—or it could be something else entirely."
Surprise Metric of the Week
$1,000: The tip that rapper Post Malone reportedly left after a meal at Mel's Drive-In this week. Malone performed at the Forum on Wednesday and Thursday. 
Venue Buzz
Chef Melissa Perello and co-owner Robert Wright, owners of the Michelin-starred Frances and Octavia restaurants in San Francisco, have opened M.Georgina at the Row DTLA. The 4,500-square-foot eatery combines Nordic architecture with French farmhouse-inspired details; it seats 68 people in the dining room, 10 at the bar, and 36 each on two outdoor patios. A private dining room seats 20 or holds 30 for receptions.
Coworking complex Second Home has opened in Hollywood, taking over a large parking lot behind Target. Curbed: "The area that was once a place to park cars has been filled in with 60 yellow-roofed acrylic pods, each a private, contained work area, as well as over 6,000 verdant tropical plants that give the space the look of a futuristic botanical garden. ... The property also includes a bookstore (a signature element of Second Home locations), a podcast recording studio, a 200-seat auditorium, and a restaurant. The location has been quietly open for a couple of months."
Overheard
"There were already trade shows. There were already music festivals. There were already food festivals. But we wanted to combine in a way you could only see here."
—Complex Networks president Christian Baesler, speaking to the Los Angeles Times about what sets ComplexCon apart. 
On the Scene
The premiere party for ABC's The Little Mermaid Live was designed and produced by AOO Events at Walt Disney Studios earlier this month; additional vendors included Edge Design and Decor, Line 204, FormDecor, and BBJ Linen. The under-the-sea-theme event had projections and entertainers dressed as jellyfish.
What's Next
Amazon Prime Video will host an immersive fan experience for The Aeronauts, an upcoming film starring Eddie Redmayne and Felicity Jones, at the Rose Bowl Stadium this weekend. The Victorian fair-theme event will feature period performers and games, hot air balloon rides, and a "fly-in" theater—a 20-foot LED screen wrapped 360-degrees around a second hot air balloon. The event is open to the public on November 23 and 24.
On Sunday, the American Music Awards broadcast live on ABC from the Microsoft Theater. The Dick Clark Productions-produced show will feature performances from Taylor Swift, Christina Aguilera, Billie Eilish, Lizzo, and others. Carole King, Chadwick Boseman, and Jamie Lee Curtis are among the presenters. 
Happy Thanksgiving! Look for our next column on December 6.