This Week in Los Angeles: Staples Center's Event Staff Fund, Caterers Shift to Home Delivery, an Update on Rescheduled Events
West Coast editor Claire Hoffman covers the week's biggest event news.
March 19, 2020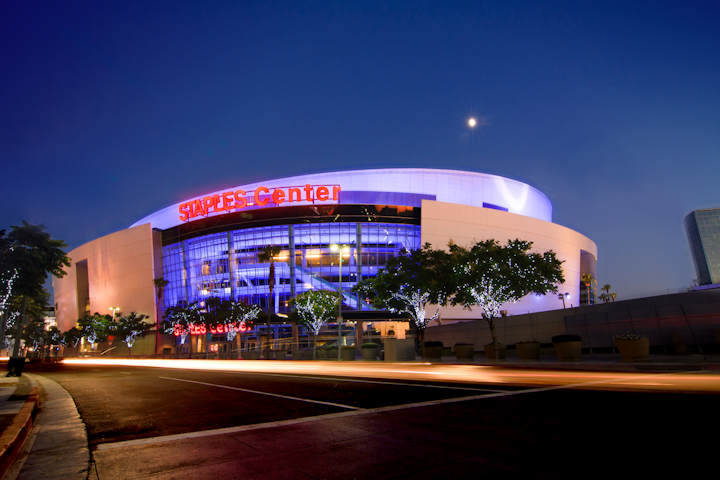 Photo: Courtesy of Staples Center
LOS ANGELES—Welcome to BizBash's Los Angeles-based column, where West Coast editor Claire Hoffman covers the week's biggest local news. Got a tip? Get in touch!
In Case You Missed It
While COVID-19 cancellations dominate the news—and much of BizBash's coverage—we think it's important to keep up our usual mix of inspiration and ideas for when (yes, when) events are back up and running. With that in mind, on bizbash.com this week we took a look inside the futuristic season-three premiere of HBO's Westworld, held earlier this month at the Ray Dolby Ballroom. We also rounded up some of the city's hottest new venues; consider booking these group-friendly spaces for your postponed events. 
To read all of BizBash's COVID-19 coverage, head over to bizbash.com/coronavirus.
What's Next
Several postponed events have announced new dates. Here's what we know so far:
Beautycon LA's annual event, originally set for early August, will now take place from December 5 to 6 at the Los Angeles Convention Center.
The Los Angeles Times Festival of Books has been moved to October 3 to 4 on the USC campus. 
Goldenvoice's Coachella and Stagecoach music festivals in Indio will now take place the weekends of October 9 to 11, October 16 to 18, and October 23 to 25.
The Huntington Beach Open beach volleyball tournament will now take place October 2 to 4. 
Many additional major events—including the Glaad Media Awards, Pride celebrations in Los Angeles and Long Beach, and the Los Angeles Times Food Bowl—also plan to reschedule; we'll bring you those dates once they're announced. 
Moves & Milestones
Brittany Rodriguez is the new group sales manager at the Andaz West Hollywood. She previously held the same role at the Ace Hotel. 
Good Gracious! Events has launched a new website to celebrate its 30th anniversary.
Spotlight On
Like many catering companies around the country, Heirloom L.A. has shifted to meal-delivery service; items are delivered cold with reheating instructions and can be left at the front door if requested. "[Pricing is] as low as we can make it so that ... Los Angeles can afford nutrient-rich foods to help keep immune systems strong," said the company in an Instagram post. "[And] so that we can help support our small, local farmers who struggle even in a good economy; so that we can keep our hard-working team employed, never forgetting that many of them have families; and also, mostly, so that we can feel grace and comradeship in all this chaos and social distancing."
In the News
City officials are exploring plans to use venues such as the Los Angeles Memorial Coliseum, the convention center, Dockweiler Beach, and more as quarantine sites. Los Angeles Magazine: "'The Coliseum and all large facilities like the convention center will be taken into account to be used,' said Jessica Kellogg, a spokesperson for the Los Angeles Emergency Management Department when asked about public quarantine locations. 'We are in the planning stages of using those sites.' City officials are worried that as coronavirus infections rise, critically ill patients will overrun the city's hospitals and I.C.U. beds."
After the closing of all L.A. gyms, the city's fitness community is turning to online events. The Hollywood Reporter: "For the booming fitness industry in L.A., the ban means most trainers are taking their classes virtual. ... Among the gyms that are temporarily closed are all Equinox Club locations; 24 Hour Fitness centers; Orangetheory Fitness corporate-owned studios; SoulCycle locations in the U.S. and Canada; Rumble boxing locations; and LA Fitness clubs (the latter until at least April 1). 
Venue Buzz
In the wake of restaurant and bar shutdowns, a number of eateries have expended their delivery and take-out options. Head to Eater Los Angeles for an updated list of options.
Local cultural spaces such as the Petersen Automotive Museum and the Hammer Museum are offering digital programming, live streams, and other content while they're temporarily closed due to COVID-19 concerns. The Grammy Museum, for instance, will be debuting never-before-released programming every Monday, including interviews with artists such as Billie Eilish, Brandi Carlile, and Greta Van Fleet.
Overheard
"There comes a point where you have to make a decision about whether or not to proceed. This might seem cautious or a bit early in some people's minds, but it's all being done to ensure people's safety."
—Estevan Montemayor, board president of Christopher Street West, the association behind L.A. Pride. The event's organizers spoke to Los Angeles magazine about their decision to postpone the June event, which would have marked the event's 50th anniversary. Last year's festival drew 250,000 people and generated an estimated $74.7 million in economic output. 
On a Lighter Note...
On Instagram, a number of local companies such as Mark's Garden are sharing older event photos to serve as inspiration—and a visual distraction—as most events are temporarily paused.