How Virtual Reality and Augmented Reality Are Transforming Event Venues
VR- and AR-focused spaces and attractions offer multi-dimensional, often mind-blowing, events for planners and participants.
November 29, 2017
As the dual trends of people demanding unique and memorable experiences—and the preference for participation over mere attendance—accelerate and continue to transform the meetings landscape, physical virtual-reality playgrounds are emerging as a new venue option for groups.
VR simulates real-world or imagined environments. In most cases, participants wearing headgear or goggles are tethered to a VR system and, while using hand controls, engage in multidimensional games and experiences lasting anywhere from around 10 to 20 minutes. Now emerging on the market are venues for untethered, or "free-roam," play. Helmeted and wearing the VR technology in backpacks, participants can walk about "in" the game, with virtual weapons or other devices in hand.
In development and promising even more immersive experiences are augmented-reality and "mixed"-reality technology. The former enhances, or "augments," actual physical environments with virtual elements. The latter, also known as "hybrid reality," combines physical and virtual elements to create new environments experienced in real-time.
From the first wave of location-based VR pioneers, here are some coast-to-coast options for meetings, private events, corporate outings, teambuilding, and more.
Earlier this year, America's largest indoor water- parks operator, Kalahari Resorts and Conventions, added a VR experience called the Arena to its Wisconsin Dells flagship and to its location in Pennsylvania's Pocono Mountains. Using pioneering motion-tracking VR technology from Melbourne, Australia-based Zero Latency, the Arena—which spans more than 2,200 square feet—represents the first warehouse-scale, free-roam, multiplayer VR experience on the market.
While Kalahari does not yet offer the Arena for private events, planners booking at the property can tie in group sessions at the venue. Accommodating eight players at a time, the Arena currently offers three virtual games: Zombie Survival; the Engineerium, a walking adventure in a water-filled alien world with flying whales, stingrays, and other colorful characters; and Singularity, a battle game aboard a military space station.
No plans have yet been announced for introducing the Arena at Kalahari's Sandusky, Ohio, location, or at its forthcoming fourth property, slated to open in Round Rock, Texas, by 2020.
The same Zero Latency technology and three games are deployed at MindTrek VR, a new facility just north of Boston in Woburn, Massachusetts, that features the world's first dual VR arenas, according to general manager Brett Bovio. Housed inside a converted industrial park warehouse, each 2,000-square-foot arena accommodates eight participants at a time. While not combinable, the two together create the largest free-roam VR gaming facility in the country.
The venue was primarily created with groups in mind, Bovio adds, and it can be used for meetings, outings, or teambuilding sessions. There is dedicated conference and event space for as many as 40 people that comes with tables, chairs, whiteboards, and buffet tables. The venue provides catering, or groups can bring in their own food and beverage offerings. Groups of as many as 90 can rent the 2,000-square-foot open space adjacent to the arenas for use as a dining and meeting area while watching colleagues or clients at VR play.
Announced expansion plans include opening a second venue west of Boston, in Marlborough, Massachusetts, by late 2017, followed by additional sites in Philadelphia and New Jersey.
With combined backgrounds in advertising, animation, gaming and experience design, and theater, San Francisco-based Exit Reality founders Yoni Koenig and Ilya Druzhnikov have created a unique business model and VR venue to "take VR to the people" in trucks outfitted with headsets and hardware. Inside the truck, participants can experience "room-scale" games and experiences, a type of VR that uses movement as well as VR tracking in a particular area to mimic movement in the virtual atmosphere.
The company's first vehicle was a refurbished mail truck. Now aggressively scaling, Exit Reality is building its own customized vehicles from the chassis up. More fuselage than truck, the design motif is themed around "departures and destinations." And the partners and their growing fleet are going places. With private and corporate events, festivals, and related gatherings on its map, Exit Reality has brought its VR experience to events in cities from New York to Vancouver.
The company also is rapidly expanding its inventory of VR cubes. Pre-fitted with electronics and lighting, the portable metal enclosures, lined with acoustical foam, snap together to form versatile cubical spaces wherever they are deployed.
Focused on the convergence of meetings, events, hospitality, and VR, Exit Reality's creators have partnered with Los Angeles-based Viceroy Hotel Group to introduce VR to the luxury brand's properties. Their flagship project, unveiled in May, was a VR space customized for a corner of the S&L Lounge at Viceroy's Hotel Zetta in San Francisco. Exit Reality also customizes VR content for brand activations, product launches, and other corporate initiatives.
VR World NYC in New York opened this fall, and stands out in several ways. The first is its high-traffic location—steps from the Empire State Building in Midtown. Second is scale: Covering 20,000 square feet on three levels, it meets its claim of being North America's "largest virtual-reality experience center." And with some 50 games and experiences ranging from virtual rock climbing to the VR version of popular mobile app Fruit Ninja, VR World NYC offers the most options by far of any North American venue.
While positioned as an attraction, the venue features its own bar and hosts groups and events. It has private rooms and whole floor options, including the 1,000-square-foot mezzanine or the 6,000-square-foot second floor. Non-buyout capacity is 100 people. Buyouts are conditionally available, ranging from 250 to as many as 400, depending on the number of VR games used. Group admission rates apply to 20-plus individuals, with teambuilding packages available for groups of as many as 30 people.
This story appeared in the Fall 2017 digital edition of BizBash.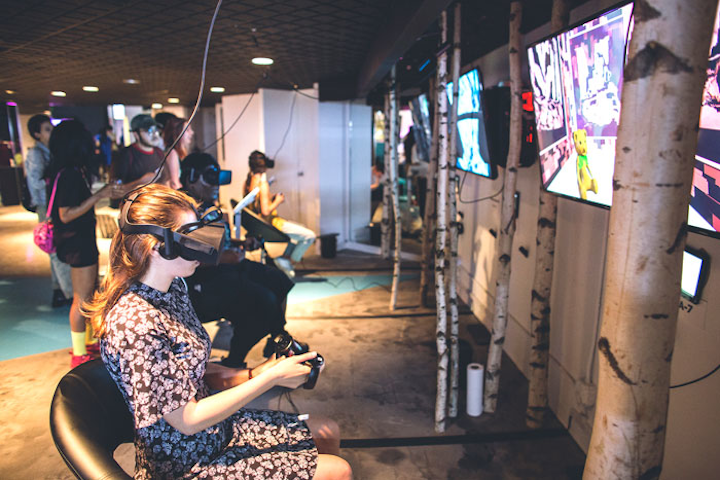 Photo: Nieto Dickens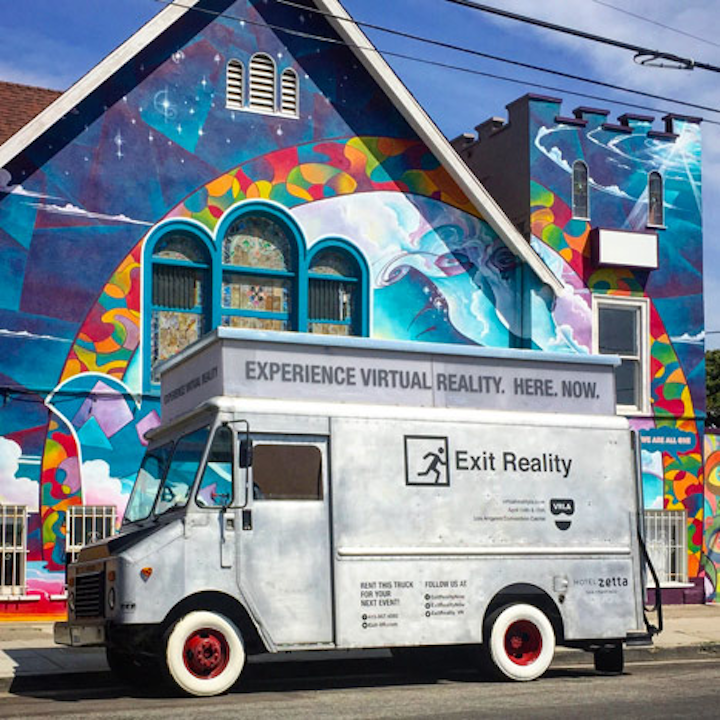 Photo: Courtesy of Exit Realty
Featured Venues/Suppliers: