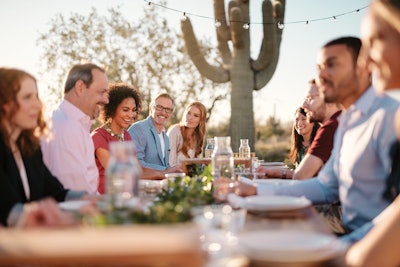 From our exotic cactus blossoms and year-round sunshine to the bright smiles of our people, Scottsdale's Sonoran Desert creates a welcoming environment that will leave your group inspired.
HOTELS & RESORTS
Scottsdale offers more than 70 meetings-friendly properties ranging from award-winning resorts and stylish urban hotels to limited-service accommodations.
VALUES, DEALS & GREAT RATES
Customized packages include benefits such as rebates, waived room fees, food and beverage discounts, and complimentary policies.
EASY AIRPORT ACCESS
Scottsdale is 15 minutes from Phoenix Sky Harbor International Airport, offering nonstop service to 128 cities worldwide. Scottsdale Airport offers corporate jet service and top-tier amenities.
GREAT GOLF
Scottsdale offers over 200 area golf courses ranging from traditional architecture to challenging desert layouts. Outstanding packages are available at most Scottsdale courses.
THE SONORAN DESERT
Scottsdale's lush Sonoran Desert boasts more than 330 days of annual sunshine, perfect for outdoor events and activities. Scottsdale is ranked one of the nation's safest, cleanest, and most vibrant cities!
ACTIVITIES & ADVENTURES
Enjoy horseback riding, off-road tours, hiking, mountain biking, and more. Visit Frank Lloyd Wright's Taliesin West, Desert Botanical Garden, Western Spirit: Scottsdale's Museum of the West, and Cosanti Original Windbells.
ARTS & CULTURE
Visit the galleries of Scottsdale's Arts District, Scottsdale Museum of Contemporary Art, Scottsdale Center for the Performing Arts, Scottsdale Desert Stages Theatre, and the weekly Thursday night ArtWalk.
DINING & NIGHTLIFE
Award-winning dining and nightlife add interest to your program while staying within your budget. Old Town Scottsdale offers more than 100 restaurants, wine bars, and nightclubs.
THEME EVENT VENUES
Unique off-site venues include an authentic Moroccan citadel and Arabian horse ranch, world-class museums, and upscale Western and Sonoran Desert settings.
RENOWNED SPAS
More than 50 resort and day spas offer traditional treatments to help you relax and rejuvenate, along with nutrition and fitness programs to boost health and reduce stress.