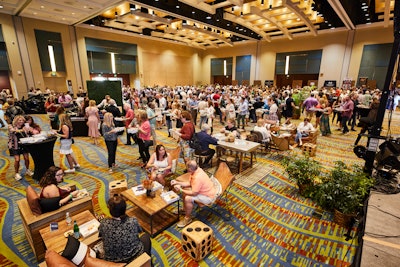 Photo: Michael Pissari
Nothing is worse than an overcrowded indoor ballroom event. And in the post-pandemic event world, there's still looming anxiety from attendees struggling to find personal space in a packed venue. Those anxieties translate into irritability and can essentially ruin the event experience for an invitee. And that can translate to frustration and failure when you're an event professional.
"The event host is absolutely responsible for creating an environment that is flowing and not crowded," shares Elaine LaPersonerie, an event producer of 18 years and founder of Wink PR. "Nobody likes a crowded, loud room—pandemic or not! But it is mandatory for the host to align with all safety precautions the venue has set, and their city, to help alleviate an outbreak or scare."
Giovanni Casas, CEO of Geo Events and producer of 22 years, adds, "Some people are still scared to go to overcrowded places. In order for people to feel safe and enjoy themselves at any event, you want them to feel comfortable. It is important that there is ample room for attendees to roam freely without the worry of getting sick."
We chatted further with event veterans LaPersonerie and Casas to round up their top tips when it comes to optimizing a high-volume ballroom to produce the most efficient and enjoyable large-scale indoor event.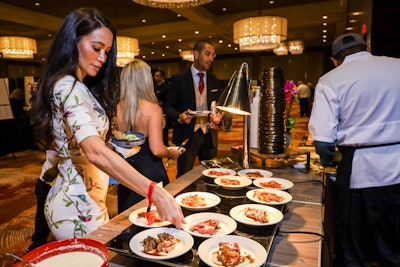 1. Flip the layout.
Oftentimes, event planners default to creating interactive stations around the perimeter of the room while styling seating on the interior. "This doesn't always work, for a few reasons," says LaPersonerie, who has constructed plans for indoor events ranging from 300 to 1,500 guests.
LaPersonerie says this default layout typically causes bottlenecking and long lines around the room as guests move from booth to booth or station to station. Additionally, this blueprint prevents guests from being able to move across the room, through the center.
"You have those waiting for food or drinks and guests trying to move about the room working against each other," she shares. Instead, she suggests building stations in the center of the room and arranging seating along the perimeter.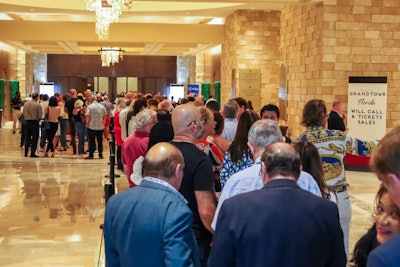 2. Tier ticketing and entry.
A tiered ticketing system will help avoid one big swarm at the time of entry. "This could have a slightly higher price point but helps stagger out the guest experience once inside," says LaPersonerie. As a bonus, consider adding perks to the package, like limited-edition totes, swag, and event-themed items that only the top-tier ticket holders can access.
3. Do your vendor homework.
When planning high-volume events, Casas says it is always best to know which vendors will attract the most traffic.
"At a trade show, if you know a company has an interactive booth and will attract a high volume, offer them a corner booth or a less-utilized space in the venue so it does not interfere with aisle congestion," he says. "Any vendors that have products or small booths should have at least 4 to 6 feet of space in between each booth so there is no overlap into the next booth."
4. Ditch the round tables.
Standard ballrooms feature 60-inch rounds with chairs, which take up a ton of room. "Set up a few vignettes with couches and low tables and mix in high-boy tables," says LaPersonerie. "Most walk-around events don't need seating because they are more of a networking-style event." This will free up the flow around the room and eliminate the need for large blocks of spaces for tables and seating.
5. Opt for a double-sided buffet.
"These can really serve a lot of guests efficiently," says LaPersonerie. With the right amount of space, you can structure a buffet with lines running along both sides. This will eliminate long lines, wait times, and hangry guests.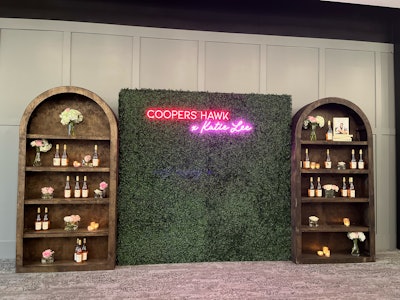 6. Make use of the space outside the ballroom.
From the welcome room to a side room, there's plenty you can do to lure traffic outside the main ballroom. "Branding is the best way to utilize space outside a ballroom," offers Casas. Whether you're showcasing photo boards of your guest(s) of honor, featured products from the title sponsor, or even a photo booth or moment, this will attract traffic outside of the main ballroom into the welcome area, as well as engage attendees.
Or, consider adding a satellite bar. "If there is a room off to the side, keep those bars open all evening to bring traffic outside of the ballroom," suggests LaPersonerie. Additionally, this space is great for an extra lounge area away from the action.
7. Have a stage strategy.
Whether it's a performer, speaker, or live demonstration, if you plan to host a programming stage, make sure to test your sightlines, says LaPersonerie. "Ensure the stage is in a place where guests can see—and hear—from any part of the room." This will help avoid heavy crowding toward the stage/platform.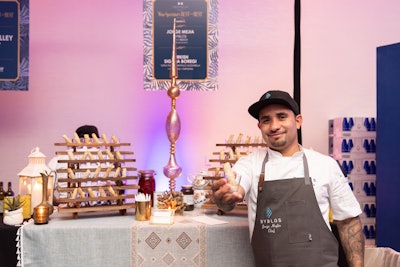 8. Stay ahead with pouring and plating.
For food and beverage stations at tasting events, always stay ahead of the rush. "Be 10 glasses/plates ahead of the line," says LaPersonerie. While this may require an extra hand or two, if you can stay 10 servings ahead, you can avoid lines, wait times, and complaints.
9. Hire extra runners.
Runners are an integral part of the walk-around tasting event staff. "They can help refill items like glasses, napkins, and utensils, so the stations are always fully staffed." Plus, runners are necessary to handle the trash receptacles and waste overflow once guests are done consuming so it doesn't pile up or get out of hand.
10. Let the event's purpose dictate the layout.
When brainstorming your event layout, you always want to remember the purpose of your event, reminds Casas. For example, if the goal is to dance, party, and have a great time, Casas sides with LaPersonerie on lining tables around the wall/perimeter. "This way, guests can enjoy themselves without squeezing and inching through the room to get to where they are trying to go," he explains.
As for high-traffic tasting events, Casas says tables should be spread out around the ballroom with ample space between them. "This allows many guests to be at a table without feeling crowded or being in the way of other tasting tables. The key is to optimize your space as much as possible so that you can optimize the guest experience."