How to Drive Event Innovation and Other Takeaways From BizBash Live: New York
Speakers at the Event Innovation Forum and Workshop Series shared their ideas on how to craft stories for events and presentations, the truths of purpose-driven marketing, going beyond the Instagrammable moment, and more.
October 28, 2019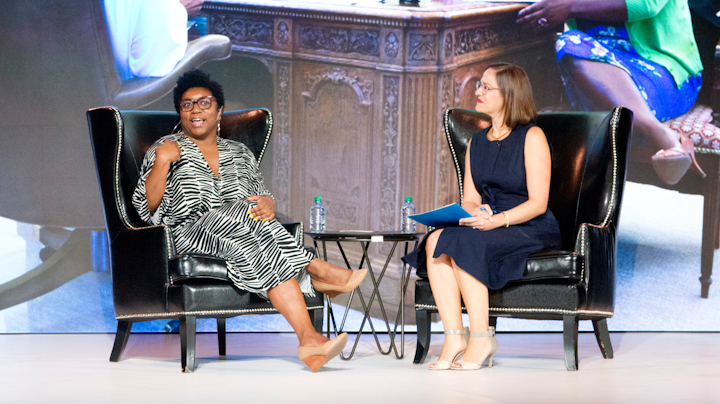 Photo: Lisa Vecchione/BizBash
Event professionals from experiential marketing agencies, event design firms, tech companies, and more shared their ideas on industry topics at BizBash Live: New York, which returned to the Jacob K. Javits Convention Center on October 23. Here's a look at the key takeaways from the expo's Event Innovation Forum and workshops, which featured speakers including event designer Bronson van Wyck, Agenc founder Cara Kleinhaut, and Disney's former head of innovation and creativity, Duncan Wardle.
1. Challenge your team to be creative. Deesha Dyer, the White House social secretary under President Obama and now a Harvard Kennedy School Institute of Politics resident fellow and executive director of BeGirl.World, said that one of the first events she planned at the White House was a big one: an outdoor gathering of 12,000 people in celebration of Pope Francis's visit to the U.S. Dyer said it was important for her team to develop ideas together and to challenge them to be creative.
"I tried to be inclusive as a leader and take chances," said Dyer. "I always asked my team: 'Is there a better way we can do this?'" With that mindset, Dyer said it was a priority for her team to bring a modern eye to traditional events such as state dinners so they would speak to, and represent, the American people.
2. Construct a story for your presentations and events. Walter Soyka, design lead at Drury Design, and Pablo Povarchik, C.E.O. and co-founder of Wow Prezi, both stressed that crafting an exciting story is key to keeping audiences engaged during a presentation. Soyka explained that it's also important to make sure presentation visuals follow that story. "If we distill a story down, it's about conflict. We need a setup to show why the conflict is a struggle, and then a resolution to show why that conflict was worthwhile," said Soyka. "We keep the end in mind—what is the end state we want the audience to have?"
Povarchik added: "Telling stories with your presentation is vital to the message. We can reach the goal of giving you guys information and teaching you something."
Andrew Lacanienta, assistant professor in the Department of Experience Industry Management at California Polytechnic University, also stressed the importance of creating a story when organizing an event, and using Joseph Campbell's hero's journey story structure for guidance. He added that planners should make their guests feel like heroes by creating memorable journeys.
"We need to be intentional about designing experiences and events that tell compelling stories," said Lacanienta. "If we can facilitate an opportunity for our guests to feel like heroes, [think about] how much more value can we give them."
3. Be transparent by including company reviews. Karen Gordon, vice president of growth for Goodshuffle Pro, said companies should include reviews—positive, negative, and in between—on their websites to help with social proofing. "Online reviews can reinforce credibility," said Gordon. "It shows that people are still going to your venue or still using your services. By showing you have reviews you're showing you have a real brand."
4. Emerging technology can provide solutions for event organizers—and transformative experiences for attendees. Bret Heiman, vice president of global partnerships at AEG Presents, discussed how technology can drive event innovation. Examples Heiman gave included his company's involvement with high-tech activations such as the HP-sponsored Labs at Panorama and Amazon Lockers at this year's Coachella. 
He also explained how AEG has used technology to leverage data for purposes such as reviewing attendee history, which led them to develop a system that sends attendees personal push notifications. "We hope to scale this across our events so each individual will have a customized experience," he said "As technology advances, brands in the future will have a greater ability to gather valuable data and feedback on fan engagement."
5. Go beyond just an Instagrammable moment. Cara Kleinhaut, founder, partner, and co-owner of Agenc, said that most malls and coffee shops now have some sort of photo moment made for Instagram—so it's important for event producers to create activations and designs that truly stand out.
"At events, it's not enough to create a flower wall or another type of Instagrammable moment," she said. "We're not just going to stand in front of a wall anymore. We want a good story."
Kleinhaut also explained that while social sharing is the goal, planners shouldn't begin their process by asking, "How do we get social sharing?" Instead, she said planners should identify their message and purpose, which will lead to social sharing.
6. The biggest barrier to innovation is you. In his workshop and forum presentation, Duncan Wardle, former head of innovation and creativity at Disney, discussed the creative behaviors that event professionals need to drive innovation: These behaviors include nurturing, playfulness, signaling, curiosity, intuition, momentum, prototyping, and bravery.
"'Yes! And…' transfers the power of my idea to our idea," said Wardle, noting that the two words are important when trying to move an idea through an organization.
He also explained that continuously doing things in new ways can make a positive difference in the work environment. In his workshop, Wardle said that it's important to be curious and seek out new experiences and perspectives that will lead to new connections, which in turn can make a project more innovative. 
7. There are four truths to purpose-driven marketing. Joe Panepinto, senior vice president and group strategy director of Jack Morton Worldwide, said that it's imperative for a brand to share their purpose with consumers through experiential marketing. He explained that purpose-driven brands should know four truths: Purpose is a commitment that raises expectations; brands need permission to play; purpose is not about what the brand says, but what it does; and a purpose should tap into something beyond sales.
Panepinto cited Cadbury's "Unity" chocolate bar and Burger King's unhappy meals as instances where brands launched marketing gimmicks, rather than genuine efforts to support racial equality and mental health awareness, respectively. Panepinto then used CoverGirl's all-female Super Bowl pregame show, which Jack Morton produced, as an example of a brand executing a well-thought-out, purpose-driven experience.
8. Events should create content that delivers value to clients. Bronson van Wyck, founder of Van Wyck & Van Wyck, discussed how life experiences such as working on a farm and being an actor have helped him as an event producer and designer. These experiences are highlighted in his new book, Born to Party, Forced to Work.
Van Wyck also stressed that events need to create content, and gave an immersive Halloween experience his firm produced in the South Bronx as an example. Organizers made it a priority to invite influencers, which in turn produced press coverage and garnered nearly six billion consumer impressions on social media. "What made that event succeed was that we packed the room with people who had incredible followings on social media," said van Wyck. "We're leaving money on the table if we don't use events to create content that delivers value to our clients."
9. Events should always have a surprise. Amy Shey Jacobs, founder and creative director of Chandelier Events, explained that she designs events around the five senses, and added that there should always be a surprise. But the surprise doesn't have to be over the top. "It could be as simple as passing out Twinkies on the dance floor at a wedding at 10 p.m.," she said.