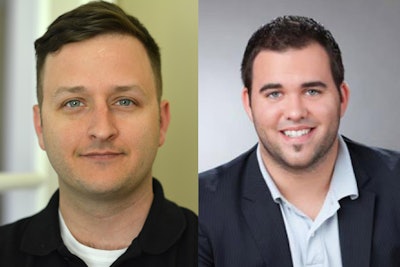 Photos: Courtesy of Anthony Palermo and Dominic Gagnon
In less than two years since Dominic Gagnon, 27, and Anthony Palermo, 35, created Montreal-based Connect & Go, the company has activated more than one million R.F.I.D. bracelets and badges at festivals, product tours, and conferences primarily in the United States and Canada. The two first collaborated as client and vendor: in 2012 Gagnon hired Palermo, who had primarily done work with R.F.I.D. in the industrial sector, to develop an activation for the loyalty program for Montreal's Major League Soccer team. The project was a success, and the two decided to go into business together to apply their knowledge of wireless communication systems to events.
"I'm more of the tech guy, and he's really the visionary going 100 miles an hour," Palermo says. The partnership clearly works. In the past year alone Connect & Go has grown from just three employees to 18 (with more growth on the horizon) and it has deployed R.F.I.D. solutions at events such as Montreal's Osheaga music festival, Nashville Oktoberfest, Lolë activewear's international White Tour, and C2 Montréal, a conference focused on commerce and creativity. More than 60 events are on their schedule for 2015, including the Just For Laughs Comedy Festival, Tales of the Cocktail, Woogie Weekend, the We Day World Tour, and numerous tech conferences.
Palermo and Gagnon have also been developing new ways to use R.F.I.D. at events. Initial activations focused on access control, cashless payments, sponsor activations, crowd monitoring, and lead generation. Now they are adding tools to facilitate networking and manage coat check. This fall Connect & Go will unveil its new food and beverage platform during the 12-city Capture Lifestyles Artisan Wine Tour.
"The problem with these events is that most people do not remember what they consumed during the course of any particular occasion," Gagnon says. "Our platform generates a list of all the products consumed by participant, advises him or her of where they can purchase these products, and also submits recommendations based on their profile." They have also created a big data platform that consolidates multiple data points into a comprehensive picture of attendee behavior. For example, at a festival the system can track the number of drinks sold per head, per hour, per vendor in relation to the weather outside or the artist performing on stage.
Palermo says that is a trend for the future—"taking that ­information we are collecting and putting layers of business ­intelligence over it."
Note: The list of Connect & Go's 2015 events has been updated.
Back to the Most Innovative People in Events and Meetings list