16 Ways to Help Your Exhibitors Get the Most Out of Trade Shows
Consider these ideas to help your exhibitors keep costs down, generate publicity, and drive traffic to their booths.
November 14, 2013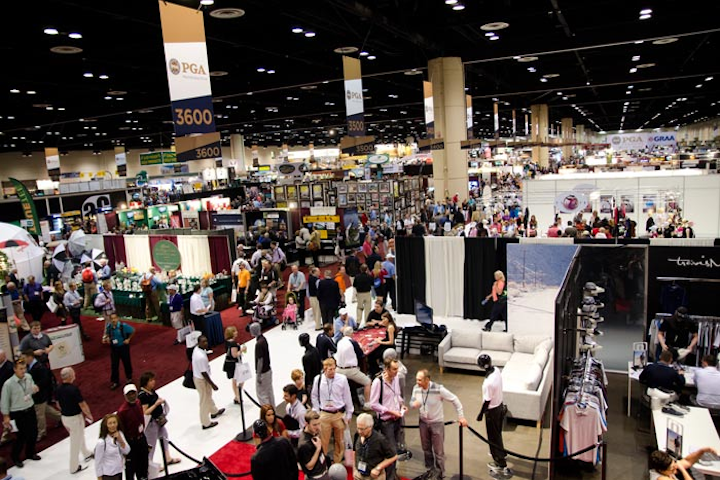 Photo: Claire Pacelli for BizBash
Happy exhibitors are repeat exhibitors. We've asked a variety of trade show organizers to tell us what they are doing to help exhibitors have a positive experience at their events. Here are some of their ideas to help manage costs, connect with qualified buyers, and maximize exposure.
1. Maintain regular communication by sending email tips, hosting webinars, and keeping exhibitor information up-to-date on the show Web site.
To provide answers on demand, the National Association of Broadcasters is adding a live-chat option on its Web site later this year to address questions from both exhibitors and attendees.
2. Remind your exhibitors to keep a close eye on deadlines to avoid extra costs.
"The deadlines are set by the vendors, and there are better economies of scale on the front end of those deadlines," says Dan Hubbard, senior vice president of communications for the National Business Aviation Association.
3. Don't grow too big.
"We had a waiting list this year of about 300 companies," says Jeff Lenard, vice president for strategic industry initiatives at the National Association of Convenience Stores. "While it was still a record-size expo, we capped it at 392,000 net square feet because we weren't comfortable extending the size without delivering a higher percentage of buyers there. We don't want to get too far out of line with the buyer-per-square-foot equation."
4. Help exhibitors generate publicity about their involvement in the show.
For example, share a list of registered media and provide templates of news releases, blog posts, and tweets. "We also have a virtual press office on our Web site that enables exhibitors to post their press releases, and we provide a room on site where they can schedule press conferences, so they can reach the press both virtually and in person," says Ed Several, senior vice president of P.G.A. Golf Exhibitions.
5. If you host multiple shows throughout the year, consider discounting booth space for exhibitors that participate in all locations.
"In addition to the U.S., we also do shows in Europe and Asia, and we have a number of exhibitors that exhibit in all three shows," says David Mandt, communications director for the International Association of Amusement Parks and Attractions. "So we have established a way to reward them for literally following us around the globe by offering a discount."
6. Make the show floor the hub of activity.
At the Endocrine Society's Expo, a book store, a technology lounge, a membership information booth, and scientific poster sessions are strategically placed and draw great traffic, says Meredith Jannsen, the society's marketing director.
7. Provide complimentary passes that exhibitors can give to prospects.
At its show in April, the National Association of Broadcasters created a contest to encourage exhibitors to distribute its free expo-only passes. The association tracked registrations that used the designated code and then awarded prizes to exhibitors who generated the most registrations. "It was very well-received, and we intend to promote it even more next year," says Tanisha Forte, the association's director of convention operations.
8. Train exhibitors how to use your mobile app.
Many apps now provide a variety of useful options for exhibitors, such as uploading product photos and scheduling appointments with attendees.
9. Create opportunities for exhibitors to conduct presentations on the show floor.
The National Retail Foundation sells about 50 speaking opportunities to exhibitors, in either 30- or 45-minute time slots. "They produce the session and get to pick the topic," says Susan Newman, the foundation's senior vice president of conferences. "Then we promote it in our marketing materials and on our Web site. This year we doubled the size of the rooms because in previous years it's been standing-room-only."
10. Sponsor a contest to drive booth traffic.
The Endocrine Society invites its exhibitors to participate in ENDOExpoPlay: Exhibitors simply scan badges to enter attendees in daily drawings for prizes such as an iPad Mini and a $1,000 Apple gift card, all provided by the society.
11. Be visible.
"We walk the show floor and personally thank every exhibitor and ask for feedback," Lenard says. "They are there to meet people, and if you don't personally meet them, you are not speaking on their terms."
12. Create easy access to product information.
If you have a display of products on the show floor, include a bar code or QR code so attendees can instantly access contact information for each company.
13. Structure the program to maintain excitement and attendance through the last day.
The National Association of Convenience Stores tries to book a big speaker on its final day: this year's draw was Hillary Clinton. "We had it about as full as you are going to get it on the last day of a general session, and then immediately after that the expo opened," Lenard says.
14. Don't forget the little guys.
Reach out to your smaller exhibitors to find out if they need extra support in areas such as marketing, social media, or logistics.
15. Provide additional exposure to exhibitors by using social media to share updates and videos from the show floor.
Your exhibitors may be too busy to do it themselves. Since 2012, the P.G.A. Merchandise Show has streamed video from the trade-only show floor so consumers can get a peek at the industry's newest products and services. Earlier this year, the New York Auto Show used Vine to give the public a view of the new models being unveiled during the two exclusive press days.
16. Be responsive to suggestions from exhibitors.
"Many an exhibitor has come to us with an idea for a show feature or sponsorship that turns out to be effective and profitable," says AJ Janosko, director of expositions for P.M.M.I., which produces Pack Expo. "Encourage your exhibitors to come talk to you and brainstorm new ways to help them have a great show, and you'll be more likely to have a great show, too."