23 Things That Drive Exhibitors Crazy
We asked—and they told us. From rising costs to frustrations with show labor and inadequate data, here are some of the top complaints from trade show exhibitors. (Did we mention costs?)
August 20, 2013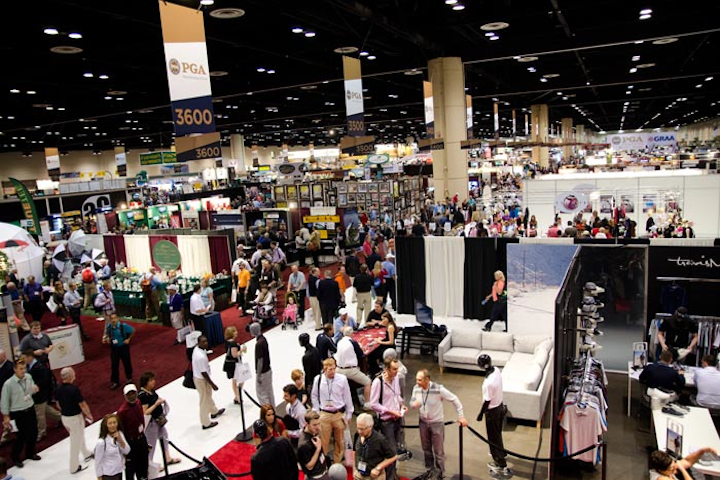 Photo: Claire Pacelli for BizBash
It's a two-way relationship: trade shows rely on exhibitors for the revenue they provide and the attendees they attract, while exhibitors participate in shows to get in front of customers. As with any relationship, tensions can arise. We asked four experienced exhibit managers to share their top gripes. Glenda Brungardt is a trade show and event manager for Hewlett Packard and has been involved in its events for more than 20 years; Candy Adams has been an independent exhibit and event project manager for more than 15 years through her company, the Booth Mom; Rebekah Hickok is a consultant who has worked in trade show and event planning for more than 12 years; and Betsy Earle plans and executes exhibits for a variety of companies through her firm, Event Driven Solutions. Here are some of their biggest complaints.
Costs
1. Rising costs and lack of disclosure
"Our budgets keep getting slashed, but our costs are going up. Every nickel and dime does matter and sometimes it's difficult to figure out what you are actually being charged for. It's kind of infuriating because I'm willing to pay for something that's a legitimate charge," Hickok says.
"Maybe it's rethinking and repackaging where costs go. Pack Expo knows their show won't work if the exhibitors can't bring in their heavy equipment, so thus they don't have a drayage charge. It's built into your show floor rate. That's huge for us," Brungardt says.
2. Limited options
"For example, the rental fees are so crazy. The frustrating part from an exhibitor standpoint is your hands are tied in the sense you are at the show's mercy. You spend $800 on a television that you could buy at Best Buy for the same price, but the reality is, if you try to ship it on your own you risk it breaking," Earle says.
3. Exhibitor-unfriendly venues
"We've had it with unions that don't want to recognize times have changed. I've gotten in a tussle with union stewards at Moscone Center over which union has jurisdiction to hang a monitor bracket, as two unions claim it and neither one will back down, putting exhibitors in a precarious situation. And why is it okay for an exhibitor to hang three lights on the back wall of their exhibit, but four lights requires an electrician?" Adams says.
4. Expensive, and often poor, Internet service
"Free Internet would be one service they could offer the exhibitors that they might think is small but it would make so many people happy. Then maybe they'll invest that money in a sponsorship or in a larger space," Hickok says.
Sponsorships
5. Lack of custom opportunities
"Often it's a flat fee and you get this and this and this. But maybe we don't care, for example, about a logo on the Web site, but could you give us more media in terms of blogging or Facebook or tweets," Hickok says.
"At one point the hot thing was to work directly with the hotel, and you would buy the hotel key and put your sponsorship on that. Well show management got a hold of that and those customized things went out the door. Taxi cabs for a while was a hot thing to do. But then show management got their fingers in it. It's like any time someone gets creative, the next year it's their sponsorship and you have to pay them to be a part of it," Brungardt says.
Attendee data
6. Unaudited attendance information
"We need to know that the people they are bringing in are truly the people they are saying they are bringing in. Quantity over quality doesn't give us the return we need," Brungardt says. "Do I trust data that I see posted from most show managers these days? No, because less than one percent of the shows in the United States are audited, which is a sad commentary. A lot of them are hesitant to do third-party audits or verification because they are afraid numbers they've been reporting may not totally match up, but I'd love them to look at it not as a fear for being exposed but rather as how can we work better together to make the show that much better."
7. Complicated and often expensive access to data
"My sole purpose is not to buy a piece of cement. My sole purpose is to buy access to that customer. My thought is once I signed up to be a part of the show, I bought access to that customer. And I should be able to gather the information, target that customer, and do what I need to with the data I get from them," Brungardt says. "We still find shows that encrypt the badges. So now I have an extra cost to have that data unencrypted."
8. Emphasizing quantity over quality
"Just because a show is number one and they have 220,000 square feet sold, for example, what does that tell me about the customer? It tells me some people bought some damn big booths," Brungardt says.
Before the show
9. Complicated online access
Exhibitors would like a single online portal (preferably with an easy-to-remember password) where exhibitors can access show information, the service manual, vendor contacts, etc.
10. Poor communication
Exhibitors would like a single point of contact within the show management team, confirmation of service orders within 48 hours, reminders about discount deadlines, alerts about revisions to the online manual, etc.
11. Housing bureau aggravations
"I'm still waiting for a show which has its housing bureau provide the hotel confirmation numbers to either the individual exhibitors or at least the exhibit manager. The last thing I need to do a week before a show is try to find out who at the various hotels has these numbers and then distribute them to my exhibit staff and company show attendees," Adams says.
12. Inadequate use of social media
"It's cool when you can start interacting before the show comes around and get your brand out there and it's totally free," Earle says.
Set up
13. Incompetent labor
"Please don't expect your exhibitors to be happy with labor that's never been on a show floor before and can't read a floor plan, shows up without any tools, and doesn't speak the native language of the show. Yes, all three of these happened to me at a show last year," Adams says.
14. Lack of clarity on what exhibitors are allowed to do
Rules vary greatly from city to city and venue to venue as to what exhibitors can do regarding set up, maintenance, and dismantling of their exhibits. Make this clear in the exhibitor service manual. "Don't put a page in the exhibitor services manual that tells us what unions are there and in vague terms that they own all labor," Adams says.
15. Lack of food during set up
"Can you please have them open one concession stand per building during at least straight time hours? My client has put me in charge of security at their property and I really don't want to leave everything sitting out during the chaos of set up to find a local restaurant when my crew's not in my booth. But, I might go grab a sandwich or salad if it was quickly and easily accessible," Adams says.
During the show
16. Excessively long shows
"I think the days of five day shows in the United States are gone. We've learned how to condense and get our knowledge within a shorter amount of time. Print [show] is coming up in Chicago in September. It's a five-day show and I can guarantee you by Wednesday afternoon I will have seen and interacted with the majority of attendees, and Wednesday afternoon into Thursday will become a day exhibitors are visiting exhibitors," Brungardt says.
17. Expensive, unreliable lead-retrieval systems
18. Education sessions scheduled during show hours
"There's nothing worse than having an exhibit and not a crowd walking around that makes it look full. I'd rather be at a smaller show that looks full," Earle says.
19. Lack of options for exhibitors to provide education, for example in a workshop or in a theater on the show floor
"Trade shows are a chance to make sales, but it's also about trying to teach the audience about who you are and teach them something new that they didn't know before the show," Hickok says.
20. Untrained, unresponsive support staff at the venue
21. Inadequate promotion of new products
Highlight what is new in a "New Product Showcase," with special signage in front of a booth, notation in the show directory, etc.
After the show
22. Delays in sharing show data
Exhibitors want data in a couple of weeks, not months
23. Ignoring (and sometimes not even soliciting) exhibitor feedback
"I think there's too many times they continue to glance over the exhibitor requests and say, 'Well only one person is asking for it, that doesn't justify it.' But if one person asks for it, it does. Isn't that customer service?" Brungardt says.
Featured Venues/Suppliers: