Rating the Oscars: Event Producers Give the 2015 Academy Awards a B+
Some of the country's top industry professionals discuss what they liked and didn't like at the 87th Academy Awards.
February 23, 2015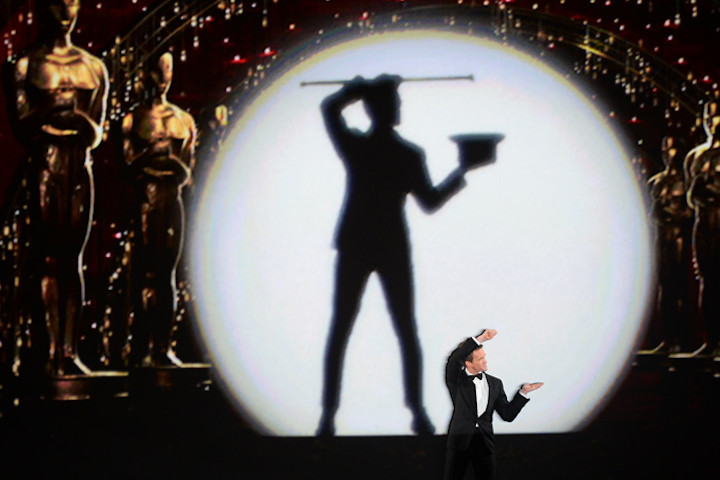 Photo: Robyn Beck/AFP/Getty Images
With a host like Neil Patrick Harris, it's perhaps no surprise that the musical numbers provided some of the most notable moments from last night's 87th Academy Awards, which were held at the Dolby Theatre in Los Angeles. Harris's opener took the form of a song that included playful jabs at the A-listers in the audience, as well as interactive projections of memorable movie moments. Performances by Lady Gaga, Tegan and Sara, and Common and John Legend were also heavy on the production value. We asked event producers from around the country to share their thoughts on the music, the stage by set designer Derek McLane, and more.
Jon Retsky
"While slightly and possibly a bit too reminiscent of last year's Oscars (I'm still not sure what the intention was behind recycling bits and pieces of 2014), this year did offer a dynamic new level of design and production that was refreshing to see. When the show wasn't being upstaged by Lady Gaga performing The Sound of Music (shocking) or Neil Patrick Harris in his tighty whities (refreshing), it offered a dynamic and layered design, bringing together lighting, video, and scenic in a way that nearly fooled the eye—in a good way! There were many moments where it was difficult to discern what was scenic and what was video. Frankly, I enjoyed the fact that even I was tricked and couldn't make the distinction at times. While last year offered simple and classic elegance, this year built upon that by adding in an industrial and futuristic layer, bordering on some new hybrid form of steampunk? I think it's fair to say that the antique Edison lightbulb in all its exposed, raw glory isn't going anywhere soon! Clearly this look is still very much the trend. The fluid movement of flying the bulbs in and out during transitions was a sexy and smart move. The opening number (which, let's face it,is the most important moment in the entire show) was smart. Very smart—and super high-energy from a design standpoint. It offered scenic video in multiple layers and in a way that created an ever-changing depth and fluidity. What more perfect a way to 'fall in love with moving pictures' again then to embody that very element."
Letter Grade: A-
Retsky is the co-owner and lead designer of Got Light, a San Francisco-based company that specializes in lighting, audio, video, draping, and staging. Clients include San Francisco's Ballet, Symphony, and Opera.
Will Travis
"Besides the slower first half to this year's Oscars, the overall experience was excellent! Neil Patrick Harris was the perfect lighthearted host and navigated an exceptionally emotional show of brilliant variety, great respect, and incredible talent. Hats off to those actors who practiced their scripts before introducing their nominees, the Hollywood set designers who delivered the perfect stage, and Lady Gaga and John Legend for nailing it."
Letter Grade: A-
Travis is the U.S.A. founder and group business development head of Sid Lee, an international creative services firm. He is based in New York.
John Best
"The Oscars is a tough show to produce because it is always under a microscope. The opening visual was stunning with the set and lighting. The show started on a high note with the opening number with music, film, magic, and one of the best award show hosts out there—Neil Patrick Harris—but unfortunately from that point the show struggled with some tasteless jokes and bad writing. Neil Patrick Harris seemed uncomfortable and did not find his groove for a while into the show, and that was only at times. With the marketing and promotion build-up to the show, I expected a lot more from him. Sometimes it's just better to play it straightforward and with class. 
The musical numbers definitely added heart, life, and entertainment to the show. Jennifer Hudson, the John Legend 'Glory' number, and Lady Gaga's beautiful The Sound of Music tribute and Julie Andrews's introduction were standouts.
There seemed to be a digital audio hiss throughout the beginning half of the broadcast, but it did get better. The film packages, stunning scenic elements and design (the colors of gold and silver really worked well), live television direction, and beautiful lighting design were at the level with what you would expect at the Super Bowl of entertainment.
A show like this needs to have the whole package to be successful—including the acceptance speeches, of which there were a few good ones. It takes a lot of work and effort to put together a show like this and it is easy to judge. (I know since I have been a part of the Oscars production team in the past.) Hats off to the entire staff and crew for a great effort."
Letter Grade: B-
Best is the owner of JM Best Entertainment, an Orlando-based event firm. He has worked on production for more than 100 network TV specials including the Oscars, the Emmys, Olympic Ceremonies, and other award shows and music specials.
Jodi Wolf
"The Neil Patrick Harris opening was fantastic and fun. I loved the projection, the song, and the jokes, and Jack Black was hilarious. It was a lighthearted, great way to open the show. The stage set, lighting, and visual effects were fabulous and adapted well to all of the different looks and needs. The John Legend and Common performance of 'Glory' with the gospel choir was amazing! Unfortunately, the jokes got less funny as the show went on and as always, the show was too long. But overall, the show was entertaining."
Letter Grade: B+
Wolf is president and C.E.O. of Paulette Wolf Events & Entertainment, a Chicago-based event design, management, and entertainment production firm. The agency's client list includes Disney, CDW, the Chicago Cubs, and Virgin Atlantic Airways.
Todd Fiscus 
"Great opening number. I loved the use of projection, and the set design looked great with the floating Oscar elements and film reels/deco starbursts that gave a gear-like feel to the set. The fun Broadway-inspired number was totally in Neil Patrick Harris's wheelhouse, and the interaction with the projection was great. If I was in charge? Wow. First, I would probably throw up! And then I would have made a few tweaks to the opening. But I loved it."
Letter Grade: A-
Fiscus is the owner and creative director of Todd Events, a Dallas-based event production firm that produces more than 300 events annually for clients including the Dallas Cowboys, Tom Ford, Amfar, and Audi.
Josh Wood
"I love the Oscars and go for it every year, but I have to say this year was really, really dull. My favorite thing was that microphone that magically lifted up through the floor ... and the confetti cannon during the Lego [Movie] song. That's not a lot of exciting moments for three hours. Though I did love Lady Gaga doing The Sound of Music. The hair. The weird Austrian trees. That was major. She even hit her Julie Andrew high notes. Brava to Gaga and bravo the producers who thought of that one. I'll watch again next year!"
Letter Grade: B-
Wood is the president of Josh Wood Productions, a New York-based firm that specializes in event production, sponsorship integration, trend promotion, and talent booking.
Mistyka Garcia
"The stage production designs were impressive. I enjoyed the variety of the different sets and the creative use of the Oscar statue throughout the show. I loved that many actors shared so many raw and emotional moments as they took advantage of a captured audience to speak about a cause or social issue that was personal to them. Epic speeches from Graham Moore and Patricia Arquette! Neil Patrick Harris had some big shoes to fill, but he did amazingly and the Birdman tribute was genius! The performances were also incredible! Common and John Legend's performance of 'Glory' was so moving especially with the set design that really integrated the importance of the Edmund Pettus bridge. Also, I enjoyed seeing Lady Gaga in a different light—her voice is amazing!"
Letter Grade: B+
Garcia is the owner of SO Events, a Los Angeles-based event production and design company that produces social and corporate events around the world for clients including Adobe Systems Inc., Magic Adobe Systems Inc., Magic Johnson Enterprises and Foundation, Activision, and the Los Angeles Opera.
Tara Solomon & Nick D'Annunzio
"A running joke on social media during the Oscars is that it had become the Tonys. Which was not surprising, considering they were hosted by song-and-dance man Neil Patrick Harris—whom we loved, even if he's no Billy Crystal—and there seemed to be a few too many musical performances. (Bet we're not the only ones who can't get the infectious 'Everything Is Awesome' out of our heads, and not for the lack of trying, either.) This, of course, does not apply in any way, shape or form to the exquisitely talented Lady Gaga, whose The Sound of Music medley was pure magic, or to John Legend and Common's powerful performance of 'Glory.'
Aesthetically, we thought the LED and hologram set in the opening number was amazing; we were thoroughly entertained and loved to see Marilyn Monroe back on the Oscar stage. The sets overall were far more glamorous than they've been in past years. The 'In Memoriam' pastel-chalk-styled portraits, however, were rather ho-hum and the font size of the titles too small to read comfortably. The big atrocity, though, was the exclusion of comedian and filmmaker Joan Rivers from the segment.
In a night of strong acceptance speeches, the standouts for us included J.K. Simmons's sentimental tribute to parents, John Legend and Common's eloquent stance against discrimination, and Patricia Arquette's plea for equality for women, the latter eliciting arm-pumping cheers from Meryl Streep and seatmate Jennifer Lopez.
Overall, we thought that this year's Oscars had a more grown-up tone (despite host Harris's stripping to his briefs in his clever Birdman send-up), with the absence of the mani cam and with more actors using the broadcast's global platform to support their causes. There weren't any memorable Kanye West-like moments, but there was a very funny bit with co-presenters John Travolta and Idina Menzel poking fun at themselves. And of course it wouldn't be the Oscars without appearances by old-school Hollywood royalty: When Shirley Maclaine and Julie Andrews graced the Dolby stage, it reminded us what true stars are all about."
Letter Grade: A-
Solomon and D'Annunzio are the principals of Tara Ink, a Miami-based public relations and events firm specializing in luxury brands, with clients including Rolex, de Grisogono, Chrome Hearts, Bobbi Brown Cosmetics, and Interview magazine.
Featured Venues/Suppliers: