SXSW App Adds Personalized Features to Help Attendees Navigate Sprawling Show
The new "Recommends" feature will provide customized suggestions based on an attendee's location, favorites, and activity of like-minded guests.
March 3, 2016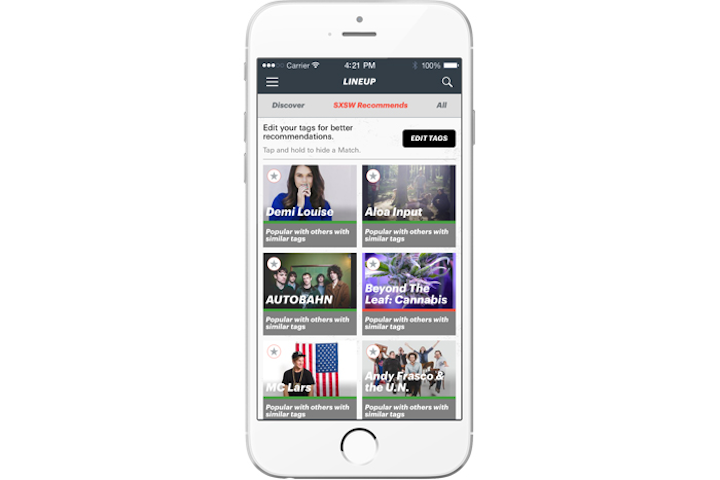 Photo: Courtesy of Eventbase
Now in its 30th year, South by Southwest has become a conglomeration of festivals and conferences defined by the broad themes of music, film, and interactive technology. This year it will include more than 6,000 events taking place in 600 locations inside the Austin Convention Center and around the city March 11 to 20. Organizers recognize the size and scope of the event may be a bit overwhelming for attendees, so they have added a new feature to the SXSW Go app to provide customized recommendations of sessions to attend.
"We take everything we know about you—the sessions you've favorited, things you're attending, where you're physically located, what time of time of day it is, what's going on around you—and there's now a section in the app called SXSW Recommends where you can go to it any time to get updated recommendations based on that data," says Jeff Sinclair, co-founder and C.E.O. of Eventbase, the company that makes the app.
The system is powered by a mix of GPS tracking outside the venues and more than 1,000 iBeacons inside the buildings to understand attendee behavior. As the algorithm learns more about which sessions they attend, the recommendations will be updated. In addition to a section of the app that attendees can refer to for suggestions, the system will also send push notifications to recommend nearby sessions when it detects gaps in the attendee's schedule.
Sinclair says this is an example of how big data can be put to use at an event. "It's not just about what people are doing or what they've done. It's about putting that data to use to create something useful for the attendee," he says. "How do we take what we know about that person to help them have a better experience?"
Featured Venues/Suppliers: