Rating Super Bowl LII: Event Producers Give Justin Timberlake Halftime Show a B
Event producers from across the country shared their thoughts on the Super Bowl LII halftime show, which was headlined by Justin Timberlake.
February 5, 2018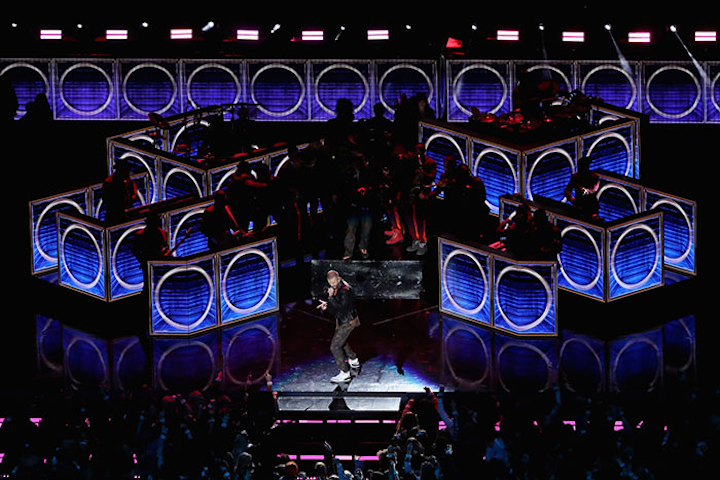 Photo: Christian Petersen/Getty Images
The Philadelphia Eagles defeated the New England Patriots 41-33 to win Super Bowl LII on Sunday, in an event that also was highlighted by the return of Justin Timberlake as the halftime show headliner. Timberlake, who hadn't taken the halftime show stage since his infamous performance with Janet Jackson in 2004, performed a medley of his new songs and old hits at the U.S. Bank Stadium in Minneapolis.
While there were no drone light shows, metallic lions, or pyrotechnics present as with recent halftime shows, Timberlake's performance did include a laser show, a physical tour of a major chunk of the stadium, and a video projection of the late Prince, which also led to a portion of the city being lit in purple. Multi-disciplinary creative and design studio Fireplay served as the visual creative lead for the show, which was directed by Hamish Hamilton with lighting design by Bob Barnhart, production design by Bruce Rodgers, and Ricky Kirshner serving as the executive producer.
Event producers in the U.S. and Canada told BizBash what they liked and didn't like about this year's show, including Timberlake's use of more than just the football field, the tribute to Prince, and the lack of artist collaborations. 
Aaron Kaufman
"On the biggest live television stage with one of the greatest entertainers on the planet, this show failed in every way to create the story and engage the audience, both live and at home, in what could have been an epic experience. The opening made absolutely no sense and made use of ancient technology. The main set list and set design failed to flow, with no peaks and valleys and by including mostly old pop favorites and boring design. The show really missed the mark of reaching out to the average Super Bowl watching demographic.  
The closing was the weak point, with the theme song from Trolls and a try hard effort to be 'cool' by running up the stairs and ensuring a selfie moment. It's also precarious that no special guests joined after all of Justin Timberlake's amazing collaborations. The only positive aspect was the attempt to honor Prince in his hometown, which again lacked performance quality but had a really interesting use of lighting to light the entire city up in Prince's logo."
Letter Grade: C
Kaufman is the president of Fifth Element Group, a Toronto-based event planning company. Clients have included Scotiabank, Audi, Molson, and the Canadian Hospitality Foundation. 
Gabrielle Mourino
"There is no doubt that Justin Timberlake is a great showman and still has some moves. The use of multiple spaces was a welcome change for me. I really enjoyed seeing the show start in the tunnel, work through the crowd, and end up on the field with different stages. There was quite a bit of controversy surrounding a tribute to Prince, but I found it to be tasteful and well done. Could there have been more production value on the main stage? Of course. Could 'NSync or Janet Jackson have been a surprise guest? Definitely. However, Justin held his own and I truly enjoyed his performance from start to finish." 
Letter Grade: B
Mourino is the national account manager for T. Skorman Productions, an Orlando-based talent and event production agency. The agency's portfolio includes the Primetime Emmy Awards Governors Ball, the Special Event, and events headlined by Pitbull and the Lumineers.
Matt Stoelt
"Multiple stages, thousands of moving lights, hundreds of dancers, audience integrated LED, stunning stage design, and a high-energy performance amounted to one the best Super Bowl halftime shows that I've seen in a long time.
What I liked best about this year's show was the use of space and constant change in venue, throughout the venue. Producers thought well beyond the focus of the main stage and did a fantastic job of converting the entire stadium and audience into being part of the production. From the close-ups to the jib and overhead shots, every part of the show was well thought out, well lit, and had an amazing backdrop. What felt new about this year's show was the departure from the overuse of technology and the significant emphasis that was placed on creating a spectacle from a performance standpoint through the use of props, color changes, a marching band, and the integration of analog set pieces with digital content. One of the most stunning parts of the show was the use of mirrors and the reflection of light, both on stage and on the field.
One of the most surprising parts of this year's show was the tribute to Prince and the massive video projection behind the black lacquer circular stage, with just a gloss white grand piano, bathed in purple lights. I felt this gave the show a human element that is all too often overshadowed by big budgets and A-tier talent.
With just six minutes to set up a production of this caliber, I can't think of anything that I would change except the audio mix for the television audience, which seemed to be too track-heavy with not enough of Justin Timberlake's vocals."
Letter Grade: B+
Stoelt is the C.E.O. of Stoelt Productions, a Los Angeles-based experiential marketing agency with offices in New York and Miami. Clients have included Lyft, Pandora, MAC Cosmetics, and Adweek. 
Ty Kuppig
"Every time I watch Justin Timberlake perform I become an even bigger fan. Not just a talented singer and dancer, Timberlake is a true entertainer with the type of charm and charisma that allows him to engage with his audience in a way others cannot. From the start of the halftime show in a dim neon and laser-lit nightclub to closing the performance by giving high fives to people in the stands, Timberlake illustrated that he understands the importance of interaction with his audience, both physically and through the lens of the camera. Timberlake and his team created a sense of intimacy in his performance that is unusual (some might say underwhelming) for the grand stage of the Super Bowl—but for the purpose of broadcast television, it was a well-balanced performance. 
From a production standpoint, the design was visually restrained and streamlined, with tidy, well-thought-out scenic elements—an approach taken also with Timberlake's concert tours. But with nothing over-the-top, I was left yearning for spectacle. Timberlake's choice to use multiple performance locations within the arena kept him from committing to one central spot that would allow the opportunity for a big-bang visual or wow factor —pyrotechnics, confetti cannons, lasers—give me something. Even the climactic moment when he paid tribute to Prince by singing 'I Would Die 4 U' against a suspended fabric backdrop with a video of the legendary artist performing felt somewhat uninspired. But I do give credit for the late-in-the-game change of direction from using a hologram of Prince—who himself said in a 1998 interview that playing with a hologram of a deceased musician would be 'the most demonic thing imaginable.' It was certainly a sign of respect (and wise PR move) even if it did compromise the overall wow factor.
Without remarkable pomp and circumstance on stage, more inspired-costumes would have been welcome to add a visual punch. But instead of leather, metallics, sequins, or any of the other go-tos for a Super Bowl performance, Timberlake and his dancers donned casual, muted streetwear and hunting gear-inspired costumes.  While the garb was no doubt inspired by Timberlake's just-released Man of the Woods album, I would have preferred a look that made a bigger impact.
Overall, I enjoyed Timberlake's performance in the halftime show, but felt that the concept and production would have been better suited for an awards show or other smaller-scale televised event—not the Super Bowl. A solid effort but not a touchdown."
Letter Grade: B+ 
Kuppig is the principal of Tyger Productions, a New York and Boston-based experiential design and event production company. Clients have included Rolex, NASCAR, Ocean Spray, Delta, and Deutsche Bank.
Linda Ong, Rajiv Menon, Maura Hohman, and Roma Patel
"The intimate scale of Justin Timberlake's opener felt like an underground nightclub or private party. It was a strong move to have the girls look cool, tough, and pretty, but not overly sexualized; occasionally there was a flash of well-developed abs, but long-sleeved shirts and pants kept the focus on the women's strength. And we liked the interaction with the kid.
Other than the surprise of the transition from the opening to the whole stadium, the performance was generally really conventional. We were glad to see an omnicultural range of diversity—in age, races, body shapes—that lent a positive, come-together discourse that was the overarching theme of the night, down to the orchestra and marching band mashup. If only they'd spelled out 'JT.'
We were underwhelmed by the Prince tribute. The projection of Prince looked like a Cirque de Soleil stunt. But turning the whole town purple was a great collective achievement and rightful nod to the community. After starting strong, the ending was 'meh.' And why wasn't there a skit with Jimmy Fallon? They totally played it safe in the end. He could have also created a more clear connection between his performance and his sponsorship of first responders—so many recent examples of heroism that could've been tapped into—or just any reference to social justice issues. To get an A+ from our team, he would have had to equal the emotional, cultural, and political heights of Beyoncé's seminal 2016 halftime performance. 'Formation' this was not—and perhaps with the ghost of Nipplegate hovering, that's exactly what the N.F.L. was hoping for this year."
Letter Grade: B+
Ong, Menon, Hohman, and Patel are part of the cultural insights team at Civic Entertainment Group, a New York- and Los Angeles-based experiential production and design company. Clients have included WeWork, USA Network, Audible, and Verizon. 
Featured Venues/Suppliers: