Q&A: Why Is Mastercard Opening Restaurants in New York?
In a new chapter of its "Priceless" campaign, the financial services company recreated dining destinations from Tanzania, Japan, and London.
August 19, 2019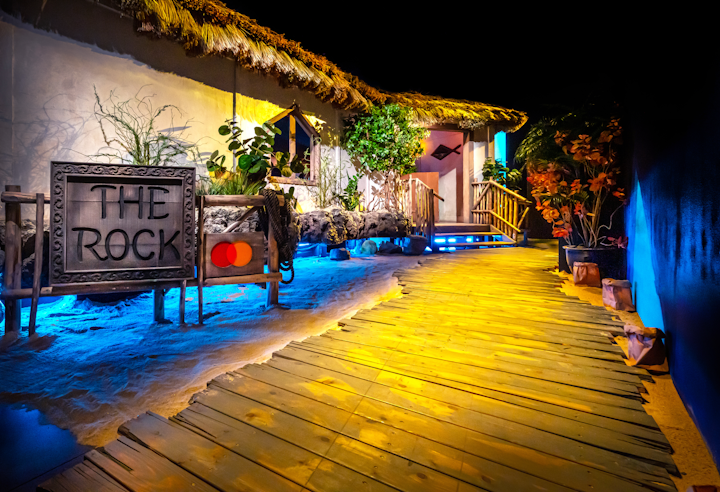 Photo: Noah Fecks
NEW YORK—Eating dinner on a rock in the middle of the Indian Ocean or traveling to Japan to have samurai sword-cut sushi aren't exactly accessible dining experiences for U.S. consumers. But Mastercard users in New York now have a chance to participate in these and more at a new flagship restaurant that the financial services company launched in August. Priceless, the brand's latest culinary experience—part of a long-running marketing campaign of the same name—brings three renowned restaurants from across the world to Spring Studios in Tribeca.
The brand bills the reservation-only restaurant, which opened August 1, as a "culinary collective," inviting cardholders to eat and drink at recreations of the Rock in Zanzibar, a seafood restaurant situated on a small island in the middle of the Indian Ocean; Lyaness, a swanky cocktail bar in London helmed by mixologist Ryan Chetiyawardana; and Teruzushi, a sushi restaurant in Japan from chef Takayoshi Watanabe. The restaurant also includes a rooftop market that serves international eats curated by James Beard Award winner chef JJ Johnson.
It's not only the food that Mastercard brought to New York; the brand partnered with Spring Studios's in-house creative team to recreate specific details for each venue, from exteriors and furniture to sensory elements like smells and audiovisual projections of environments such as the Indian Ocean. The brand also worked with three design and fabrication companies: Adirondack Studios on the Rock, 11th Street Workshop on Lyaness, and Arsenal New York on Teruzushi. 
Similar in concept to Intersect by Lexus in the city's meatpacking district, Priceless plans to have rotating residencies, with new restaurants joining after August 23. Seema Chibber, Mastercard's senior vice president of consumer marketing, media, and sponsorships for North America, spoke to BizBash about why the brand launched Priceless and how it's evolving in the culinary space, what it took to recreate each restaurant, and other experiential initiatives the brand has planned.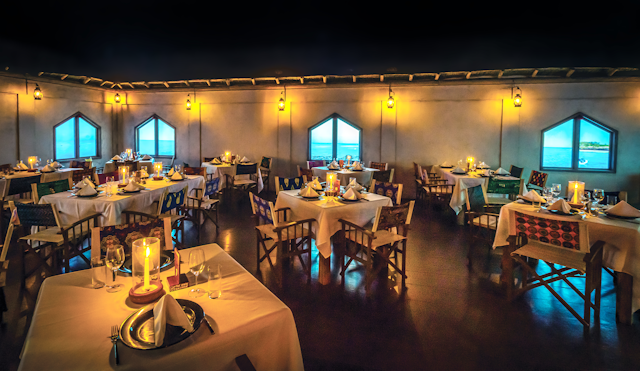 The interior of the Rock features chairs covered in hand-sewn textiles from Tanzania. "Windows" feature projections of the actual surroundings of the original restaurant.Photo: Noah Fecks

Why did Mastercard launch the Priceless flagship restaurant?
We have long been in the culinary space. With our Priceless campaign, we want to connect with people on an emotional level. As we've built that platform [since 1997], we've looked at what people are most passionate about, and focused on nine passion categories. Over time, we've grown our presence and the experiences we've offered in culinary space. We've partnered with prominent chefs across the globe to be our brand ambassadors. We've worked with them to curate Priceless Tables, which is a platform we introduced several years ago where we build out unique dining experiences in unforgettable locations like the New York Public Library.
As we've done that, we've created these 'moment in time' dining experiences that are really unique. We've also partnered with chefs in their restaurants and venues, offering access to experiences and reservations for our cardholders. Marcus Samuelsson, for example, has long been a brand ambassador of ours and we've partnered with him on his various restaurant ventures. As we looked to evolve what we do in the culinary space, we asked ourselves how we could take this to the next level, and how we could continue to bring people closer to this passion. That's how we ended up with Priceless.
Can you tell me about the design process and what went into recreating elements of these restaurants?
Priceless is meant to be a culinary collective that blends unique dining experiences from places you may not be able to travel to, and recreates them to deliver an authentic experience. As we looked to recreate those environments, we partnered with Spring Studios because they have the capabilities and the venue to build out these experiences. To build these restaurants within Spring, we looked at the elements we wanted to bring to life. We wanted to make sure everything was authentic—from the seating to the placemats to the food to how you're greeted. For example, when you go to the Rock in Zanzibar, you're greeted in Swahili. We looked at the sounds and the smells and the sensory elements for these experiences and focused on bringing them to life.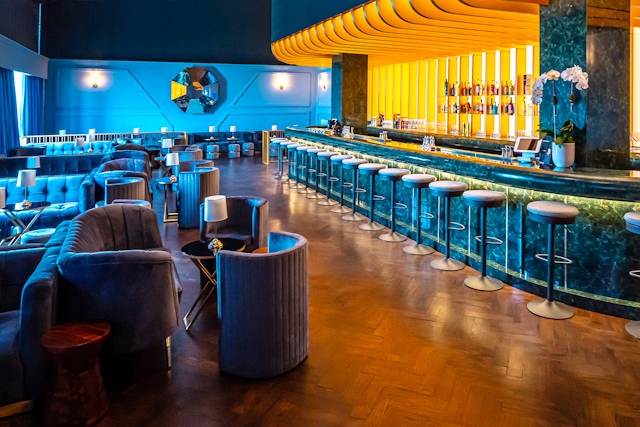 For Lyaness, the brand worked with fabrication studio 11th Street Workshop. Decor at the cocktail bar includes blue plush furniture, a green granite bar, and a geometric mirror.Photo: Noah Fecks

What went into researching these restaurants and, ultimately, how did you land on these three?
The Rock is on people's bucket lists; it literally exists in the middle of the Indian Ocean. The extraordinary story behind it and the fact that it's visually stunning led us to bring it here. The second space, Lyaness, is from the team behind Dandelyan, named the world's best bar [in The World's 50 Best Bars 2018]. It looks very different from what you would expect from a bar. It has beautiful mirrors, a green granite bar, and plush furniture. It has a very affluent feel. We chose it because of a combination of its interesting story, the design, and the unique drinks it serves. The third restaurant is Teruzushi from Japan. It's unique because chef Watanabe uses samurai swords to slice his fish. [For all three] it was a combination of their unique stories and how visually stunning they are. 
What's in store for the future of Priceless?
It's going to be ongoing. The idea is for us to rotate and bring in new residents on an ongoing basis. We'll be rotating in different residents from different parts of the world. At times, we'll have a resident who might be there for two months. At times, we'll have a resident there for 12 weeks.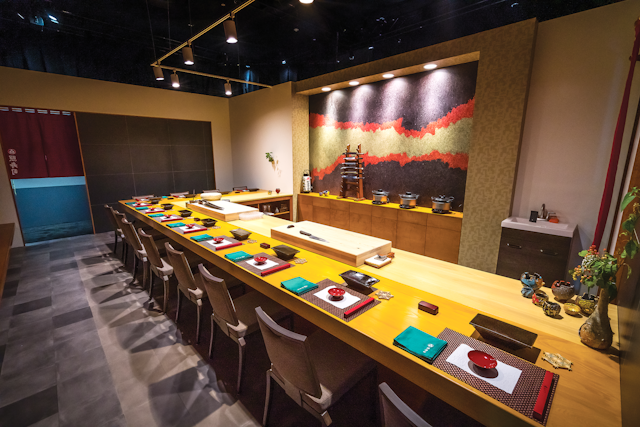 Teruzushi is the smallest venue, offering a 12-seat table where chef Takayoshi Watanabe cuts raw fish with a samurai blade. Design touches include red sake bowls over white napkins that recall the Japanese flag. The space was designed by Arsenal New York.Photo: Noah Fecks

More brands are opening temporary restaurants and forming partnerships with restaurants. What are some of your best practices for creating culinary experiences like Priceless?
We've been in this space for a while. The culinary space is obviously very dynamic and has so many tentacles. The chefs we chose have amazing fan followings, they're tremendous influencers, and they're celebrities in themselves. Over the years, we've had chefs become our brand ambassadors. Through relationships with them, our cardholders get special benefits. Food festivals are places where foodies congregate. It was important for us to be a part of where foodies, influencers, and consumers are going to be. This is why we're sponsoring the first-ever New York Times Food Festival in October.
Our best practices have been centered around making sure we are where there is relevance, where there is an audience connection, and where there's a cultural event [on everybody's] calendar. Also, since there are so many tentacles in this space, you need to have something that caters to multiple people. At times, people are in the mood for something from a food truck. Sometimes someone is in the mood for fine dining. Sometimes someone is in the mood for a festival. It's important for us to have a presence in multiple spaces and really be a part of that ecosystem.
You mentioned you're partnering with The New York Times for its first food festival. Can you tell me about the ways Mastercard is evolving its partnership strategy at culinary events like these?
There are so many credible players in this space. Going back to best practices, you want to be partnering with those that have credibility and presence. Whether it's a chef partnership, restaurant partnership, or, in this case, a media partnership, how we went about it was understanding what they were looking to do and what they're bringing in. Clearly, what they're bringing is a terrific food experience to consumers in New York.
What new events or experiential initiatives does Mastercard have coming up?
Our brand has been positioned on the belief that experiences matter more than things. We've had tremendous presence in culinary, music, sports, arts, and culture over the years. One of our next events is the World Series, as we're a sponsor of Major League Baseball. After that is the Grammys, which we sponsor. We have a fairly busy calendar or events and activations across multiple passions. 
This interview has been edited and condensed.