9 Highlights From Instagram's Event for Instagrammers
This year's Instabeach, Instagram's annual V.I.P. gathering for young influencers, brought Miami Beach to Malibu with branded photo moments, cheeky customization stations, beach-theme beverages, and more.
July 23, 2019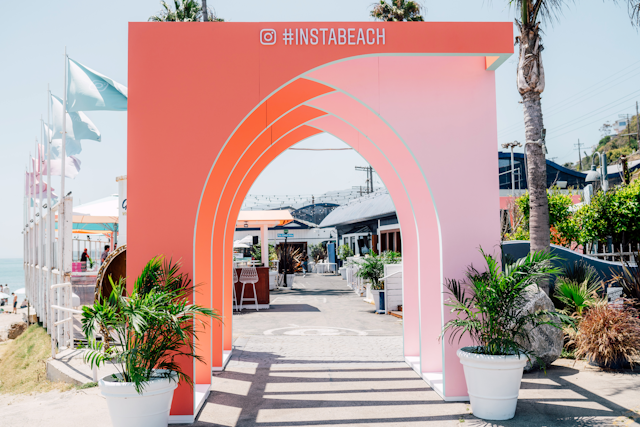 The third annual Instabeach took place July 16. The event welcomed guests with an Art Deco-inspired entrance in shades of Pantone's Living Coral.Photo: Courtesy of Instagram

LOS ANGELES—A goal for many event planners is to make their gatherings Instagrammable, whether it's through design, catering, interactive stations, or gifts for guests. But how does Instagram ensure that its own events are shared on Instagram?
One strategy the Facebook-owned brand has is inviting those who are experts at using the photo-sharing social platform—young creators and influencers. Instagram recently invited more than 450 people it considers part of the creator community to Instabeach, one of the brand's new annual events. The V.I.P. beachside gathering, which returned to Gladstone's of Malibu on July 16 for its third edition, offers a changing theme that features "designed-for-Insta" decor and interactive swag and catering stations for guests.
"Instabeach, like the companion event we host at the end of every year, Instaskate, is an example of our commitment to providing our creator community with opportunities to come together on Instagram and I.R.L. to share joy with each other, and with their fans and friends," said a Facebook spokesperson, noting Instagram doesn't pay for creators to attend. "There are people that have been coming to Instabeach since the beginning, and it's like a family reunion for them now. And there are people who are coming for the first time, but the common theme is that everyone feels like they belong."
Instagram partnered with experiential marketing agency Manifold to transform the Gladstone's outdoor patio into an environment inspired by Miami Beach. The aesthetic incorporated an Art Deco pattern that began with the entrance, and also featured coconut and palm tree motifs and a color palette highlighting Pantone's 2019 color of the year, Living Coral. 
"We really wanted to make Instabeach feel fresh, with an upleveled, chic aesthetic, while still resonating with the target teen and young adult audience," said Kate Ward-Walton, creative director of Manifold. "The cool, retro Miami vibe provided a boutique-level finish, while staying fun and youthful through bold colors and playful accents—like the pat of pink flamingos in the planter box."
Instagram brought numerous elements of its brand to life through areas that included two customization stations. A tote bag screen printing station offered four options that mimicked the stickers used in the Instagram Stories feature. At the "Dad Hat" station, guests could use a digital kiosk to create a custom patch, which was applied to hats. Many attendees chose to customize hats with their own Instagram handle. 
The event's main photo moment was a 3-D wall designed to evoke a vintage Miami postcard, complete with cutouts of palm trees and a boat. Food and beverage offerings included drinks in coconuts and doughnuts, which both displayed the Instagram logo.
Ward-Walton said one of the main goals was to create experiences that attendees could interact and have fun with. "Instead of just giving them a branded hat to take home, we wanted to allow them to customize their own hat," she said. "And rather than build them a static photo backdrop, we gave them something they could climb in and on, and be creative and engage with."
The Facebook spokesperson said with Instagram's events and activations in general, the brand has a set of guidelines it uses to achieve a certain look and feel; they begin with the mood they want to capture and how they want to inspire guests. "We work in the elements and details from there," they said. "The small touches that make an event feel special and bring it all together are what people remember most."
See how Instagram infused features of the app into the Miami Beach-theme party below.
VENDORS
Catering, Venue: Gladstone's of Malibu
Catering: DK's Doughnuts
Design, Fabrication, Production: Manifold
DJ: DJ Lela B
Photo: Courtesy of Instagram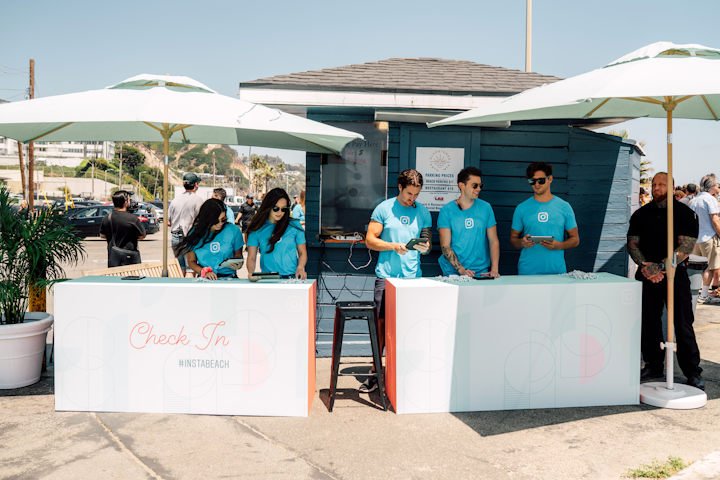 Photo: Courtesy of Instagram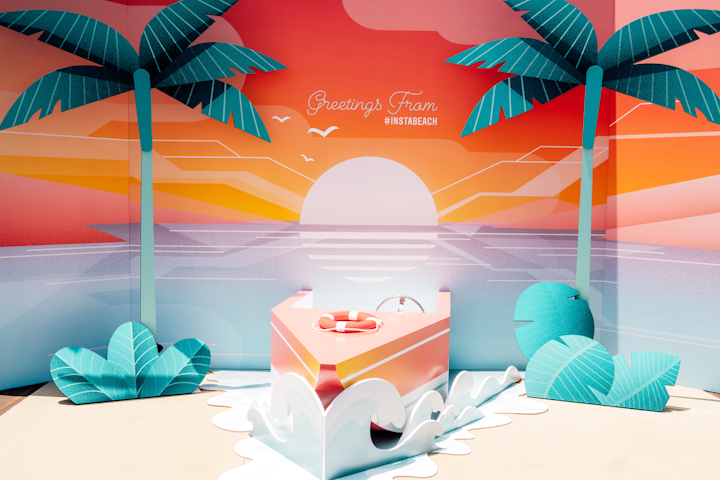 Photo: Courtesy of Instagram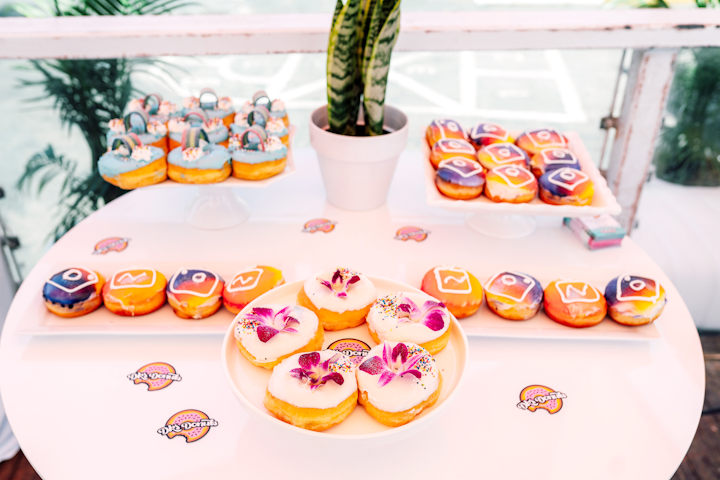 Photo: Courtesy of Instagram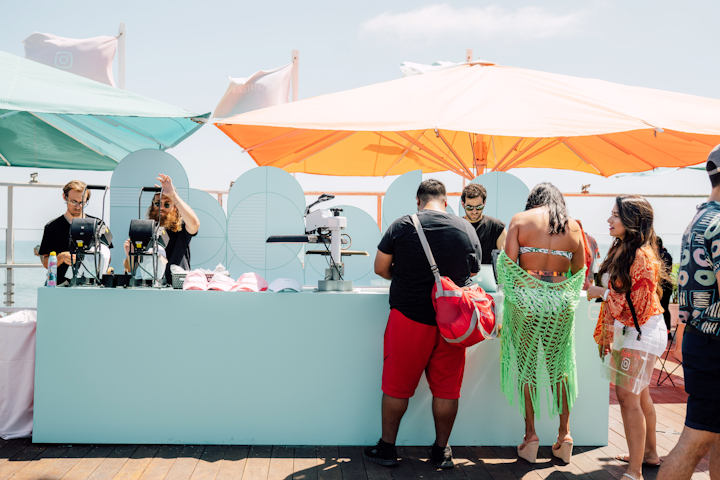 Photo: Courtesy of Instagram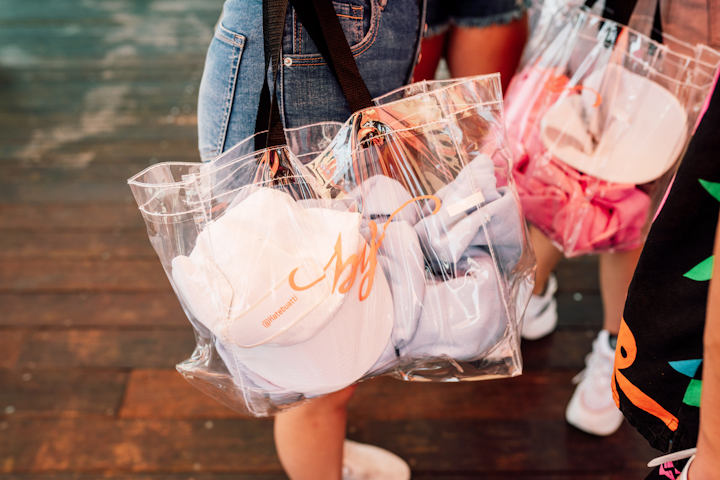 Photo: Courtesy of Instagram
Photo: Courtesy of Instagram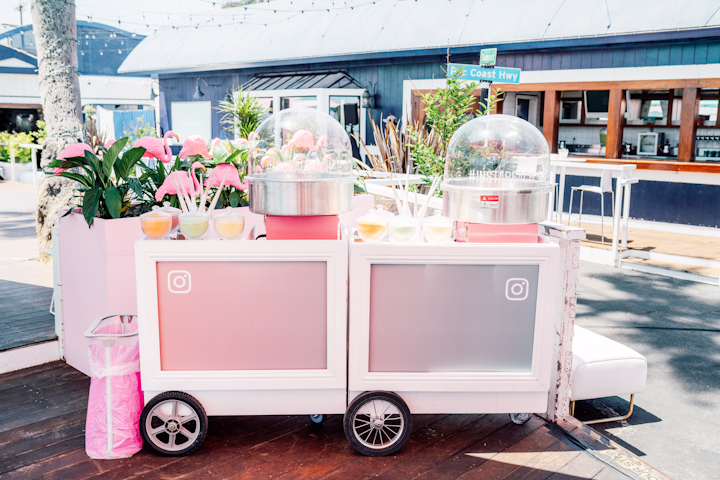 Photo: Courtesy of Instagram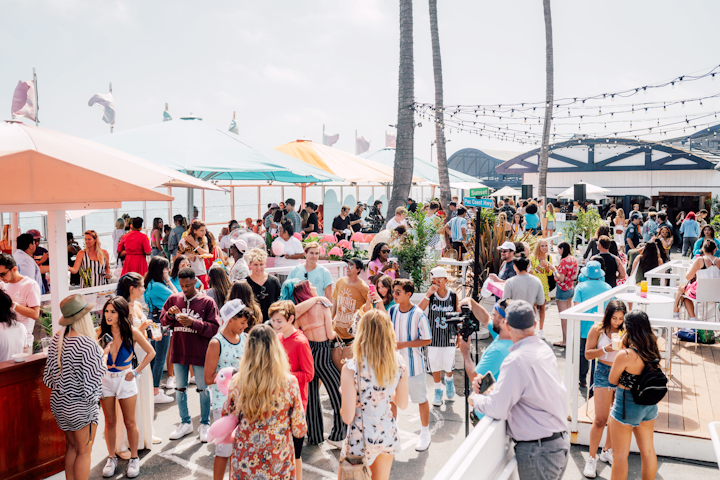 Photo: Courtesy of Instagram