Are Drive-In Theaters the Future of Events?
When social-distancing orders start to ease, some event professionals propose that drive-in theaters can bring back movie screenings, product launches, and other types of gatherings. Here's how it would work.
May 5, 2020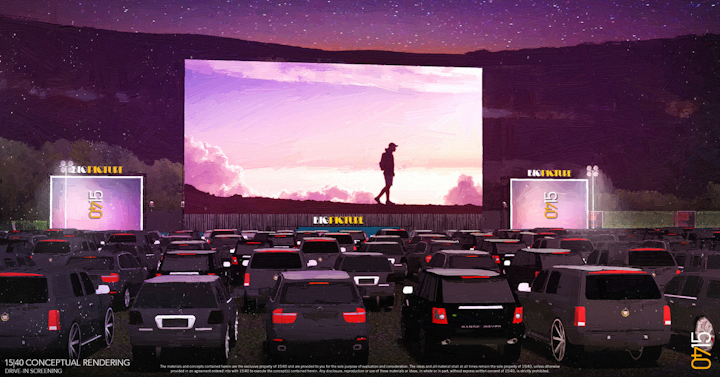 Rendering: Courtesy of 15/40 Productions
As stay-at-home orders begin to ease around the country, event organizers are undoubtedly eager to know when—and how—live gatherings can return. While large-scale events are likely to take some time, particularly in hot spots such as Los Angeles, some local producers have begun brainstorming safe ways to bring back movie premieres and other live events—and it harkens back to a simpler time.
Yes, we're talking about drive-in theaters. While some existing drive-ins around the country are already open for traditional movie screenings, companies such as 15/40 Productions—a Southern California-based production firm that this year worked on premieres for the likes of Dolittle, Onward, and Bad Boys for Life before the COVID-19 shutdowns—are thinking bigger. The team envisions elaborate, custom-built drive-in theaters, complete with press areas, red carpets, and in-car catering services that can be used for Hollywood premieres or other types of events.
The concept, notes the production company, would bring a comforting sense of nostalgia while also honoring social distancing. "We are creating a retro vibe with modern-day niceties to give attendees that feel-good, elevated experience," says Elizabeth Tramontozzi, 15/40 Productions' executive vice president. "So many of us have such great memories at the drive-in, and to be able to breathe life into something that has been going extinct definitely adds an extra layer of passion and pride in thinking about the potential to do something great in this space."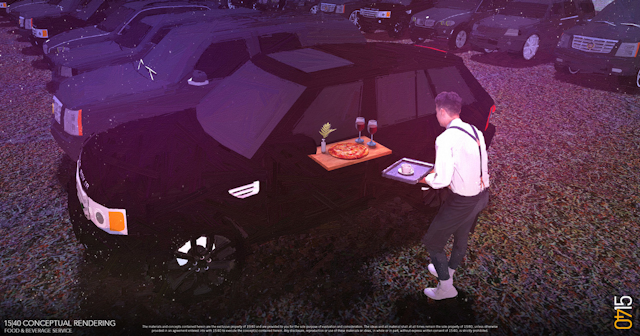 Carefully packaged food and beverages can be served directly to guests' cars.Rendering: Courtesy of 15/40 Productions
While not all areas of the country would allow this type of gathering quite yet, the idea is to get the concept ready to go as stay-at-home orders begin to ease, notes Chad Hudson, president of Los Angeles-based CH Cre8tive (formerly known as Chad Hudson Events), who has also been shopping a drive-in event concept to his entertainment clients. Hudson, who has planned hundreds of star-studded film and television premieres for the likes of Lionsgate, Paramount, and ABC, has been hard at work planning virtual screenings and events, but he is eager to bring back the live component.
"One of the things we're seeing with online events is that people are RSVP-ing but not necessarily tuning in, or tuning in late or signing off early," he notes. "We wanted to find a way to actually 'eventize' events again, as much as we can. To make them feel special, and to get people out of their houses."
So, how would it work? Clients will rent an existing drive-in theater or take over a large parking lot for a custom-built screen, says Hudson, who notes that careful organization will be key to minimizing guest movement and exposure during these events. His plan calls for staggered entry: Each guest will be given an assigned arrival time depending on their designated parking spot, and entrances and exits will flow one way to prevent gridlock and confusion. Once the film or presentation starts, the audio will be brought to each car through a low-frequency FM station, and carefully packaged and sanitized concessions can be delivered directly to guests' car windows.
After that, adds the 15/40 Productions team, clients can get as creative as they'd like with immersive decor, branded components, and more. "Being in a wide-open space, there are many opportunities for custom scenic elements, [such as] making an immediate impression at the entry archways, providing intimate interactions at each of the parking spots, customizing the step-and-repeat, and designing vignettes along the route in/out that create engaging photo ops," says Craig Waldman, 15/40's president and chief creative officer.
Waldman also notes that custom phone apps could be created with games, photo filters, and other activities that tie into the event's theme. "A light-hearted and currently relevant idea includes an in-car TikTok challenge to entertain guests before the screening begins," he says, adding, "food and beverage can be any cuisine, food packaging custom-branded, and staff [can be] dressed thematically." Traditional press, social media challenges, and more can be used to engage fans at home too, building additional buzz around the in-person event.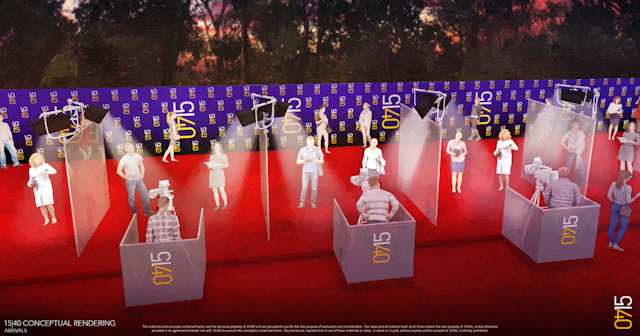 15/40 Productions' plan calls for private interview hubs on the red carpet, where talent can take questions from video and online crews. Press will rotate through the hubs to prevent crowding. The production company is also developing virtual press junkets and virtual upfronts for its entertainment clients.Rendering: Courtesy of 15/40 Productions
Speaking of press, what's a movie premiere without a red carpet? 15/40 proposes a series of individual—and heavily sanitized—press rooms for talent to take questions from video and online crews. That content can be livestreamed on the screen before any presentations begin, alongside content from social media posts, additional talent interviews, and more. 
Depending on the clients' goals—and the event's sponsors—Hudson notes that a drive-through red carpet could also be a creative and safe way to get talent in front of press. "Maybe it's a series of sponsored cars driving the carpet, or one car pulling up and one person walking down the carpet at a time. It's all about what each studio, and the talent, is comfortable with," he says, adding that members of the press would be placed 10 feet apart from each other. "The concept is so flexible." 
In terms of staffing, 15/40 Productions suggests that onsite venue security be employed for car sweeps (to fight potential piracy) and roaming guards. Dedicated staff would also work in areas such as entrances, will-call, etcetera—all from a safe distance, of course. For sanitation, there would be single restroom units with a 1:2 attendant-to-restroom ratio that would be sanitized between each use. Sanitizer stations would also be set up around the venue, and all staffers would be wearing branded masks and gloves.
This drive-in idea also allows for some smart sponsor integration concepts. In addition to sponsor logos on the red carpet and press hubs, areas such as the side screens, perimeter fence enclosure, digital tickets, and concessions can all be branded. 
15/40 Productions notes that car companies could potentially sponsor the front row, providing branded vehicles for talent.Rendering: Courtesy of 15/40 Productions
The drive-in idea is certainly not limited to film screenings. BuzzFeed News recently reported on a wedding held at a drive-in theater in Texas. Street Food Cinema, which plans outdoor film screenings throughout Los Angeles, has begun renting its outdoor movie screens and projectors for use at drive-in graduations, weddings, or other special events. And in a recent post on Medium, Chicago-based conference producer Tony Compton proposed taking over drive-in theaters to host sales and marketing events.
Dwayne Barnett, executive vice president for 15/40 Productions, agrees. "This concept could work for a myriad of events: presentations, concerts, product launches, conferences, even social events like graduations and ceremonies," he says. "Taking into consideration all the technology that is available, everyone can be digitally dialed into the speakers, presenters, and to each other to be able to ask questions, connect, and engage."
One important note: As these types of socially distanced live gatherings come back, "It [will be] crucial to be in close contact with city officials and city councils," notes Grace Chow, a senior producer at 15/40 Productions. "We are going to see a lot more involvement, measures we are required to follow, and physical presence at events from the city. ...  Every day we are learning new facts, existing within new parameters, and looking at having to implement additional precautions. Events will not be able to happen without intimately involving local government." 
For his part, Hudson plans to stay in close contact with the local city council and include clear guidelines in his pitches to clients so everyone feels informed and comfortable. "When the world starts back, we want to provide a safe way for people to feel like they can go back out," he says. "There are just so many possibilities with this."