A Red Carpet Fundraiser in the Age of COVID-19? Yes, it is Possible
Actress Charlize Theron hosted a recent drive-in benefit for her Africa Outreach Project. Here's how organizers kept guests safe—and entertained.
August 18, 2020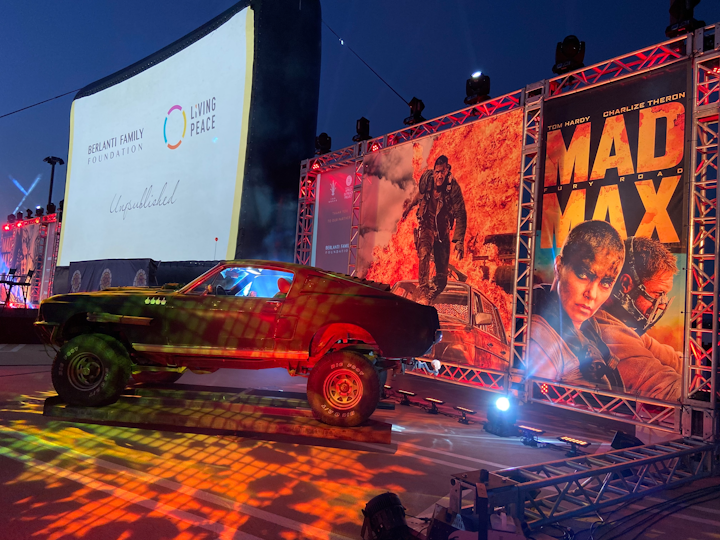 Photo: Priscilla Murray
LOS ANGELES—Drive-in events have recently become the format of choice for concerts, screenings, and other live gatherings during the COVID-19 pandemic. (Sometimes to mixed results.) But can the format work for celebrity-driven fundraisers, known for their star-studded attendance lists, gourmet dinners, and flashy red carpets?
Yes, argue the organizers of a July 31 event benefiting the Charlize Theron Africa Outreach Project. Held on the roof of the parking garage at The Grove, an outdoor shopping mall in Los Angeles, the gathering drew roughly 90 cars for a panel, silent auction, and screening of Mad Max: Fury Road, and was produced by CHCre8tive.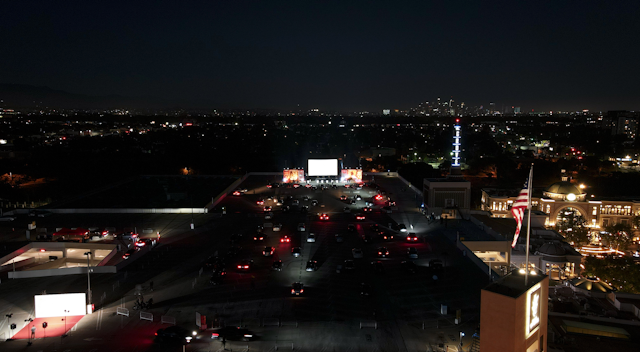 The drive-in was held on the roof of the parking garage at The Grove in Los Angeles.Photo: Caruso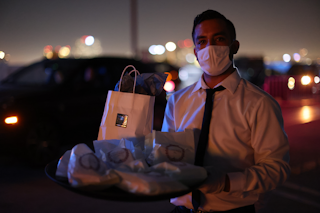 Masked and gloved waiters delivered gourmet food boxes to guests' car windows.Photo: Ecliptic Media PhotographyOrganizers said that guests' health and safety were the number-one priorities. "This dictated a lot of our decision-making process because we had to ensure guests stayed in their cars at all times," explained Marc Mulcahey, senior event producer for CHCre8tive.
For example, rather than offering swag bags at the end of the event, all gifts were delivered to guests' homes the day before in an effort to minimize contact. Swag included bottles of Dior's J'adore perfume; iS Clinical hand sanitizer; canned cocktails from Absolut, Heineken, and Babe rosé; and more.
On event day, there were a number of socially distanced experiences to keep guests entertained—while also keeping them in their cars for the duration. Upon arrival, vehicles were directed through an in-car, green screen photo op that simulated a chase scene from Mad Max: Fury Road. They were then sent to a drive-through red carpet and step-and-repeat.
"This gave our partners and sponsors their moment in the spotlight, while guests enjoyed some more picture time with their friends and family," said Mulcahey. In another fun sponsorship twist, Porsche provided a row of sanitized vehicles for VIP guests.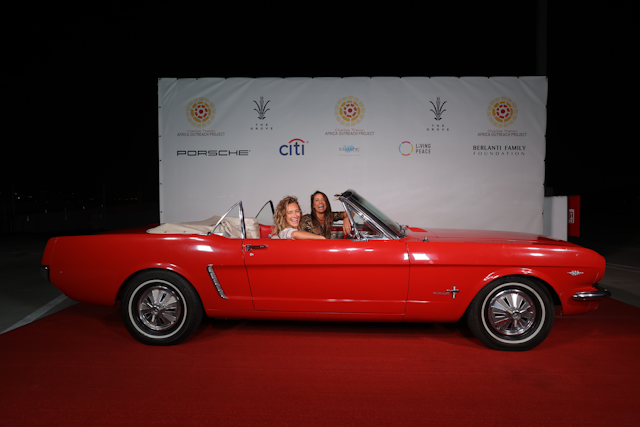 The event had a drive-through step-and-repeat.Photo: Ecliptic Media Photography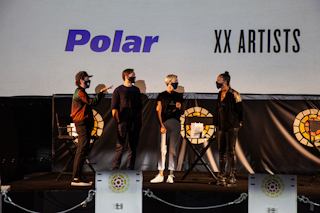 Aisha Tyler served as emcee, while The New York Times' Kyle Buchanan moderated a Q&A with Charlize Theron and Nicholas Hoult.Photo: Priscilla MurrayOnce cars arrived in their designated parking spots, masked waiters delivered gourmet food boxes to their car windows, with offerings from Blue Ribbon Sushi, Edo by Edoardo Baldi, Ladurée, and Maui Ku'ia estate chocolates. (Like any good theater, popcorn and candy were also on hand.) The program then kicked off with a live stunt bike show before Theron took the stage with Mad Max co-star Nicholas Hoult for a Q&A moderated by The New York Times' Kyle Buchanan. Actress and talk show host Aisha Tyler served as emcee. 
Mulcahey said organizers worked closely with the client and vendors to accommodate ongoing changes to health and safety regulations. "This affected the event process every step of the way—longer load-in and setup times for our crews, less people on site at one time, various changes to the layout as per space requirements and social distance measurements, entertainment restrictions, guest capacity, etcetera," he explained. "It was super important to our team that we delivered this experience safely, so we took every measure necessary to make guests feel comfortable."
He added, "Hopefully this will help our industry, our clients, and our peers see that they can do events safely during the pandemic."
VENDORS
CHCre8tive (design, production) | Icarus Rigging (rigging) | LA Photo Party (drive-through photo op) | Red Carpet Systems (stage) | Starlite Cinemas (audio, screen) | The Grove (catering, registration, venue) | Town & Country Event Rentals (rentals) | Ultimate Lighting (lighting, truss) | WB Pictures (collateral) | Zen Arts (entertainment)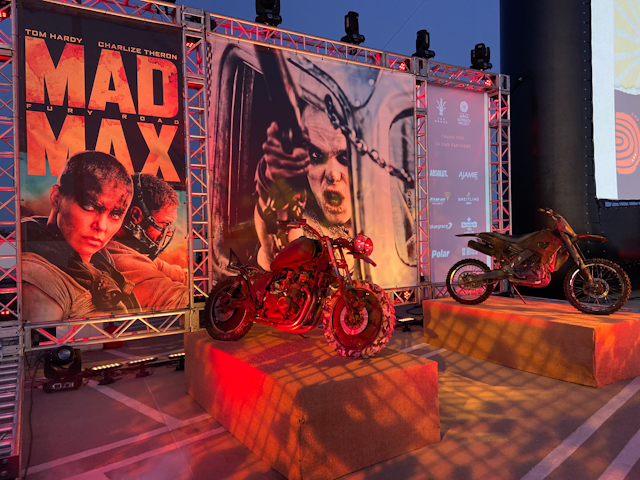 Props from the film were on display.Photo: Priscilla Murray