How to Host a Live Event Safely During COVID-19
Choura Events recently hosted a hybrid gathering with rapid COVID-19 testing, spaced-out seating, mandatory masks, and other smart safety measures.
August 11, 2020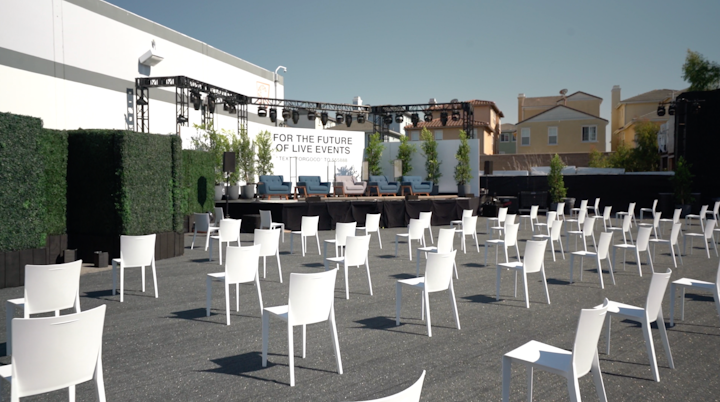 Photo: Courtesy of Choura Events
LOS ANGELES—On July 23, event producer Ryan Choura hosted a 90-attendee live event at his company's headquarters in Torrance, Calif. Yes—a live, in-person event in Southern California, one of the area's hardest hit by the COVID-19 pandemic.
Called "The Future of Events: A Call to Good," the Choura Events-planned two-hour, outdoor gathering featured three panels with 13 of the area's top event professionals. Speakers discussed the status of the event industry today, ways to address issues of inequality, strategies and predictions for the future, and much more.
"We just wanted to tell the world that you can do it," explains Choura. "You can gather, you can figure this out."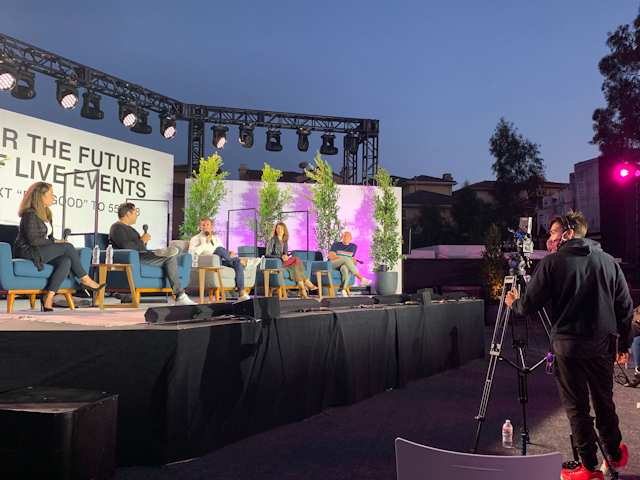 To keep attendance low and accommodate people who weren't comfortable attending in person, all panel discussions were livestreamed on YouTube.Photo: Courtesy of Choura Events
Perhaps unsurprisingly, the event drew its fair share of skepticism beforehand, and even prompted a visit from Torrance city officials. When they came, "I walked them through the entire experience and they were fine with it. They never came back," notes Choura.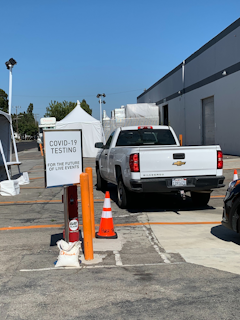 Every attendee and vendor was given a rapid COVID-19 test and required to test negative before entering the event.Photo: Courtesy of Choura EventsA large reason the city was okay with, he adds, is because every attendee was given a drive-through rapid COVID-19 test—for free. (This was possible because Choura is the president of We Are Lifeline Health, which runs one of the country's largest testing centers. The company can be hired to administer tests at other gatherings, he notes.)
"Temperature testing, candidly, is just not enough," Choura says. After being tested, every attendee was instructed to wait in their cars until they got a text message confirmation that they were negative. They had to show those results before entering the event; all attendees were also required to wear masks and maintain six feet of distance at all times. Food and beverages were prepackaged, and subtle plexiglass displays separated panelists on the stage.
In addition, all attendees and vendors were required to sign waivers before attending the event, and also complete a pre-event health questionnaire. "It's best to ask really pointed questions," notes Choura. "Are you having any symptoms? How were you doing the day before? Have you been in contact with anyone with COVID?" 
He continued, "It was very strict. Even if a vendor was donating and was a major partner—if they tested positive, they were out." Choura noted that no attendees ended up testing positive on the day of the event, which he attributes to the thorough pre-event screening and communicated rules. He was also conscious that not everyone would be able or willing to attend, so the team livestreamed the event on YouTube. 
Panelist Cara Kleinhaut, founder and CEO of AGENC Experiential & Digital Marketing, was happy to take part in the gathering. "All the best practices were adhered to. I felt safer there than the grocery store," says Kleinhaut, who notes that the event was in no way a party (for which the L.A. area has recently drawn some negative attention). "It was a group of professionals actively finding solutions on how to get thousands in our decimated industry back to work, responsibly. And if we don't show how to properly do this, who will?"
In addition to Kleinhaut, the evening's panelists were All Access's Dave Agar, Event Eleven's Tony Schubert, JJLA's Jeff Consoletti, Kilowatt Events' Anthony Dittmann, The Todd Group's Todd Hawkins, Jive Live Entertainment's Robert Larmore, WP Miller Special Events' William Miller, Hatch.im's Carter Reese, Sterling Engagements' Alexandra Rembac, BeCore's Kelly Vaught, and ZOe Productions' Jessica Whitney. Panelists, and the evening's vendors, all volunteered their time and services.
Choura hopes the event can provide a roadmap to getting the event industry back in person, and he plans to continue hosting these types of gatherings to help lead the way. "The thing that I heard most about our event is that people felt safe. What a great feeling," he says. "You've got to start somewhere." 
VENDORS
All Access (staging) | DJ Rickie Rich (DJ) | DVA Printing (printing) | Lighten Up (lighting and trussing) | Native Four (film production) | PowerTrip (power) | Primo XL (carpeting) | The Grand (catering)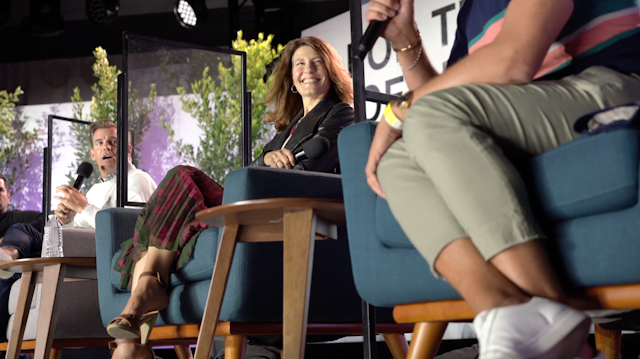 Panelists were only permitted to remove their masks once they got on stage, where they were separated by plexiglass panels. All microphones and other surfaces were thoroughly sanitized between the three panels.Photo: Courtesy of Choura Events