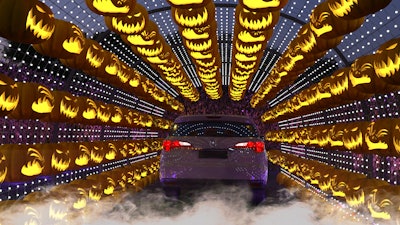 In the natural culmination of months of increasingly elaborate drive-in (and drive-through) events, the biggest consumer event trend this fall seems to be drive-through Halloween experiences. After all, what's the fall season without the spooky holiday's dramatic color schemes, candy-filled catering, and costumed performers?
One company adopting the trend is production firm Experiential Supply Co., which is debuting Haunt O'Ween in Woodland Hills, Calif. from Oct. 9-31. The family-friendly drive-through, which will run daily from 3 to 9 p.m., features highlights such as "door-to-door" trick-or-treating—where vehicles will drive down two streets stopping at each door, and costumed performers will distribute wrapped candy from a safe distance using poles and buckets. There will also be an immersive tunnel made with over 1,000 carved pumpkins, a pumpkin patch where each family chooses a pumpkin (which is sanitized and placed directly in trunks at the end of the experience), green screen photo and video ops, and more.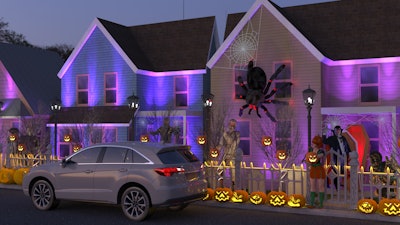 "My oldest daughter was born on Halloween, so it's obviously a big day for our family," explains Jasen Smith, chief experience officer of Experiential Supply Co., which is known for building immersive worlds surrounding films like Ready Player One and Smallfoot. "As a company, we wanted to get back to doing what we love even in this new normal—and that's creating special moments for people. Traditionally all of our projects have been work-for-hire, and since that's been difficult lately because of the climate, we decided it was time to step up and do this on our own."
The kid-focused experience is pulling out all the stops when it comes to safety. Each guest will sign a liability waiver before arrival, and everyone will be required to wear face masks while car windows are down. In addition to a full staff of security guards, there will be off-duty LAPD on-site, and all staffers and performers will wear PPE. The company can also arrange private experiences for families, groups, and businesses.
But Haunt O'Ween isn't the only option for consumers craving a Halloween experience. One of the more high-profile experiences coming up is Stranger Things: The Drive Into Experience, presented by Netflix and Fever along with London-based entertainment company Secret Cinema. The immersive Los Angeles event transports guests back to 1985 with a drive-in recreation of the show's Starcourt Mall, Russian labs, and even the Upside Down.
"Stranger Things has always been larger than life and we wanted to flip the world upside down for our fans," says Greg Lombardo, head of experiences at Netflix, in a statement. "So buckle up like Billy is driving, keep your eyes on the neon lights, and steer clear of the shadows because there's no telling who or what you might come across in Downtown Los Angeles this October. Whatever you do, don't get out of your car!"
The Stranger Things event kicks off Oct. 28 and currently has dates announced through late February. VIP options are available, which include access to an online portal, a dedicated welcome team, fast-track entry, and a mystery box with swag, snacks, and a nonalcoholic drink.
Meanwhile, Freeform will host a drive-through event in honor of its annual 31 Nights of Halloween, during which the network plays spooky movies every night in October. Taking place Oct. 2 to 4 at L.A.'s Heritage Square Museum, the free-with-reservation experience will feature sets from The Nightmare Before Christmas, Hocus Pocus, and more, plus games, performances, and prizes. As with previous versions of Freeform's Halloween experience, creative agency MKG is handling production.
And coming to Orlando is The Haunted Road. Created by a group of local entertainment professionals—led by executive producer Jessica Mariko, who created the interactive "DRIP" experience on International Drive—the experience will follow the story of Rapunzel as she travels "into a world of disarray, twisted creatures, and lots of scares," say the organizers. "The story will come to life through set pieces, props, live actors, lighting, sound, and visual effects to truly immerse you and your group into her journey." Guests will be checked in via QR code and will tune into a radio station to hear sound and music synced to the action. In each scene, guests will park their cars as actors approach. The Haunted Road is also offering a family-friendly daytime experience.
The trend doesn't end there: More drive-through Halloween experiences are popping up around the world, from Tokyo to New York to Houston; even the popular Los Angeles Haunted Hayride is being reimagined as a drive-in this year.
For his part, Smith says that everything he's seen shows that consumers are ready to go out again—in a safe, socially distanced way—and he thinks that holiday experiences are the way to do it. "People and families are worried about the impact the pandemic will have on the holiday season and doing the things we love," he says, noting that the Haunt O'Ween team hopes to extend through December and go through three holiday-theme transformations. "We wanted to recreate the traditions for families to enjoy in a safe and unique format."
Scroll down for a sneak peek at the Haunt O'Ween experience.
Rendering: Courtesy of Experiential Supply Co.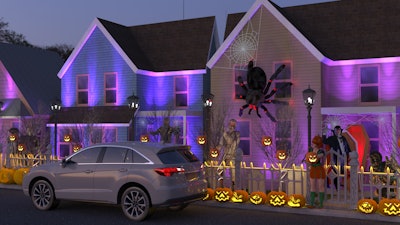 Rendering: Courtesy of Experiential Supply Co.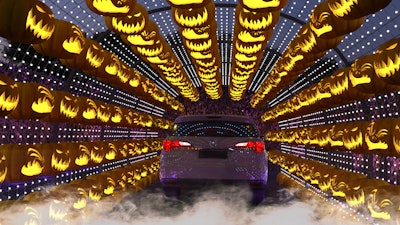 Rendering: Courtesy of Experiential Supply Co.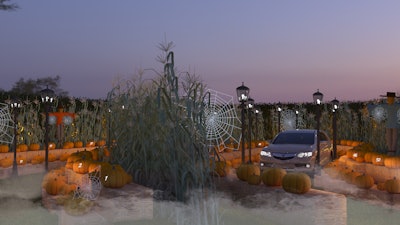 Rendering: Courtesy of Experiential Supply Co.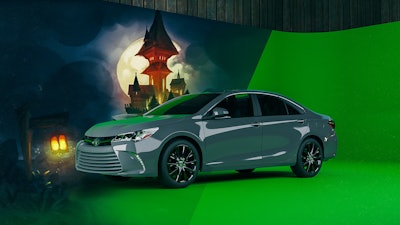 Rendering: Courtesy of Experiential Supply Co.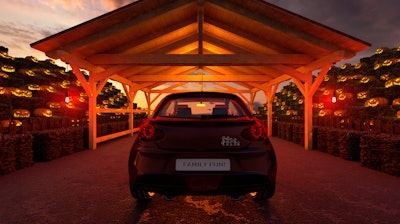 Rendering: Courtesy of Experiential Supply Co.