What It Takes to Plan a Virtual Gala—In Just 17 Days
The Humane Society of the United States' star-studded virtual fundraiser drew a whopping 131,000 unique viewers. Here, the team walks us through the ambitious production process from start to finish.
May 26, 2020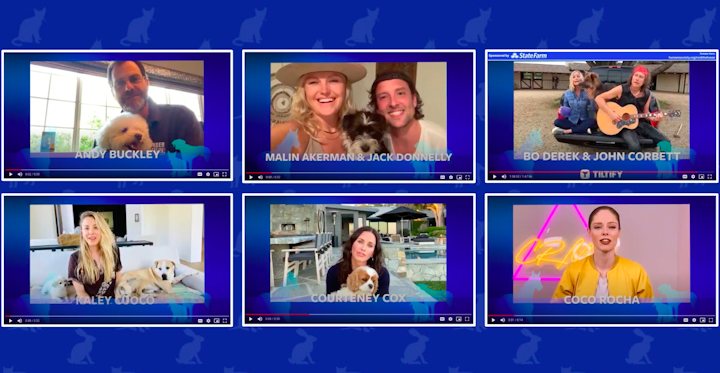 Screenshot: Courtesy of Eventique
It can be tricky to navigate the shift to virtual events—particularly for nonprofits, who rely on benefit events to raise much-needed funds to continue their work. So for its annual fundraiser in April, the Humane Society of the United States (HSUS) turned to longtime partner Eventique, a New York-based firm that has been producing its in-person gala for the last decade.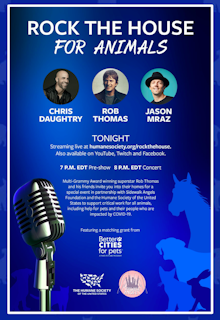 The benefit featured at-home performances from Chris Daughtry, Rob Thomas, and Jason Mraz.Graphic: Courtesy of EventiqueThrough collaborative brainstorming, the team came up with "Rock the House for Animals," a telethon-like virtual event and concert that mixed live elements with prerecorded segments. Streamed April 30 on Facebook Live, YouTube, Twitch, and the Humane Society's own website, the 98-minute event ultimately drew 131,000 unique viewers (including 13,486 at once at its peak) and was watched in 19 countries. Overall, it raised almost $300,000.
The concert component made sense considering the event's partners—notably, Sidewalk Angels Foundation, a New York-based nonprofit founded by Matchbox Twenty singer Rob Thomas and his wife, Marisol. The couple served as event hosts, while Rob recruited fellow singers Chris Daughtry and Jason Mraz to perform during the show.
Karen Duarte, HSUS's vice president of conferences and special events, welcomed the new challenge. "It was wonderful to not only collaborate with these incredible animal welfare advocates but also to find a new and innovative way to maximize support for animals during COVID-19," she told BizBash. "Rock the House for Animals created a new platform for our fundraising events, allowing us to bring our message on behalf of all animals directly into people's homes around the world."
The kicker: The large-scale virtual event was planned in just 17 days. To learn how they pulled this off, BizBash asked the team to break down the process—day by day. Read on to learn why they opted for such an accelerated time frame, how they determined live versus prerecorded content, what happened when a headliner dropped out last minute, and just how many drafts there were of that pesky run of show.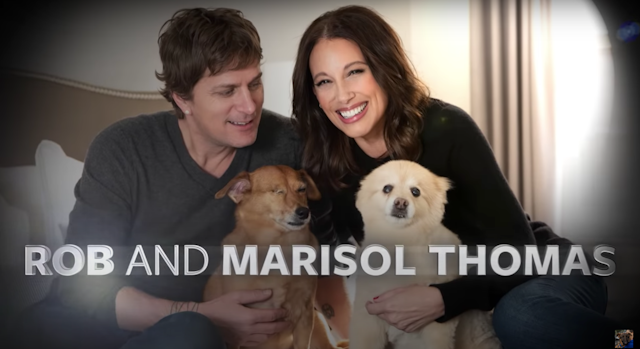 The evening was hosted by Matchbox Twenty singer Rob Thomas and his wife Marisol, founders of the Sidewalk Angels Foundation.Screenshot: Courtesy of Eventique
April 14-16: To kick off the planning process, the HSUS and Eventique teams, along with Rob and Marisol Thomas, got on a video call to brainstorm how the benefit could—and should—change in a virtual environment. 
"It's always a challenge to convince a client to tread into uncharted territory for them, especially when we cannot all sit around a table or stage and see the setup come to life," noted Eventique founder and executive producer Liron David. "Virtual events and livestreams are not events you can touch and feel, and can be nerve-racking for clients who have not experienced what goes into the planning process of this type of event—as well as how to measure ROI."
However, the Humane Society quickly recognized the potential benefits of the shift. "It was our fast onboarding and training that put the client at ease to take the next step, as they now had a better understanding of what it will take and what the potential for the outcome was," David remembered. Once the idea for a telethon and virtual concert was born, Eventique got to work developing a show concept—which was presented to HSUS a short two days after the initial brainstorm. 
April 17: The team worked with Rob on the concert portion of the event, securing performances by Daughtry as well as singer-songwriter Gavin DeGraw. This was also the day the show was officially greenlighted, and the event date—April 30, just 13 days away—was confirmed. The team chose the date by reviewing a calendar of online broadcasts and televised events, looking for an evening with minimal or no conflicts. 
"When we looked at each week of activity and considered the benefits of being one of the first organizations to do something of this scale—and the uncertainties of what audience momentum might look like if we had it later in the summer—we felt it was the best move to produce it in a short time frame, intense as it would be," explained Eric Wielander, Eventique's director of event strategy and communication."We knew that a day could not go by without making substantial progress, and the HSUS team recognized that when it came to approvals."
April 18-19: No lazy weekends here! The HSUS and Eventique creative teams took the weekend to brainstorm and draft ideas for the event's design and branding. In addition, Eventique's scriptwriting teams worked through messaging to present to the client.
April 20-22: Eventique's technical team, along with the Humane Society's marketing team, began working out details on the donation platform and process. The next day, the video team began developing animated graphics for promotional videos, and the first round of scripts was submitted for promos and commercials. By the middle of the week, the production team was reviewing all frame scenarios for the broadcast and sending specs to the graphic designer for frame overlays. 
At the same time, producers began determining what would be live on event day, and what would be prerecorded. "There were parts that we knew would be crazy to [try and] pull off live, and parts where it would be crazy not to," remembered Wielander. "Watching other virtual events partially guided us on what we wanted to do—but there was no way we would have prerecorded Rob and Marisol. It would have felt completely static, and not resonated with viewers as strongly as it wound up doing."
Ultimately, the team settled on a mix of live hosting from Rob and Marisol, plus prerecorded fireside chats and messages from celebrity supporters such as Courtney Cox, Sammy Hagar, and Kaley Cuoco.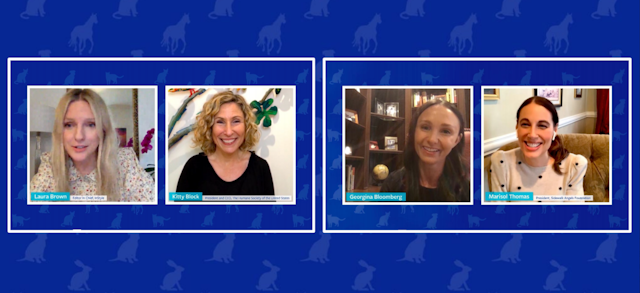 There were two prerecorded fireside chats: one between InStyle editor Laura Brown and HSUS CEO Kitty Block, and the other between philanthropist Georgina Bloomberg and event host Marisol Thomas.Screenshot: Courtesy of Eventique
April 23-24: A week before the event was to take place, the first promotion was shared on HSUS's social media handles. Similarly, the main commercial to promote the event was put into production. On the technical side, Eventique's production team began running through tests with its livestream technical director. And on the fundraising side, HSUS secured a $100,000 matching grant from Mars Petcare. 
April 25-26: Time for another working weekend—which started off with a surprise when DeGraw's manager told everyone the singer would not be able to participate live on event day. As a result, the team spent the weekend revising the run of show, developing treatments and scripts for the show's opening video, and drafting several iterations of the event's master script.
April 27: The start of a new week—and just three full days until showtime. This day finalized the recording of fireside chats between InStyle editor Laura Brown and HSUS CEO Kitty Block, as well as Marisol and philanthropist Georgina Bloomberg. In addition, the first wave of prerecorded celebrity messages arrived, and Eventique submitted a fourth version of the master script. 
April 28: At about 4 p.m. ET that day, a bombshell: DeGraw had to withdraw entirely from the event. "I think we were already mentally preparing for that to happen because we had gotten the heads up that he had a personal matter," said Wielander, noting that the team felt going from three announced artists to two would be a disappointment for viewers. "Rob was totally on it to get someone else on board, and Jason [Mraz] was clearly into it." In a fun twist, the singer substituted all his song titles with animal-friendly versions. "[The] client was ecstatic," added Wielander.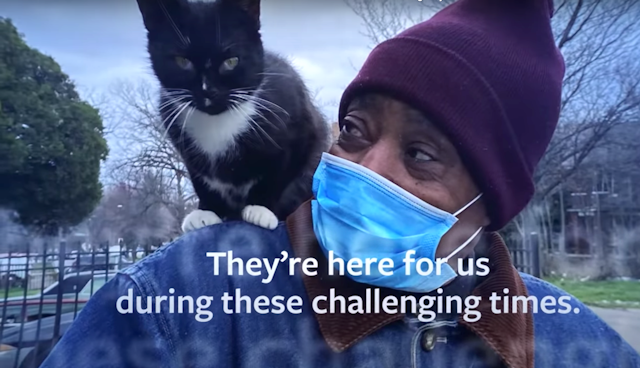 Preproduced promotional videos were used to explain why the Humane Society's work is essential.Screenshot: Courtesy of Eventique
April 29: One day to go. That Wednesday was devoted to a technical rehearsal with Rob and Marisol, and finalizing the seventh (and final!) run of show. A video editor worked to compile user-generated photo submissions for pre-show content, and last-minute celebrity messages were gathered. "The biggest challenge was the many moving parts in such a short period of time," said Weilander. "Only a small percentage of what we dropped in the show—some of the pre-show content—was at the ready for us. Every other piece of content was created from scratch in [the 17-day] time frame."
But, he added, "The biggest reward was enabling an organization to do something it never did before. And with the risk of producing it under some intense circumstances came the reward of introducing HSUS to a new audience."
April 30: Showtime! In addition to the prerecorded interviews and performances (a total of 10 songs, including Rob's moving performance of Cyndi Lauper's "Time After Time," which closed the show), Rob and Marisol hosted a total of 22 minutes live. "We've become so used to most shows being prerecorded that we wanted to try something different," Marisol told BizBash. "Taking direction over a conference bridge line, with viewer comments being sent to our mobile device's screen, was definitely a new experience—especially without anyone else physically in the room. Once we found our rhythm a few minutes into the show, Rob and I had so much fun with it. The audience was there with us for every minute of it, and we're so appreciative of their support in every way."
The Humane Society was also happy with the end result—and the $300,000 raised for the society and Sidewalk Angels Foundation—and is already looking for ways to incorporate some lessons learned for its next in-person gala. 
"It was a special evening celebrating critical, lifesaving work for animals while giving viewers a fun and engaging online experience," said Duarte, adding, "We engaged people on multiple streaming platforms who may not have had an opportunity to attend one of our fundraisers in person. ... We consider Rock the House for Animals a win for our first attempt at navigating these unchartered waters of events and fundraising during these uncertain times. It definitely is changing how we do our event work, and we will be embracing future opportunities on how and where we go from here."