Inside Samsung's Galaxy S4 Theatrical, Two-Part Launch
March 22, 2013
Samsung launched its S4 smartphone with simultaneous consumer and press events at iconic locations in New York City last week. Dubbed "Samsung Mobile Unpacked 2013—Episode 1," the March 14 events tried to build mystery on just what was being unpacked while offering a theatrical show befitting the venues, Radio City Music Hall and Times Square.
At the press event at Radio City, the presentation was directed by Newsies director Jeff Calhoun and featured a live orchestra. The staging included two giant screens flanking a multitiered set and a changing background. To drive home the concept of the phone as a "lifestyle companion," the program mixed descriptions of the phone's features with vignettes showing actors using the phone in situations from everyday life—a dance recital, a bridal shower, and a foreign train station.
Following the presentation, the first rows of the theater were turned into product display bars where press could try out the phone and speak with product specialists. In the lobby, guests could unpack boxed snacks from Sonnier & Castle.
For the consumer event at Times Square's Duffy Square, Samsung had a 100-seat theater set-up and invited others to gather in the surrounding area. Teaser videos played on a large LED screen before the feed switched over to the events at Radio City. Afterward, a flash mob performed and an "Experience Box" opened, inviting the public to interact with the phone and talk with product specialists. Organizers estimated 2,000 people came through during the two-hour time frame.
The Barkley Kalpak Agency produced the event along with Cheil Worldwide.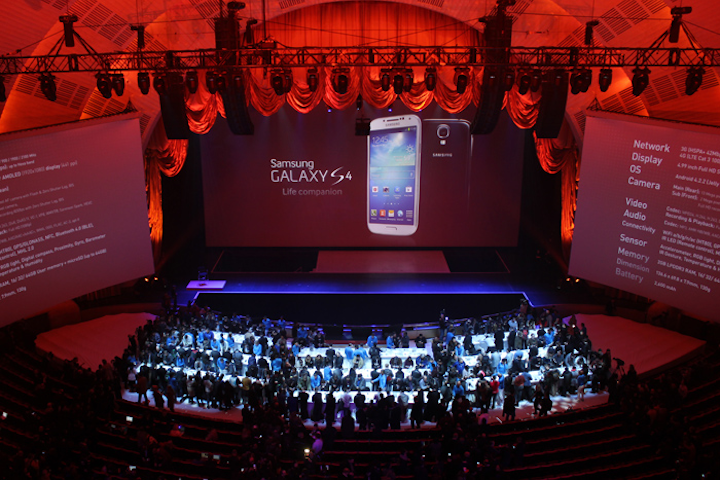 Photo: Carolyn Curtis/BizBash
Photo: Kyle Batten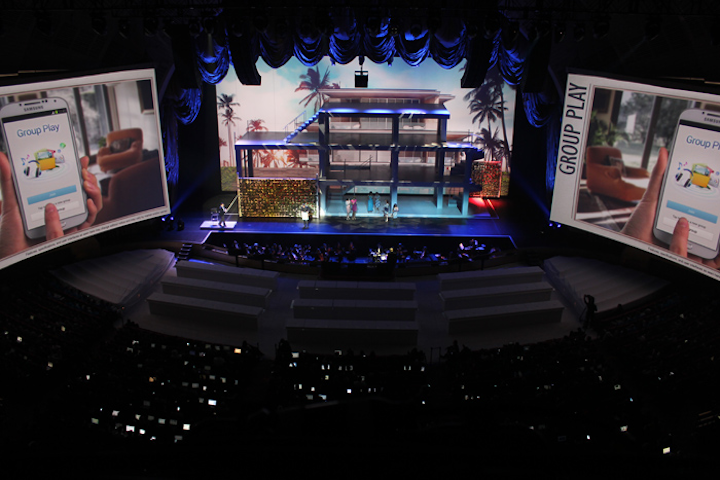 Photo: Carolyn Curtis/BizBash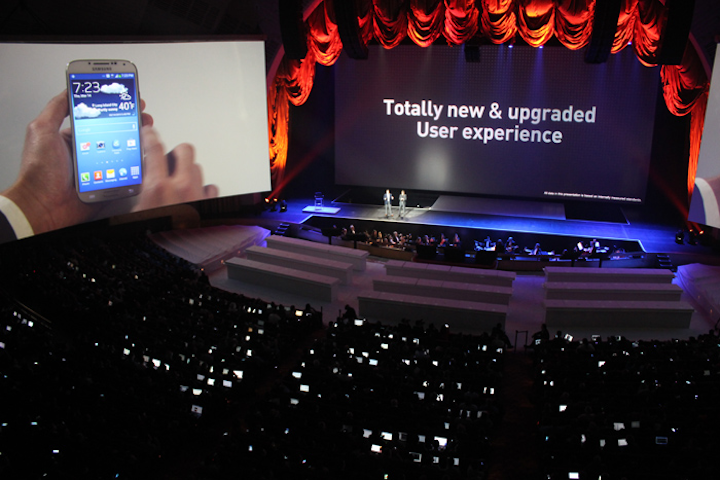 Photo: Carolyn Curtis/BizBash
Photo: Carolyn Curtis/BizBash
Featured Venues/Suppliers: