Think Outside the Ballroom or Inside the Box
February 16, 2016
Are you planning an event that is just too exciting to cram into a stuffy hotel ballroom with no windows? Or are you curating a cool pop-up shop that deserves more than a do-it-yourself tent and rickety 8-foot table?
The world-famous Grove in the heart of Los Angeles, where celebrities frequent and last season's finale of Dancing With the Stars was filmed, and The Americana at Brand in North Los Angeles, minutes from Walt Disney Studios, Warner Brothers, and Universal Studios, have new customizable and customer-friendly solutions for all your creative conundrums. With each property's high traffic for exposure and central locations for guests, your next project just found fresh options to make a big splash or even generate some cool cash.

'Elev8' Your Next Event
Take your next fashion show, movie screening, or award banquet dinner to new heights and head up to 52,000 square feet of blank-canvas event space. At Level 8, the sky is literally—and visually—the limit. The top floors of both properties' parking garages are now available for beyond-the-ballroom events. The 360-degree panoramic views are the perfect setting under the sun or stars. With capacity for up to 2,000, the spaces offer unexpected destinations overlooking the upscale 'shop-tainment' town centers locals and world travelers have come to love.
"There are no other spaces like Level 8 in L.A. that capitalize on our outdoor culture combined with spectacular city views," said MJ Coveny, owner of MJ Coveny Event Production. "You can tent it, stage it, decorate it, festival it...in any manner that you can imagine. It's an event producer's dream come true!"
The Grove hosted its first Level 8 V.I.P. concerts last fall for Fiat as part of the brand's strategic alliance with the property. The two music events were filmed and broadcast on KCBS as an element of the partnership that included valet domination, ride-and-drive opportunities, car displays, and a promotion with tenant DVF that aired on the E! show House of DVF.
Think Inside the Box
Need to display a movie costume on a mannequin or sell custom bags in a boutique? Both are ideal for the new pop-up "Glass Box Experience" at The Grove. The Glass Box Experience is a 10- by 20-foot "show-or-sell" space that can be totally enclosed for exhibits or open to the public for transactional sales. With climate control, lighting, Wi-Fi, built-in shelves, optional podiums, templated wallpaper skins, and more, there's a lot in store inside this little box. Situated next to The Grove's Park and alongside the trolley tracks, it gets maximum visibility for minimum effort.
"With the popularity of capsule collections and temporary retail experiences for digital brands, many brands and entertainment partners are clamoring to reserve this unique space and reach The Grove customer," said Amber Meade, senior director of special events and brand experiences at The Grove. "And being in Hollywood, it's the ideal way to display costumes and props from film and television—to drive awareness or encourage nominations."
For more information, please to go CarusoAffiliated.com.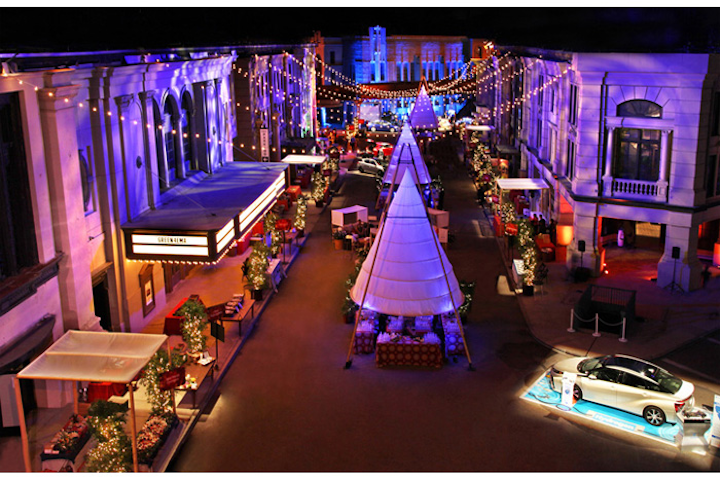 Photo Courtesy of Tiffany Rose Photography
Featured Venues/Suppliers: