Q&A: Why More Trade Shows Are Catering to the Consumer
President of LeftField Media Greg Topalian discusses the trend of trade shows becoming more accessible to consumers through fan experiences.
February 15, 2016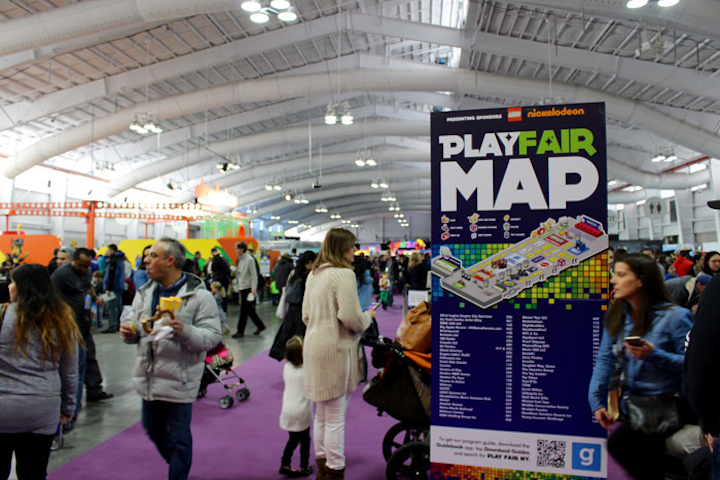 Photo: BizBash
For 113 years, the Toy Industry Association's North American International Toy Fair has been an outlet for major toy brands like Mattel, Lego, and Playmobile to show off new products and innovations to toy industry professionals, retailers, and media. The event has always been closed off to the general public—that is, until last weekend.
The Toy Industry Association partnered with LeftField Media to launch the inaugural Play Fair, a separate event that was co-located with the trade show at the Jacob K. Javits Convention Center in New York February 13 and 14. The event allowed toy brands to interact with attendees of all ages through selling exclusive collectibles and interactive fan experiences and exhibits. Greg Topalian, president of LeftField Media, spoke to BizBash about the idea behind Play Fair, why more brands are interested in these types of public events, and how trade shows and conventions are changing to become more accessible to consumers.
How did the idea behind Play Fair come about?
Ironically, LeftField Media had our own idea for a comic con-style event for kids and families. It was something we were very passionate about. I started New York Comic Con 10 years ago when I was at Reed Exhibitions. I never felt that there was a show that served that younger market—the toy, games, and animation market. When I started the company, I thought it was a great idea that we'd love to pursue. It turns out that the Toy Industry Association, who run the International Toy Fair, had been thinking the same idea for the last several years. Their idea was based on that they run the most amazing toy industry event in the country, there was a huge fan demand to get in, but they couldn't let the public in. And their brands were asking about them about ways to engage fans.
Eventually the T.I.A. reached out and basically presented our idea to us. We were immediately smitten and realized that it would be an amazing idea to be co-located with the International Toy Fair. We put together a deal to jointly create this show, and we're now partners on this event and could not be more excited.
Why was providing this event to the public so important?
The brands that are doing Play Fair are choosing to do it. The danger with this is if they were to say, "Let's just open the Toy Fair on Saturday to the public," that would create a lot of derision. Some brands may think it's brilliant and some brands may say it's a huge distraction. So our advice from the beginning was to create an event that resonates with the fans. From that, the brands would decide whether they wanted to be a part of it or not. If a brand thought Play Fair was a bad idea and they didn't want to participate, they're still getting the same Toy Fair they've gotten for 113 years. It's only being supported by the brands that want to do it.
I think it's important, and I think why it's becoming a trend you'll see more of is because brands want a closer relationship to their users today than they did five years ago. That's mostly driven by social media. They care a great deal about the buzz that's created amongst the fan base. Whereas a long time ago, a brand's focus was the retailer, and it was the retailer's job to impress the user. You can't operate that way anymore. I think more and more brands are realizing the value of creating real fans and a real community of supporters.
Shows—cons if you will—have mastered this. They've been brilliant at realizing they can create traction by creating a physical connection with their customers. This is an incredibly cool industry, and there are a lot of brands realizing they can make their own luck.
Are more brands interested in showcasing their products directly to consumers?
I think there's no question there are more brands that have interest. It would be very easy for the Toy Industry Association to say they've been running an incredibly successful trade show for 113 years and ask why there's a need to try something new and different. But their board members said that it mattered to them, so they wanted to create something that met those needs.
[PULLQUOTE]
I don't think it's replacing the need to meet with buyers. The idea is that business is changing. Brands in a lot of industries are realizing they have to create a connection with their end user. Whether that's walking into a retail environment, whether it's buying it online, or buying direct from the brand, I think it's a huge change.
Is there more consumer demand for these types of events?
I think so. The evidence of that is if you look at New York Comic Con 10 years ago, there so were many fewer events at that time, and the size and scale of those events was nowhere near what it is today. When we started New York Comic Con, we were hoping to get 10,000 to 15,000 people to show up. I believe the last edition had 155,000. Now there are probably about five or six comic con conventions that draw more than 100,000 people, which is remarkable.
I don't think it means that all consumer shows are booming. I don't think it means it works in every industry. I think what it means is where there's a community of people who are passionate about something, they want to gather and have a rich, deep experience. I think cons have become a very popular way to do that.
How could trade shows and conventions change in terms of being more accessible to consumers?
The trade show industry is really healthy. The idea of face-to-face connectivity is as strong as it's ever been. I think the forecast for the business in general is really good. I do think though, that like anything else, in industries like trade shows where this trend of brands caring more about consumers exists, trade shows would be wise to consider how they can serve that audience. Do they just ignore that audience? More often than not, with professionals I speak to, there's a bit of a fear that giving the public access to a show that has history would make it seem more frivolous and less important of a show.
My answer to that is there are a lot of ways to do this, and Play Fair is a great example. Play Fair is a completely separate show that's running next door to Toy Fair. The public is not going into Toy Fair. There are other models. When I was at ReedPop, BookExpo America introduced a show called BookCon, which was a way of connecting publishers and readers. They had a very unique formula.
This is a reality. The industry is changing, and I would look at it as an opportunity. There's a new audience that is interested in what you're doing, and it's an opportunity to figure out how you can serve that market.
Featured Venues/Suppliers: