Orbitz's New Plant Hotel Pop-Up Capitalizes on Millennials' Love for Houseplants
After conducting a survey that highlighted young travelers' love for plants, the online booking site teamed up with a Chicago hotel to add leafy decor to 10 suites.
September 23, 2019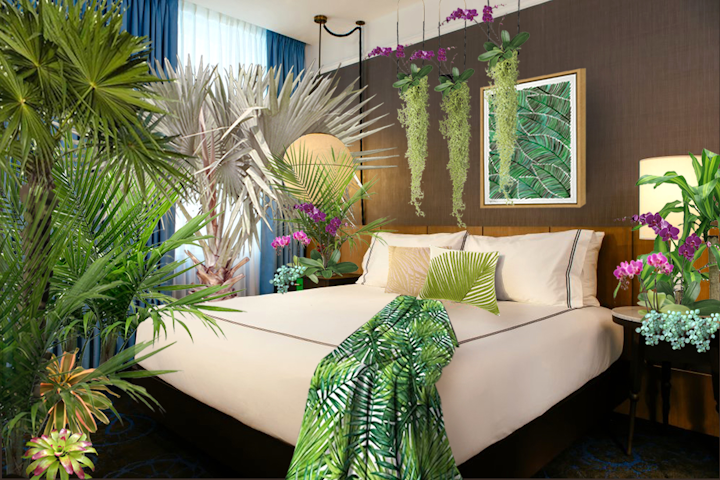 Rendering: Courtesy of Orbitz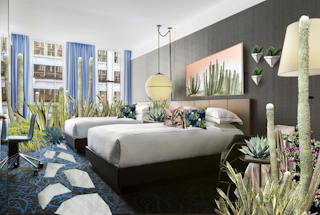 The Desert Room will be decked with cacti—live plants and on pillows and other decor.Rendering: Courtesy of OrbitzCHICAGO—You might not have known it, but last week was National Indoor Plant Week. To capitalize on the September 17 to 21 promotion—and, moreover, to capitalize on Millennials' fascination with houseplants—Orbitz introduced a plant hotel pop-up.
"Millennials are welcoming plants into their homes and now their vacations, too," Carey Malloy, director of brand and marketing at Orbitz, said in a press release about a recent Orbitz survey. "Plants intersect a lot of tourism trends—sustainability, design, wellness—and provide real benefits for travelers. Nearly 61 percent of millennials told us plants boost their overall mood and help them feel healthier on the go. And nearly half of respondents said they'd be more likely to book a hotel that features photos of plants in rooms. A quarter even said they'd spend $50 to $100 more for a plant-filled room."
Orbitz took those survey results into account. Starting on September 17, the travel platform invited users to book one of 10 plant-filled suites that will be open at Chicago's Kimpton Gray Hotel in October.
Available for overnight stays from October 18 to 20, the rooms each have different designs conceived by the nearby Garfield Park Conservatory.
The Fern Room will feature living ferns on nearly every surface, as well as fern-theme art and decor. The Palm Room will have a decidedly more tropical feel, replete with live plants and palm-leaf-print pillows, while the Desert Room will be decked with cacti.
In-room educational materials including pamphlets and printed signage will help familiarize guests with the plants they're sleeping beside. In addition, each room will be stocked with a "relaxation kit" that includes sound machines, face masks, and robes, socks, and sleep masks with prints that match the theme of each room.
The plant tropes are not just open to overnight guests. During the promotion, an interactive greenhouse will stand in the Kimpton Gray's lobby, and guests who pass through will be able to snip fresh herbs to use in drinking water.