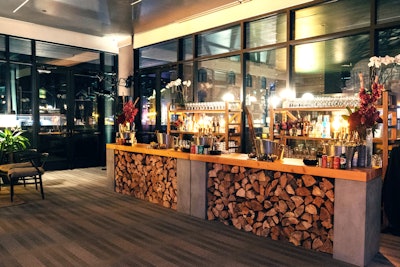 Photo: Cassandra LeConte
PARK CITY, UTAH—At this year's Sundance Film Festival, which took place from January 23 to February 2 in Park City, Utah, drama didn't just unfold on screen. In the months leading up to the annual event, one event producer experienced his own kind of cliffhanger.
The story begins like most: A major brand enlisted Los Angeles-based production company JJLA to create a multi-day activation at the fest, with the goal of being a high-level sponsor with a space focused on consumer engagement, talent photo studios, panel discussions, and evening receptions.
JJLA founder Jeff Consoletti immediately lined up a new event space located on the city's coveted Main Street—Kimball Terrace, which had never been used before for festival events—for his client.
Then, right before Thanksgiving, his client decided to nix its experiential plans at Sundance, as well as its event sponsorship. With less than two months before the festival, JJLA was forced to rethink its entire event strategy. "Since we had the contract with the venue, as opposed to our client, we had to make a quick decision if we thought it was feasible to attract another brand or multiple brands in such a short amount of time," Consoletti explained. He decided to try to organize a multi-day event series with a turn-key, affordable solution for brands looking to host one-off events in a central location.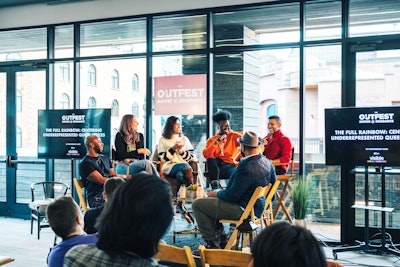 "Many brands, films, and studios are looking to produce smaller activations at Sundance that aren't produced over multiple days, but the chances of being able to do so on Main Street [along with] the costs prevent that," Consoletti said.
"We decided to adapt our space into a communal opportunity for brands, providing a base level design and functionality that could easily adjust between receptions, panels, studios, or networking lounges." JJLA was able to sell the new concept to Quibi, Hulu, and Outfest.
Over the course of the festival's first weekend, Consoletti and team quickly transformed the space to accommodate a roster of events for each of the three brands by playing into the venue's modern vibe and surrounding scenery. "We wanted to ensure that the furniture and design connected to the wintery, lodge-like environment that Park City is known for while still feeling hip," he said.
"We created a functional, contemporary space that was modular. Bars and lounge areas, created to promote networking, relaxation, and comfort, were able to easily be moved to accommodate different types of events of various sizes. We incorporated wall flats to act as room dividers for more intimate receptions that could double as a brandable service for client signage or photography. While the look of the furniture remained the same, clients could enhance their events with branded assets that would change from event to event, including pillows, napkins, custom signage at an arrivals photo op, lighting colors, and florals."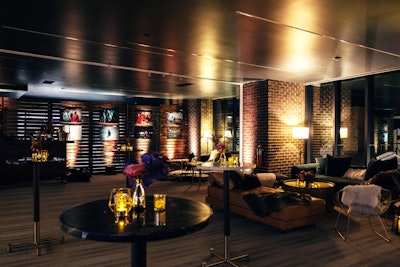 For example, at the after-party for the premiere of Hulu's Hillary documentary series, event production partner Swisher Productions installed rustic walls, which featured a gallery of images of Hillary Clinton. They also allowed the space to feel intimate for the 150-person event.
"The idea was to make minimal shifts from event to event, aside from incorporating branded components that were designed to be switched out. We designed several floor plans that clients were able to select from to shift from a reception-style event to panel discussions to more of a cocktail party. We selected pieces that were able to move around the space cohesively and easily to allow for quick turn-arounds," Consoletti explained.
Did the new strategy pay off? Consoletti thinks so, and he plans to continue to develop the idea further for future fests. "Our decision to continue activating at Sundance regardless of our major brand was not so much financially driven as it was an opportunity to really try out this multi-day model at such a premium space. So many of the venues on Main Street are scooped up at such high costs by major brands that smaller brands or films or companies just looking for a simple one-off event in a central location are priced out," he said.
"We went into the experience waiving our typical agency fees and truly just amortizing all costs and staffing across multiple days to give brands this opportunity. Despite a client changing their plans, we didn't want to miss out on bringing other events to life and were thrilled to have had three great partners to work with."